Pandemic Fallout
Tallahassee hospitals combat staffing shortages while preparing for the future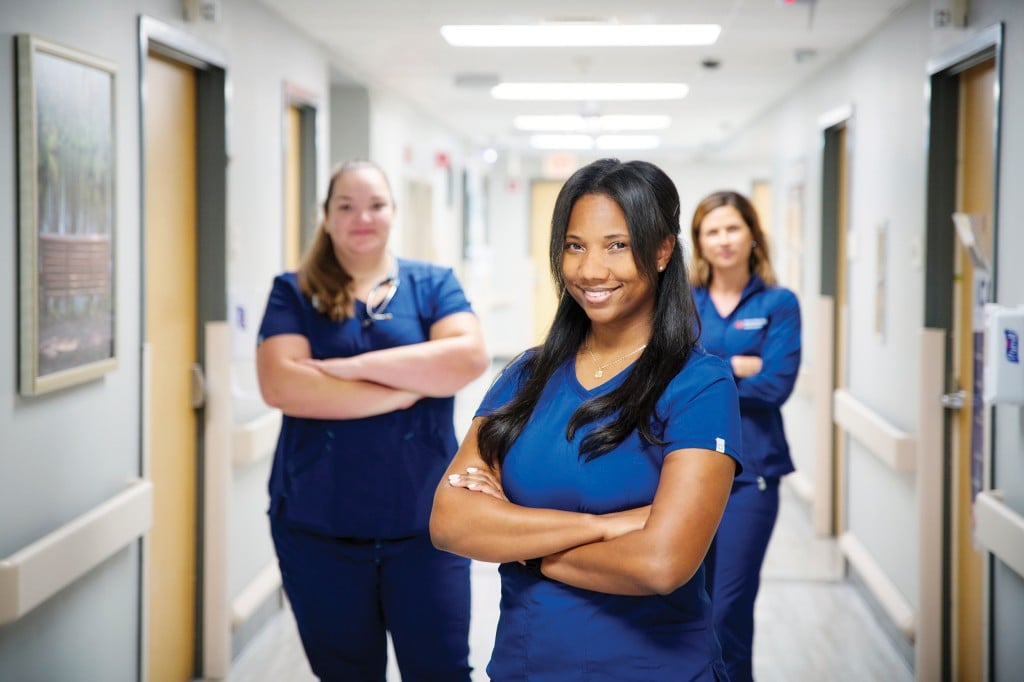 Hospitals across the country are struggling to hire and maintain staff following the start of the coronavirus pandemic in early 2020, and Tallahassee facilities are no exception.
In late July, Politico reported that hospitals in all 50 states were reporting either critical staffing shortages or expected to hit a critical low within the week. Hospitals in small cities like Tallahassee have had to get creative to remain competitive with more metropolitan areas and the increased availability of high-paying travel positions.
"Mobility of the upcoming generation is greater than other generations," said Alan Keesee, CEO of HCA Florida Capital Hospital. "People are willing to move and work wherever. I think that creates unique challenges for certain geographies. The abundance of alternative jobs and the mobility of the generation really compound what we are seeing here locally."
Both HCA Florida Capital Hospital and Tallahassee Memorial HealthCare have adopted enhanced recruitment tactics, implemented new care models and increased internal resources and opportunities for existing staff in order to remain competitive.
"We've really grown what we call our advanced care team models," Keesee said. "We recently introduced, for the first time in many years, licensed practical nurses into the workforce. That has been a new source of great care for our patients."
HCA Florida Capital Hospital also created a new nursing extern program, hiring 100 current nursing students to use the clinical skills they are gaining in school to provide hands-on care in the hospital.
As in many industries, financial incentives can be a big draw for prospective and current health care employees. HCA Florida Capital Hospital has, in many cases, increased compensation for clinicians while TMH provides annual pay raises to nearly all its employees.
TMH vice president and chief human resources officer Steve Haynes said that while sign-on bonuses have been effective, they're not a favorable long-term solution.
TMH has a more stable level of staffing than a year ago, but highly technical areas of care remain a challenge, he explained.
"Right now, respiratory therapy and medical lab technology are areas of high challenge," Haynes said. "Some of those challenges are connected to training programs. There are respiratory training programs in our area, but compared to nursing programs, there aren't as many, nor do they enroll as many students. There truly aren't any medical lab technology programs in our immediate area."
Those programs are often complex and expensive for universities to sponsor, and in the past two decades, many schools have cut them from their curriculum offerings, he said.
Shortages in nursing positions have been widely reported, but the problem extends beyond the bedside. Constant advancements in technology and procedures have made physicians with experience in bleeding-edge technologies a hot commodity. This has led HCA Florida Capital Hospital to expand its recruitment area.
"We have opened up our recruitment beyond U.S. borders and have been sourcing health care professionals from literally all over the globe," Keesee said. "We have nurses and laboratory medical professionals from Chile and South American countries, from Africa, the Philippines, Mexico — really all over the globe. They have been the most humble, grateful, wonderful workforce to partner with our current workforce to care for patients."
Safety concerns and a lack of personal protective equipment early in the pandemic exacerbated an already growing concern about the mass exodus of seniors in the workforce. Many older clinicians opted to retire earlier while those of all ages chose to shift into alternative health care career paths within the insurance or information technology industries.
Considering these compounding challenges, Tallahassee hospitals are demonstrating a renewed focus on retention.
"From a retention and support standpoint, we are always looking at ways to improve the environment in which the caregivers operate through emotional support, free counseling sessions that we offer them, intentional leadership-focused town halls and group therapy," Keesee said.
"We offer some scholarship opportunities for continued education," Haynes said. "Also, many of our colleagues come to us in entry-level jobs, so we are trying to create pathways to higher-level opportunities."
Nearly three years into the ongoing coronavirus pandemic, both Keesee and Haynes see continued investment in the future of health care as their most reliable recruitment tool.
"A couple things we have done here locally is start our first-ever graduate medical education program in psychiatry and dermatology," Keesee said. "We are actually training the next generation of physicians here. This is the first psychiatric residency program in the Big Bend, and … these new students hopefully will continue to live here, work here and get their families plugged into the community."
HCA Florida Capital Hospital will continue to offer incentives and work with other entities such as the Tallahassee Chamber of Commerce, which has been working for more than a year to build a pipeline for training and recruiting into the community, he added.
"We combine things like that with our own outreach programs with schools and universities to attract students who are interested in health care careers," Keesee said. "Yes, there are ways to recruit someone you need next week, but the real sweet spot is developing long-term pipelines so that you always have a sufficient supply to meet your needs."
---
"Right now, respiratory therapy and medical lab technology are areas of high challenge," Haynes said. "Some of those challenges are connected to training programs. There are respiratory training programs in our area, but compared to nursing programs, there aren't as many, nor do they enroll as many students." – Steve Haynes, TMH vice president and chief human resources officer

---
We have opened up our recruitment beyond U.S. borders and have been sourcing health care professionals from literally all over the globe. … They have been the most humble, grateful, wonderful workforce to partner with our current workforce to care for patients." – Alan Keesee, ceo at HCA Florida Capital Hospital