Owl's Head Farms Breaks Ground
The construction on the first set of 660 homes is set to be complete by Summer 2022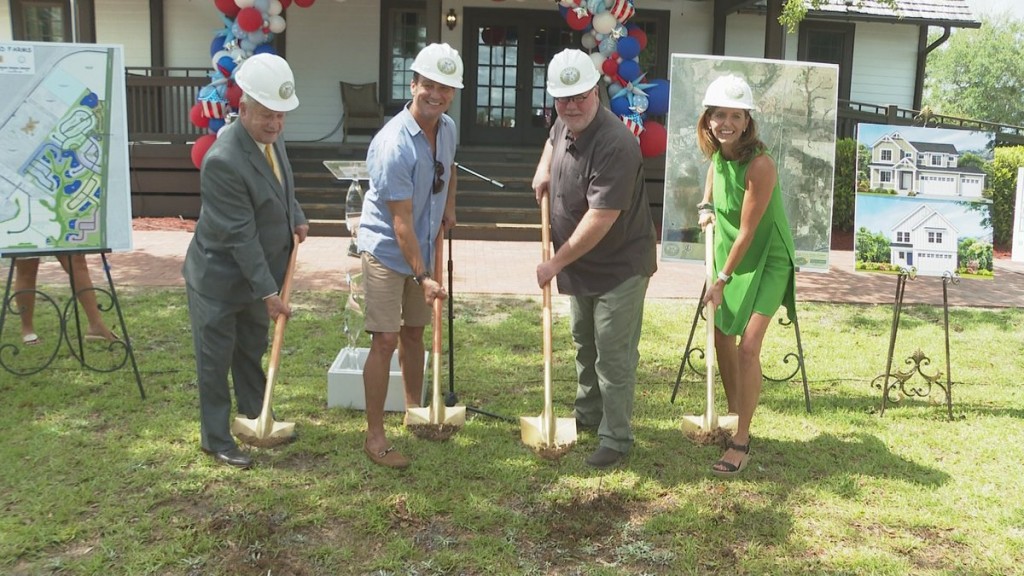 Owl's Head Farms, the master plan community in Walton County located at 11285 U.S. Highway 331, officially broke ground July 1. The construction on the first set of 660 homes, designed by DR Horton, is set to be complete by Summer 2022. This is the first phase of the 1,000-acre development.
The community and local dignitaries gathered to celebrate the official groundbreaking ceremony with the Walton Area Chamber of Commerce. President of the Chamber, Megan Harrison, along with Freeport mayor, Russ Barley, general manager of the property, Shelton Stone, and investor Doug Duncan gathered in front of the sales center to dig out the first pieces of land to kick off the construction process.
Afterwards, the Army National Guard raised the 25-foot American flag that will permanently fly over the Owl's Head Farms community, while local singer-songwriter, Sarah Anne Davidson, sang the national anthem to kick off the Fourth of July holiday weekend. Guests enjoyed a lunch provided by Back Beach Barbecue and custom gifts from Frillseekers Gifts.
"I would like to thank everyone who came out and attended the groundbreaking ceremony," Duncan said. "This moment was 15 years in the making so it was so nice to see the community come together and celebrate our country and a new development that will be a great asset for our area and future residents."
The 1,000-acre Owl's Head Farms property was previously a sod farm and American Indian territory. Owl's Head Farms is also surrounded by thousands of acres of preserved land including the Nokuse Preservation and Eglin Air Force Base. The future community is 20 minutes from the beaches along 30A and is in close proximity to schools, shopping, and dining options.
The new housing and lifestyle development will feature 660 lots and is set to be completed in five phases. The first phase will include houses by DR Horton, America's largest homebuilder. In addition to homes being offered by DR Horton, the community is planned to offer apartments, townhomes and senior living. Aside from residential living, the Owl's Head Farms community will feature commercial and industrial space.