Okaloosa County Gets Shoal River Ranch Shovel-Ready
Brimming with potential, you could call it a gigasite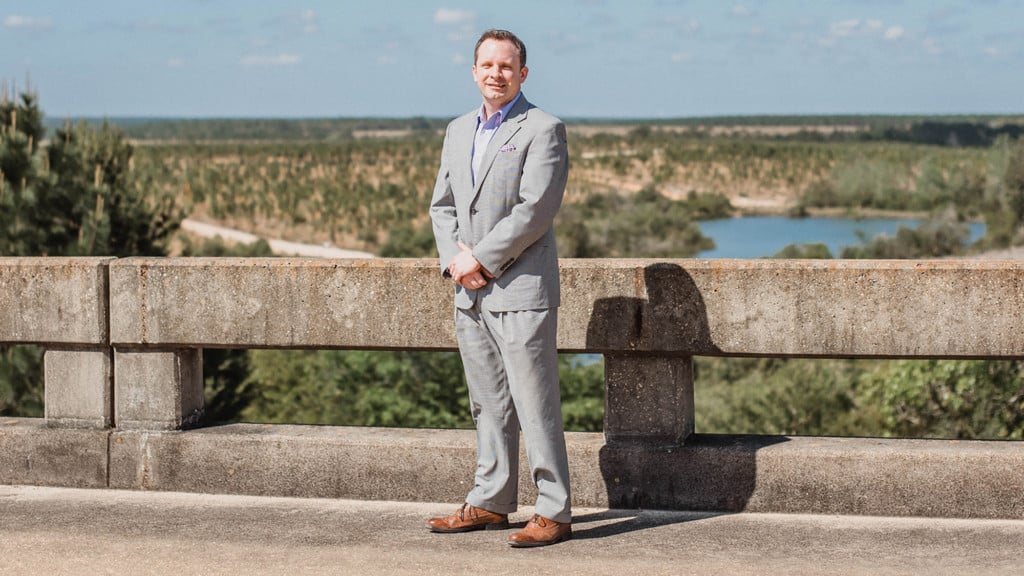 In the United States east of the Mississippi River lie 70 megasites, large parcels of land capable of hosting a cluster of businesses, typically industrial in nature.
In Okaloosa County, the Shoal River Ranch site easily qualifies as one. So easily that the county's economic development agency has coined a term and placed it in a category by itself.
"We call it a gigasite," said Nathan Sparks, the executive director of the Economic Development Council of Okaloosa County, citing its 10,000-acre size.
And Shoal River — seven miles from the Mossy Head interchange and seven miles from downtown Crestview — isn't just large. Adjoining Interstate 10 and U.S. Highway 90 and with a connection to the CSX Railroad, it is strategically located to the point where it was attracting interest even in its raw form.
"I have been doing economic development for 21 years, and I have not laid eyes on another site with the potential that Shoal River has," Sparks said. "It was competitive even as raw land, and it was validating to come close with some opportunities before any improvements were made."
Those near-successes made it clear to Sparks and the county what needed to happen to push projects over the finish line.
"We had to resolve some weaknesses, which fortunately are not proving insurmountable," Sparks said.
One, the site is owned by a third party, the Holland M. Ware Charitable Foundation of Boise, Idaho.
"That was seen by some prospects as a risk factor," Sparks said. "The Holland Ware Foundation has been a great partner and I can't say enough positive things about the relationship, but site consultants recommended that the county get control of at least a portion of the property. We wanted to move past reliance on a third party, even as good as they may be."
Okaloosa County commissioners took that step. In December 2017, they entered into an option agreement on 1,700 acres judged to be the prime piece of the overall tract.
"The land under option is the most likely to attract significant development, at least initially," Sparks said.
The next hurdle for the county was extending utility lines to the site.
"Water is four miles away, and sewer is three miles away. That was a significant issue when promoting the site to industry," Sparks conceded.
To resolve that weakness, the county made an application for $1.5 million in Triumph Gulf Coast funding to cover a big chunk of the estimated $4.5 million cost for line extensions.
A contract between Okaloosa County and the Triumph Gulf Coast board was finalized in August of last year. A focus for the remainder of this year will be getting design work complete and bids awarded. Construction of the lines will take place in 2020.
"Then," Sparks enthused, "we will have a true shovel-ready parcel to promote."
While sites are a major factor in economic development, labor — more often referred to by Sparks and his peers as "talent" — may be an even greater consideration.
At this writing, Okaloosa County, at 2.7 percent, has the second lowest unemployment rate among Florida's 67 counties. That's a healthy indicator, but Sparks noted that "it can be a problem for employers who are looking to add headcount and to recruit the biggest and brightest."
To combat that problem, Okaloosa County deploys what Sparks calls its "not-so-secret weapon" — men and women exiting the military.
"In terms of business growth and attraction opportunities, the military demographic is something that resonates with everyone we speak with," Sparks said.
Some 1,200 people separate from Eglin and Hurlburt Field Air Force bases and their related missions each year and become available to enter Okaloosa County's workforce.
"Not all will stay," Sparks said. "They may have family obligations or educational pursuits that will take them beyond our area. But many do stay."
Three years ago, about 35 percent of the 1,200 separatees elected to remain in Okaloosa County. In subsequent years, that number has grown to exceed 50 percent. Too, the county becomes home to military personnel who separate from the service in Nevada or California and, fondly recalling time they spent at Eglin or Hurlburt Field earlier in their careers, elect to come back.
"We're not just talking about military retirees who have done their 20 years," Sparks said. "Some separations may occur after two years or six or 10. We benefit by seeing experience levels from junior to senior.
"So, when we are on the prospecting trail working with businesses who are coming into the area, we can assure them that while we have a competitive environment due to low unemployment, that doesn't mean that they will be unable to fill positions."
It's a major selling point made all the bigger by characteristics of the separatees: mission focused, drug free and, said Sparks, "99 percent have security clearances. That is worth its weight in gold to businesses operating in the Department of Defense world, in particular."
Talent, Sparks said, can be "a bigger consideration than location or incentives or the two of them combined.
"People tend to assume that economic development is all about providing incentives, and that businesses choose a location based on who is going to give them the most benefits. It's still a bidding war, but the currency is now more human capital than monetary. Money is still part of the puzzle and it can certainly be a factor, but incentives don't make a bad location good and talent, given the state of the world, is driving the majority of location decisions."
Okaloosa County, then, is doing a good job of checking the talent and locations boxes, and it is addressing infrastructure, too, not just at Shoal River.
In November of last year, county voters, by a 24-point margin, approved a 10-year, half-cent sales tax that became effective Jan. 1. Unlike neighboring counties, Okaloosa County previously had been without a local-option tax.
The half-penny tax is estimated to generate about $19 million annually for public safety, transportation and storm-water system improvements. Almost $12.7 million of the total will go to the county. The rest will be divided among Okaloosa's nine municipalities, based on population.
"Nobody likes to pay more for what they are buying, and generating support for the tax required educating the electorate," Sparks said. "But the good thing here is that much of the revenue generated will result from purchases of hamburgers, boat tours and hotel rooms by visitors. We think it's a good way to approach additional funding and thankfully a large percentage of voters agreed."
The levy, Sparks said, will be a good thing for economic development.
"Infrastructure is critical. If you don't have efficient road or utilities systems, you're not in the game. You may even struggle to accommodate your existing industry. We weren't at that point, but because our community has grown at a good clip, we could see that if we didn't do something, we would find ourselves in a real predicament."
Sparks commended county commissioners for having the foresight to get a sales-tax measure in front of voters.
"As we see fruits of the effort in the form of projects that benefit our communities, we're going to be seen in greater regard by businesses who are making expansion decisions," Sparks said. "Utility networks will be improved and expanded, and we will see new corridors for development. And, we're doing it in a smart way."
The Economic Development Council of Okaloosa County maintains several standing committees. One serves to promote a collegial environment among the county's technology-based employers. Another provides support for the defense installations present in the county.
A third relates to a Tri-County Partnership initiative that links Okaloosa County with Walton and Santa Rosa counties in exploring possible partnerships with the military. For example, the partnership brought about the combining of Eglin's and Okaloosa County's waste pickup contracts on Okaloosa Island, thus saving the Air Force money. Too, Okaloosa County is using waste concrete used for target practice on the Eglin range to build artificial reefs.
Sparks is a co-chairman along with an Eglin representative on a real property subcommittee.
"At Eglin, there are non-accessed, underutilized parcels not contiguous to the balance of the range," Sparks explained. "They are owned by the federal government but could be made subject to long-term leases and developed, bringing income to the base and economic value to the community."
The Hilton Garden Inn and the Holiday Inn on Okaloosa Island were built on leased property. Late last year, ground was broken at the 50-acre Freedom Park, a future mixed-use development.
"But it took three years to get the Freedom Park deal done with the government," Sparks said. "The length of the extended use lease process can be a deterrent to a developer who is ready to proceed. We're looking for ways to streamline the process to make it more business oriented."
Generally, Sparks said, prospect activity at the EDC is good.
"Any economic developer will tell you that things could always be better," Sparks noted. "Economic development is a percentage game. The more opportunities we have, the greater the odds of success. But we are pleased to have a robust and increasingly diversified pipeline with more than 20 active projects."