New Technology Changes The Game for Health Care in Escambia County
Staying local for solutions to common health care woes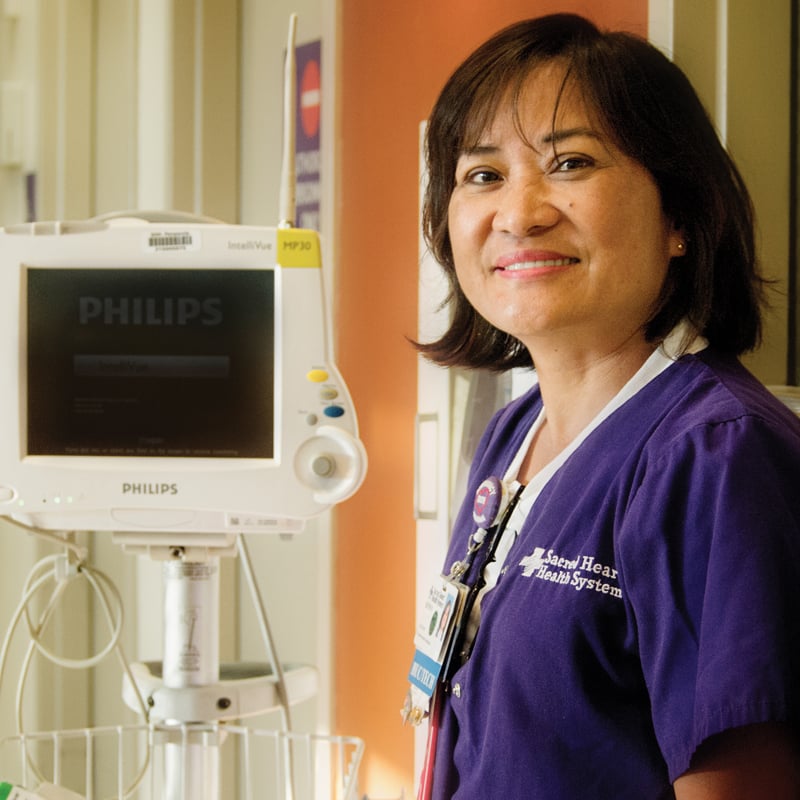 Sometimes national problems can have simple, homegrown solutions. At least that's the theory many health care providers in Escambia County operate on these days.
Through quality care, improved communications between facilities and physicians, and a fresh dedication to new-age technology, techniques and practices, Escambia's health care scene is primed for improved outcomes and positive development.
But transitioning into a healthful community requires more than just proximity to medicine. According to Mark Faulkner, president and CEO of Baptist Health Care, his team (now 6,500 strong) is focused on keeping the lines of communication open between health care providers and patients — educating locals on the importance of preventive care, as well as early diagnosis and intervention.
"We're all about the quality of life for our community," shared Faulkner. "Every day we come to work we think of ways to elevate the quality of life for our community. That's our singular focus. We realize and recognize where our roots are."
And his institution isn't alone in its initiative.
Courtesy of Sacred Heart Hospital
Ester Remegio, Sacred Heart Hospital Pensacola
"I always tell people that we have four really, really good hospitals," emphasized Dr. Michael S. Oleksyk, vice president for Medical Affairs at Baptist Health Care — referring to his place of employment as well as Sacred Heart Health System, West Florida Hospital and Naval Hospital Pensacola. Sacred Heart and Baptist are non-profit health care providers; West Florida is a private facility affiliated with HCA.
Oleksyk has been a physician in the area for nearly 29 years and enjoys professional privileges at all three of the county's civilian hospitals. During his tenure, he has seen the local medical community adapt to meet the demands of an evolving system — forming connections with leading industry leaders, like their recent partnership with the Mayo Clinic, and expanding their overall scope of care.
"For an area this small, the quality of health care is phenomenal," said Oleksyk.
From pre-natal care to innovative cancer treatments, there's not too much the dedicated medical professionals of Escambia aren't trained to tackle. A few complex cases (for example, burn victims and transplant patients) are still outsourced to neighboring communities with more experience. Largely though, residents' overall health can be attended to in-house — close to home and loved ones.
Keeping things local is something the medical professionals of Escambia pride themselves on. Across the board, this close-knit community of caregivers is focused on one thing: quality care for their patients.
"We've put a lot of resources into quality," shared Kendrick Doidge, vice president of Business and Public Relations at West Florida Hospital. "(We're) trying to provide the highest level of quality for the community that we serve."
According to Doidge, an Escambia native, West Florida Hospital's dedication to quality prompted the administration to assemble "medical taskforces" charged with staying abreast of the latest and greatest in health care innovation. As a result of their discoveries, the hospital made a dramatic change by ultimately deciding to switch its internal layout to private rooms for all admitted patients.
The act inspired others unilaterally.
"We're really focused on quality," emphasized Doidge. "We're (also) focused on reducing hospital acquired infections, such as Sepsis. In January of 2009, we went to all private rooms. We were the first hospital in Escambia County to do that. It helps lower infection rates. It helps give the patient a better place to rest and recover. Since we did that in 2009, the other hospitals have followed suit."
Today, the county's 1,573 beds are all in private rooms. For residents like Doidge who have had family in all of the surrounding facilities at some point, the switch was an encouraging upgrade.
"When you're at your worst," sympathized Doidge, "the last you want to do is have people around that aren't giving you the peace and relaxation and the comfort needed for you to recover."
Faulkner, of Baptist, said patients can expect a lot more attention to be paid to outcomes and to elevating the overall health of the community.
"I think we recognize it's not a question of quality providers, it's a question of access," he said.