Made in the 850
Businesses abhor an empty niche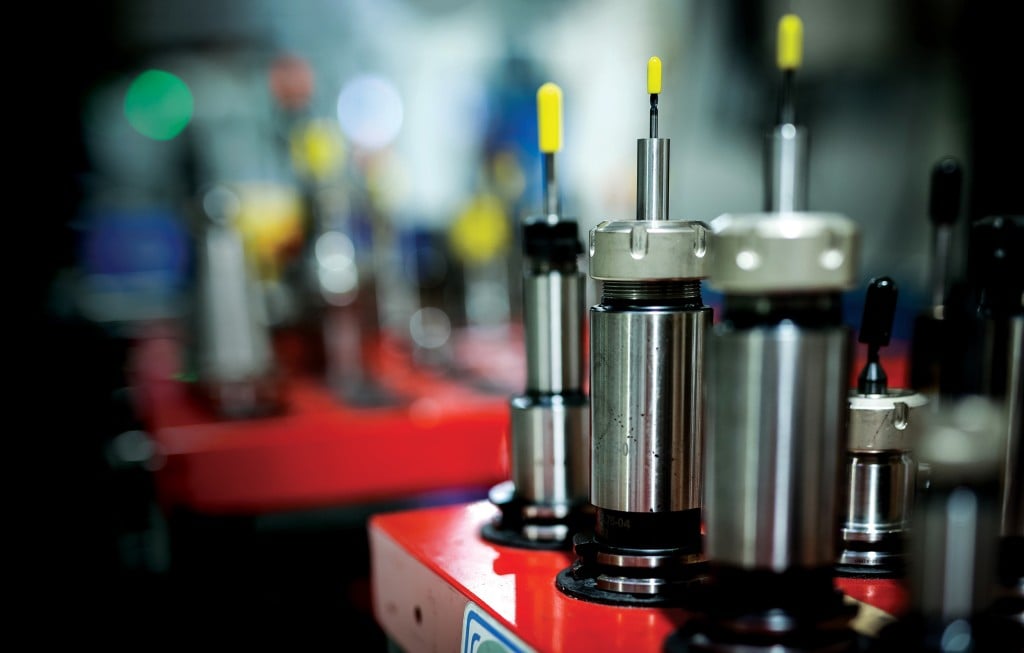 Walter Williams, the late economist and commentator, often spoke to free enterprise systems and their unlimited capacity for creating solutions, meeting the needs of people and, we might add, fueling their desires for an endless variety of products and services. By way of contrast, Williams would describe the relatively poor performance of slow-footed central authorities that control the means of production and determine what gets produced. Were Williams around today to experience the supply chain disruption precipitated by the pandemic, he would be the first to point out that matters could be far worse. That is, one might find himself subject to an encumbered system removed from the forces of competition. While not known as manufacturing centers, Northwest Florida communities host businesses including some whose products relate to the tiniest of niches and whose manufacture requires incredible precision and ingenuity.
Fort Walton Machining
One-time job shop diversifies its operations
Fort Walton Machining is a recognized leader in the manufacturing and assembly of custom-designed, precision-machined parts. Founded in ı987, it was at first a small shop with 30 employees that was created to service the machining needs of customers at nearby Eglin Air Force Base.
Tim McDonald Sr. bought the business in ı997, and today his widow, Jan, who is company chairman, and her son, Tim Jr., director of operations, head the company and oversee a complement of ı30 skilled workers.
In its early years, the company was a job shop.
"It didn't build thousands of any one particular item," Tim Johnson Jr. explained. "They'd build five of this part, ı0 of this part, one of another part," he explained. "So, it was high-mix, low-volume."
But the McDonalds wanted their new acquisition to become a Department of Defense manufacturer so that it could bid for more lucrative contracts from firms like Lockheed-Martin and Northrop-Grumman. To do that, it had to upgrade its quality management systems and adhere to all the regulatory requirements promulgated under Federal Acquisition Regulations.
"Then comes 9/ıı," McDonald said. "Once we started shifting toward the country's focus to the War on Terror, the demands of the war fighters' needs — hardware, equipment, vehicles, munitions — had a heightened sense of urgency. So, the company shifted more and more into the defense world and grew very rapidly from 200ı to 20ı0."
Tim Sr. passed away in 20ı0, and since then, Fort Walton Machining has continued to focus on developing parts for the country's major defense contractors. Its employees work out of two buildings: The "MFG" houses all the fabrication and machining equipment, and the "MFD" supplements the machining side with metal finishing.
"Once we machine something at the MFG, we'll send it over to the MFD, and they employ a series of chemical processes that could also include priming and painting a particular item before it goes to the customer," McDonald said. "We start with a raw block of metal and the customer's engineering, all the way to a final product that, typically, would be ready to go right onto an aircraft."
Meanwhile, Fort Walton Machining is working to diversify its customer base.
"We don't want to have all of our eggs in one basket. So, we do medical fieldwork, mostly with Johnson & Johnson. We support their Acuvue lens line. We also build safety seat buckles for Walt Disney World. Then, we do a lot of energy work, mostly oil field. We do a lot of drill bits for deep drilling in the Gulf of Mexico. The biggest emerging market for us right now is commercial space exploration — SpaceX, Blue Origin and other startups. We're in the modern age space race."
McDonald said that the manufacturing space is fiercely competitive, but with so many different capabilities across the industry, it also is highly cooperative.
"The word I like to use is 'competimate,' because it takes so many different manufacturing disciplines to ultimately end up with a useful piece of hardware," he said. "For example, I might machine a bracket that goes into some type of munition, and Company XYZ might hydraform a sheet metal part that goes into that system, and Company ABC might be building the circuit card that goes into that munition. All of those facets and features are important for the end function of the product. So, we might compete in the same space, but, ultimately, we're all teammates in the end goal of serving the customer. And nine times out of ten, in our business, it is going to be the need of the war fighter."
Going forward, McDonald wants the company to expand its equipment line in order to offer more processes for its customers. It's looking at additive manufacturing (3D printing), high-precision sheet metal forming and the ability to machine much bigger parts.
"There are a lot of shops out there that can build a part that's ı-inch square," he said. "There are very few shops that can do a part that's ı0 or 20 feet square because they don't have a big enough piece of equipment to be able to bid on that type of work. So, we organically remove our competition just by being able to do bigger stuff."
But the really big stuff, according to McDonald, is the company's ethos, its "open environment of family, trust and ownership."
"We treat everybody as if they're part of the immediate family," he said. "Because, ultimately, we can't put food on our table unless our employees are part of my family. We talk to each other openly and candidly, and that's the culture that I like to live in."
Speaking of family, McDonald said he would like to see his own three children carry on the company's legacy.
"I know what I would like for them to do, but that doesn't necessarily mean that they want to do it," he mused. "They don't have to love what their dad loves. But I want to expose them to it and let them make the decision if they want to pursue it — or whatever else makes them happy."
Avalex Technologies
Delivering essential information to pilots in flight
It's a really cool company."
So says chief revenue officer Cleve Bellar about his employer, the Gulf Breeze-based Avalex Technologies, an aerospace engineering firm that designs and builds advanced avionics and electronics for the world's defense, law enforcement, search and rescue, and commercial operators.
"Imagine," Bellar said, "on the Emerald Coast, we have a manufacturing facility that develops components for all the jets across all the service lines — Navy, Army and Air Force. And we even have equipment in Virgin Galactic's SpaceShip Two. And it's all the result of people here in Gulf Breeze."
Located in Northwest Florida since 200ı, Avalex was first established in Atlanta in ı992 by company president Jurgen (Tad) Ihns.
"Tad is a pilot with a computer science background who is also very design-oriented," Bellar said.
His mission was to devise and manufacture innovative avionics solutions that would address the problems that all pilots have, while simultaneously developing new ways for them to have more and better access to information while in flight.
The company began by making video monitors, then video recorders (DVRs) for its law enforcement clients.
"You're flying in a helicopter, and you want to be able to record what you're doing," Bellar explains. "After that, we started getting into mapping and mission processing with moving maps on the video monitors, so that as you're flying the helicopter, you can see where you're going and try to map out missions."
Next, the company got into military applications.
"Like cockpit communications management units," Bellar explained. "Avalex developed a single unit that allows pilots to communicate across different radios."
Smart displays soon followed.
"In 200ı, they were just video monitors," Bellar said. "Now you had a video monitor that also had a computer behind it, which allowed you to integrate everything — maps, radios and the displays."
About 10 years ago, Avalex developed a cockpit pressure and oxygen warning system that was specifically designed for the Blue Angels, the Navy's flight demonstration squadron and aerobatic team that, today, pilots F-18 Super Hornets.
"It's a device that goes into a jet and allows you to identify if there's a need to track changes in the pressure of oxygen, which allows you to prevent pilots from passing out," Bellar noted.
A new Avalex product is an innovative OLED display that offers rich colors, high contrast, fast response time and a wide viewing angle while using low power. Instead of silicon or gallium, which LEDs are made of, OLEDs use "organic" carbon-emitting layers.
"It's super bright, it's very small and it's integrated into the warning system of the cockpit," Bellar said. "It's all about the design and trying to help the human interface."
As a relatively small firm in a sprawling sector, how does Avalex stack up against some of the aerospace industry's giants, such as Lockheed-Martin or Curtis-Wright?
"Avalex is a very nimble, design-oriented manufacturer," Bellar explained. "The hard part is integrating new technologies into an existing cockpit or existing structure or design. And that's where we really excel — identifying and thinking through those different variables to come up with something that's very modern, very future-proof but also fits in well with what the current design is. So, we can modernize older jets by taking new technologies and embedding them in their current infrastructure."
In all of that, there is an effort not to overcomplicate things.
"We'll always be the leading edge in technology, but it's really about identifying that simple way of integrating it within whatever you have," Bellar said. "So, when we go against the big companies, we go in with a very good, nimble, design-oriented proposal that ends up winning at the end of the day."
This past November, Mercury Systems of Andover, Massachusetts, a leader in mission-critical technologies for the aerospace and defense industries, acquired Avalex.
Bellar calls the deal "a perfect complement."
"Mercury Systems is one of the bigger players in the market, but they did not play as much in the display market," he said. "We were working on expanding from displays to taking over the entire cockpit. They come from the other areas of the plane and try to work toward the display. So, it's a really good complementary acquisition. We're excited about what they bring to us in terms of their resources. And the great thing about them is that they're very much about engineering and research and development."
Avalex is working to integrate the two companies in ways that will allow it to leverage Mercury's resources while gearing up for several years of development programs for the Army, Navy and Air Force.
"We're recruiting quite a bit," Bellar said. "We try to hire locally and train and develop our resources here. So, if that's something that excites you, come on board. And if you want to be part of something that's super interesting, this is the place."
Deep Dives
Engineering firm finds ways to make the ocean floor its workplace
Oceaneering International, is a technology company focused on delivering engineered products and services to the offshore energy, aerospace, defense, manufacturing, and entertainment industries, and is based in Houston. Founded in ı969, Oceaneering was the result of a merger among three underwater diving companies.
"It started as a diving company in the Gulf of Mexico, and the technology evolved," said Shaun Roedel, senior vice president of manufactured products at Oceaneering. "We started doing more and more work in the offshore world, and the dives kept getting deeper and deeper."
In order to reach ever-deeper underwater locations, Oceaneering pioneered improvements to diving efficiency, safety and hardware. It became the largest manufacturer of remotely operated vehicles (ROV), replacing human divers in deep subsea environments with over 250 vehicles operating globally. Its diving teams made some memorable salvage dives. In ı982, the company raised three propellers from the LMS Lusitania, torpedoed by a German U-boat off the coast of Ireland in ı9ı5.
"It got to the point where you had to send a machine (also known as an ROV) instead of a person, so we built remotely operated vehicles to go down to deeper depths to do work and lift heavier objects," Roedel said. "And then, we started expanding into the energy field."
Today, the company's primary clients are in the offshore oil and gas industry, but its technology serves other sectors as well, including aerospace and defense. "We've got a group that does work in space and a group that does amusement park rides. It ends up being a fairly diverse company, which is primarily focused on technology deployment."
Roedel's most recent assignment was leading Oceaneering's umbilicals plant at Port Panama City in Bay County, one of the company's three umbilical manufacturing facilities worldwide.
"An umbilical is a way an operator can deliver chemicals to a well, deliver power to control pumps on the ocean floor, deliver signals back and forth between areas, and pump hydraulic fluid to open and close a valve or to perform other functions," Roedel explained. "Every job is different. Each umbilical has different tubes, different components, different size conductors and different tensions."
According to Roedel, the Panama City Plant was constructed to replace a similar one the company already had in Houston.
"We needed to be on a port so that a big vessel could come and pick up a product," he said. "So, they planned Panama City about
ı5 years ago, and we moved the operation from Houston."
To date, the Panama City plant's longest manufactured umbilical measured 62 miles when unspooled and laid upon the ocean floor.
While there is some competition in this unique field — Roedel mentioned competitors in Mobile, Alabama, the United Kingdom, Norway and Brazil — Oceaneering's advantages lie in its advanced technology and its ı00-percent on-time record.
"Being able to produce the most difficult technical umbilicals in the world and being on time is what the oil and gas companies are looking for," Roedel said. "And that's the Panama City plant's claim to fame."
Because the machinery used to produce umbilicals is large and can be complex, Roedel is equally proud of the plant's commitment to safety.
"It's the No. ı thing that we focus on as a company," he said. "We want to make sure that everybody goes back home at the end of every shift. If we have to weigh doing something risky to get product out faster, versus doing something safely, we're going to choose safety every time."
Today, the huge umbilical facility has ı25 employees, and Roedel says they're always looking for new hires. Appropriately trained workers can be hard to come by in an area dominated by the hospitality industry.
"So, what we try to look for are employees who have good attention to detail, want to learn and are constantly challenging themselves to get better," Roedel said. "If we can hire people with the right values, then we can train them how to wind wire. We end up hiring quite a few people out of the military because it teaches a lot of those values."
Workers at Oceaneering are treated well both on and off the job. In 20ı8, when Hurricane Michael devastated parts of the Florida Panhandle, Oceaneering shipped in generators and worked with employees on their homes to make sure that they were made safe and livable.
Going forward, Roedel expects the plant to continue to focus on the needs of the oil and gas industry, while also looking at how it can apply its technology to other energy sources such as hydrogen or offshore wind.
"We're looking at how (our Panama City facility) can be a part of that," he said. Oceaneering is already supporting the offshore wind industry in Europe and Asia Pacific. "We want to make sure we're staying at the forefront of that because all of those require a pretty heavy engineering component, and we think we have some really strong engineers at our facility. We're looking to be balanced between traditional oil and natural gas and other alternative energy sources."
While Oceaneering is a well-known service company in the offshore energy industry, the company's Panama City location keeps a low profile.
"We're sort of tucked away, and not a lot of people know what we do even though we're a large, engineering-intensive company that's so important to the United States and world economies," Roedel said. "We ship products from Bay County around the world; we do business with China and Malaysia, East and West Africa, and Brazil. To me, [Panama City is] sort of a hidden gem, and we're always looking for good workers who want to come in and contribute to society and the company."