M.T. Mustain Center: Dress Rehearsal
Ensuring a seamless opening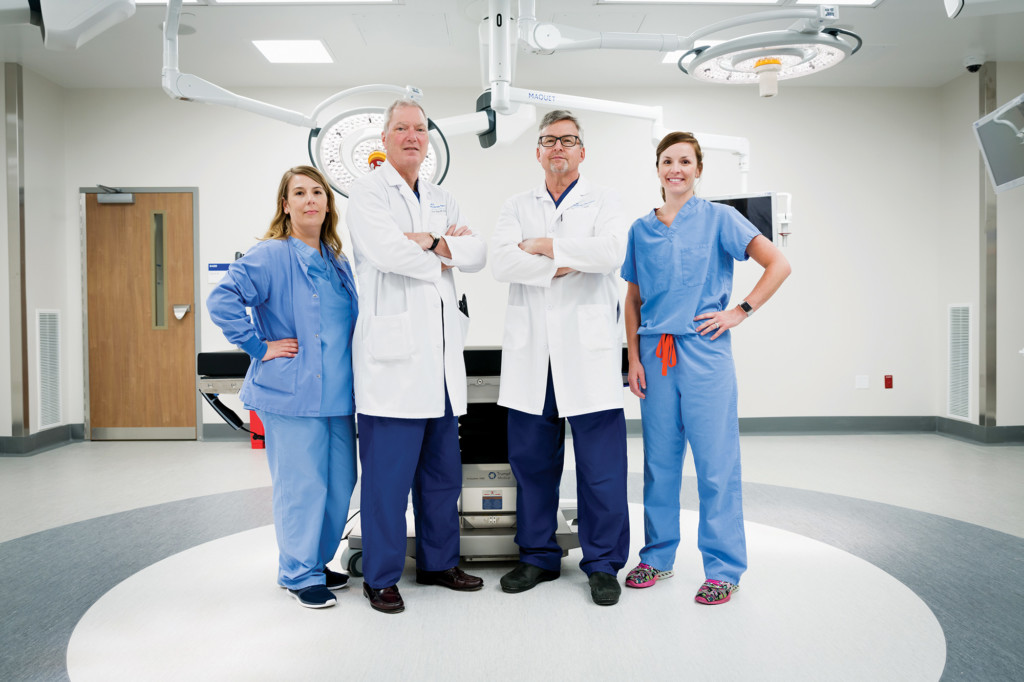 In a Broadway production, the actors learn their parts, the technicians plan the light and sound, the designers set the stage and, finally, it all comes together a few days before the opening with dress rehearsals.
And so it has been with the new M.T. Mustian Center, as departments from throughout the hospital did their part to ensure the opening of this state-of-the-art surgery and intensive care building would become a hit with the Tallahassee community.
But just to torture the analogy a little bit further, the stakeholders in this process were rehearsing while the play was being written.
About five years ago, in a warehouse a few miles away from Tallahassee Memorial HealthCare (TMH), planners had created a "stage" that would simulate how the rooms in this future complex would look and function.
"We did a mock-up of an OR room, of an intensive care room, of a pre- (and) post-op room and recovery bay," said Katie Hill, Project Manager for the M.T. Mustian Center. "The clinical team accessed it from their perspective of caregiving, but then the patient and family advisors assessed it from a vantage point of a patient and what kinds of things they like to see and what would be meaningful for them."
Representatives from non-patient care areas also were at the planning table, said Yashica Wilson-Hearns, TMH's Vice President, Support Services.
"Things on paper, you don't see the fine details. If you've ever built a house, you're looking at the plans, you think you might want a plug here; but when you actually walk the space, you think, 'I should have put a plug here and maybe put a plug there,' " she said. "So the warehouse simulation brought everything together."
Her team also was able to give advice on surfaces, furniture and fixtures that might hold up best, be more easily maintained over time and work throughout the hospital as other areas are updated with textures and colors, including a royal shade of blue they call "Mustian blue."
All of the equipment in the new operating rooms is new. During the selection process, doctors and staff were invited to try out different products and weigh in on what would work best.
Linda Fox, Service Line Administrator for Surgical Services at the hospital, used the overhead lighting as an example.
"We brought in multiple companies and had them install their products in the mock area," she said.
"The physicians and the OR staff together went over there. They looked at the quality of light … and then they looked at the mobility of it. Some lights could only swing to a certain degree around the operating room bed. Others had a longer degree of swing. Did you have to take two hands to try and move it, or could you move it with your finger?"
In addition, Fox and her colleagues used the mock rooms to determine the most logical placement of equipment and supplies. To illustrate the process, she discussed the "clean core" area, each of which services seven operating rooms. Here, among other things, is where the team scrubs up for surgeries.
"We did a lot of simulations … we had a lot of things we wanted to do in that space," she explained. "So we made a list of everything we want to keep stored, or be utilized, or have available in that area and … we laid it all out and (created cardboard copies) in exactly the same size. If we need 15 of this size cart, where will they fit? Where do we need electrical plugs if something needs to be plugged in and kept charged?
"We measured the length of cords, all those kinds of things, to make sure certain pieces like masks and soft goods all fit over a scrub sink … and a garbage can to throw stuff away. Little things that you don't necessarily think about, but we simulated it."
She chuckled when she described what they dubbed the "Melinda Rule," named after the shortest team member, who's under 5 feet tall. When placing supplies they asked themselves, "Can Melinda reach it?" Fox said. "And actually tried it."
TMH Education Coordinator Beth Cao has been working on the "people" part of the preparation for more than a year now.
Some of that has been determining what training on what equipment needs to be offered and documented to satisfy accreditors.
Cao said her goal was to train colleagues about the new facility in steps "from simple to complex."
"You can't take someone on one tour and expect them to know where everything is," she said.
To begin, there were tours, "just introducing them to where they're going to be working and some of the life/safety pieces, such as where the smoke doors, evacuation routes, fire extinguisher and oxygen pulls were located," Cao said.
"Next, any new equipment or technologies they're going to be using, and then that last stuff is kind of putting it all together, going into their specific departments, seeing all those things in the actual space, and doing some scenarios, kind of like simulations that I was used to in nursing school."
In the end, people make the difference, said Fox.
"It's the human relationships that really make all of this happen and that we really want to continue to develop and expand on," she said.