Lost or Wanted: Who Clues the Dogs in?
Scents, unlike fingerprints or retinal scans, require four-legged investigators.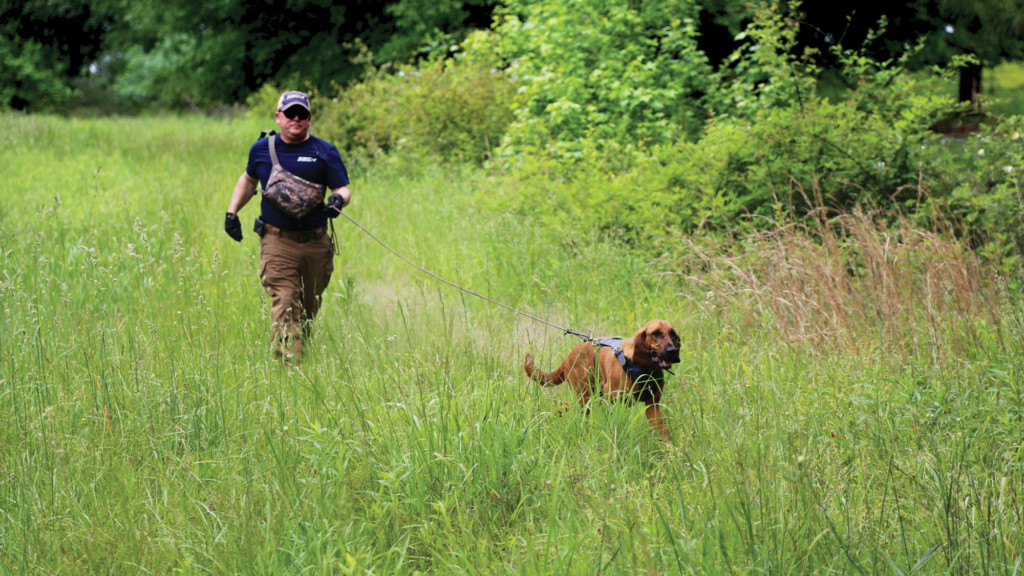 Editor's Note: When we first checked in with Paul Coley five years ago, he was just getting started in the tracking business, then in Sneads. In the years since, he has compiled a long list of remarkable success stories, including work on the Elizabeth Smart abduction case, overcome a hurricane and gained an international reputation. Today, he operates from a location on Industrial Drive in Tallahassee.
When the FBI started cataloging fingerprints in 1924, it was a major forensic protocol that grew into a powerful system for the identification of individuals — a protocol that, globally, became a baseline standard.
Retinal scanning, for all its "Mission Impossible" cache, is basically in the same category as fingerprinting. Both involve physical features exclusive to an individual.
Bodily scent, like fingerprints and retinal patterns, also represents an attribute particular to the individual. But scent has added dimensions.
Unlike fingerprints and retinal scans, scent requires no human investigators to do the heavy legwork.
Paul Coley is a Chattahootchee man with a bunch of bloodhounds and some labradors, too.
In 2012, after three years as an FBI forensic canine specialist, he went corporate, teaming up with his wife Donna and a friend, Joe Blanton, to form the Florida company, Scent Evidence K9.
In addition to Coley's experience with the FBI, Donna's education in psychology and the marketeering mojo of Blanton, the company's assets included 16 dogs, two trainers and a 1,000-acre ranch northeast of Memphis, where the dogs would train.
In a romantic take, a Scent Evidence mission can't help but tap into the archetypal scenario of flop-eared hounds excitedly milling around.
Enter the kennel master, clueing them in with a shirt or other personal possession of the sought after. Then, off they plunge, under the full moon, a riot of excited tails and hysterical baying!
Practically speaking, Coley and companions have advanced an ancient rite exponentially by developing a procedure for collecting and storing people's scents long term.
In the process, Coley consulted with Florida State University students in disciplines ranging from engineering to biochemistry.
The result was the SEK9 kit, consisting of a 5-by-9-inch gauze pad and a hermetically sealing container, both surgically sterile, plus sealing tape, a label and instructions.
With the gauze, a person's scent is gathered when he swabs an armpit a few times. Apparently, things like deodorant or garlic are irrelevant to the dog's olfactory focus.
Once sealed, the scent-embued pad can be stored for up to 10 years. So far, the oldest kit used under field conditions had been stored five years.
Since its organization, Scent Evidence has supplied its kits to hospitals including Tallahassee Memorial HealthCare; law enforcement departments and individuals from the South to the Midwest; and onward beyond the Big Muddy.
Coley's dogs have been true guardian angels for lost, and, most notably, autistic children. They served with distinction in Utah's infamous Elizabeth Smart abduction case.
Outside Chicago once, it was a Coley dog that found an injured car wreck victim, drunk and wandering in snowy, sub-zero weather.
In another case, the SEK9 scent-kit proved its value in a missing person incident.
An unfortunate, but clear-sighted man in Citrus County filed a scent sample after receiving an Alzheimer prognosis.
Some time later, his condition deteriorated, and the swatch was used to find him wandering along an interstate highway.
Coley has the soft, rounded accent of his West Tennessee origins, maybe broadened somewhat a la the Florida Panhandle.
In a recent interview, he described the loss of four kennels in his yard to Hurricane Michael.
"Had to bring the dogs in the house for the duration," he recounts, then laughs at the next question, saying, "No, they stayed in the garage, not on the living room couch!"
Coley is totally sold on his dogs' super-power noses. The question was whether canine scent evidence would be legally acceptable in court.
"Yes, it is!" he declares, citing U.S. vs. Wade, a 2009 Alaska case.
Did you know that a dog's nose is 40 times more acute than a man's?
"We did a demonstration once for the Army," Coley says.
"We had two Special Forces guys — twins. They took off into the woods and left us with a scent sample for only one of them. Once into the woods, they went in different directions, and never mind that they'd laid down a split trail; it didn't faze the dog.
"It went straight for the twin whose sample we'd used."
Dogs have even successfully tracked individuals in vehicles.
"Starting in the mid-1970s, most cars were built with a type of outside vent where, apparently, the scent from the car gets swept out and will settle to the side of the road," Coley explains.
"They've even trained dogs to detect invasive species, like zebra mussels, you know? It's gotten to the point where we're scheduled to do seminars this summer in Germany and Switzerland."
Fingerprints, retinal scans and Scent Evidence-K-9? Lucky Coley; lucky dogs!