Looking to the Future
Regional eye center is an innovator and educator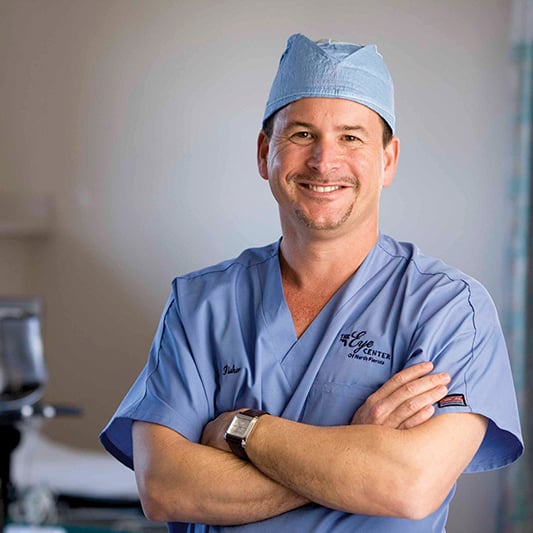 Had it not been for Dr. Bret Fisher's desire for climate change, Panama City likely would not be the center of excellence for cataract surgery that it is today.
Fisher is the medical director of the Eye Center of North Florida, with offices in Bay, Gulf and Washington counties, and the Laser and Surgery Center, located in Panama City.
Upon completing his residency in ophthalmology at the renowned Wills Eye Hospital in Philadelphia (after earning his medical degree at Duke University), Fisher joined the staff at the Anderson Eye Institute in San Diego in 1990. Two years later, the ambitious Fisher founded the Comprehensive Eye Care Center, also in San Diego.
But Fisher, Southern California's blissful weather notwithstanding, was dogged by a desire to return to his home state of Florida and to escape what he found to be an oppressive regulatory climate.
He traded the left coast for the Gulf Coast, accepting a position with the Newberry Eye Clinic in Panama City. And, despite landing in a small city, Fisher's ambition arrived intact.
"There was not a lot of managed care in Northwest Florida," Fisher noted. "In the case of most patients, it was traditional fee-for-service, and it's easier when there's no layer between the patient and the doctor. In California, pre-approval was required for everything, and I spent a lot of time and effort pleasing people who were in charge of looking after an insurance company's bottom line instead of what was best for the patient."
The Eye Center represents the vision of several doctors who got together to discuss the efficiencies and advantages that a large, consolidated business would bring. The Newberry and Gulf Coast eye clinics merged and moved into the Eye Center's large headquarters facility on Martin Luther King Boulevard in Panama City in 2000.
As a medical student at Duke, Fisher participated in research headed up by Diane Hatchell and Einar Stefansson, two people who got him "started on the eye track." Their focus was diabetic retinopathy — a condition that results from damage to blood vessels at the back of the eye — and laser treatments for it. Then, at Wills, Fisher was among residents who combined to produce the first edition of the Wills Eye Manual, regarded as the most widely published work in ophthalmology.
These days, Fisher tends to be a mentor rather than a mentee in areas including cataract surgeries, some 3,000 of which are conducted at the Eye Center each year.
"We host a physician or group of physicians at our surgery center typically every month or so," Fisher said. "These are generally established surgeons from all over the United States who are interested in the technology we are using here at the Eye Center and how it helps improve cataract surgery for our patients."
It is the Eye Center's status as an industry leader and innovator that puts its physicians in a position to educate others. For example, Fisher and an Eye Center colleague, Dr. Paul Garland, combined to perform the first laser-assisted cataract surgery in Florida in 2011.
"Physicians at the Eye Center of North Florida not only stay abreast of the latest advancements in cataract surgery, they are also at the forefront of driving technological advances in the specialty," Fisher emphasized.
"We participate in many FDA studies of the latest models of lens implants for cataract surgery, allowing us to offer the latest technologies to our patients. I frequently teach physicians about cataract surgery and report the results of our studies at national meetings of cataract surgeons, as well as in peer-reviewed publications."
Indeed, the past decade has seen the development of new multifocal and astigmatism-correcting lens implants, which allow most people to get along without glasses for most activities after cataract surgery.
The precision of laser-assisted surgery, Fisher said, has enabled doctors to maximize the potential of lens implants.
He added that "other technologies, such as the optiwave refractive analysis system for measuring the eye during surgery, have allowed us to achieve accuracy in cataract surgery comparable to what we achieve in LASIK," the now familiar procedure used to correct common vision problems such as nearsightedness.
The inevitable aging process ensures that Fisher et al. will be in the cataract business for the long haul.
Fisher finds that people with cataracts usually notice a gradual onset of blurred vision and begin to experience difficulty reading, problems with glare or bright lights and diminished night vision. A cataract, which is simply a clouding of the eye's natural lens, is a normal part of getting older. Almost 100 percent of people will develop cataracts to some degree by age 70.
For most patients today, there are few restrictions following cataract surgery. Patients are asked not to drive the day of their surgery because they do receive mild sedation.
It's important, too, that they not rub their eyes, go swimming, wear eye makeup, or get dust or dirt in their eye for the first week after surgery. There are no restrictions for most patients on stooping, lifting or bending.
"With most of our patients, we are performing dropless or one-drop-a-day cataract surgery," Fisher said. "We're able to do this because we use a special combination of antibiotics and steroid medication given in the eye at the time of surgery. This saves patients from the expense and inconvenience of using postoperative drops, and it's more effective."
Throughout the experience, of course, it is helpful to have a caring doctor.
Fisher seeks a number of qualities in addition to experience and knowledge when he recruits physicians.
"I want doctors who have a good bedside manner and who will interact with staff and work well as a member of a team," Fisher said. "We want doctors who are competent but not arrogant and who are good listeners and communicators and are compassionate. We care. We've never turned a cataract patient away for financial reasons."
Low-tech considerations, perhaps, but ones that apply universally, all the way to California.