Local Universities Are Grooming the Next Workforce
Gulf Coast State College and Florida State University Panama City are strengthening their ties with emerging industries.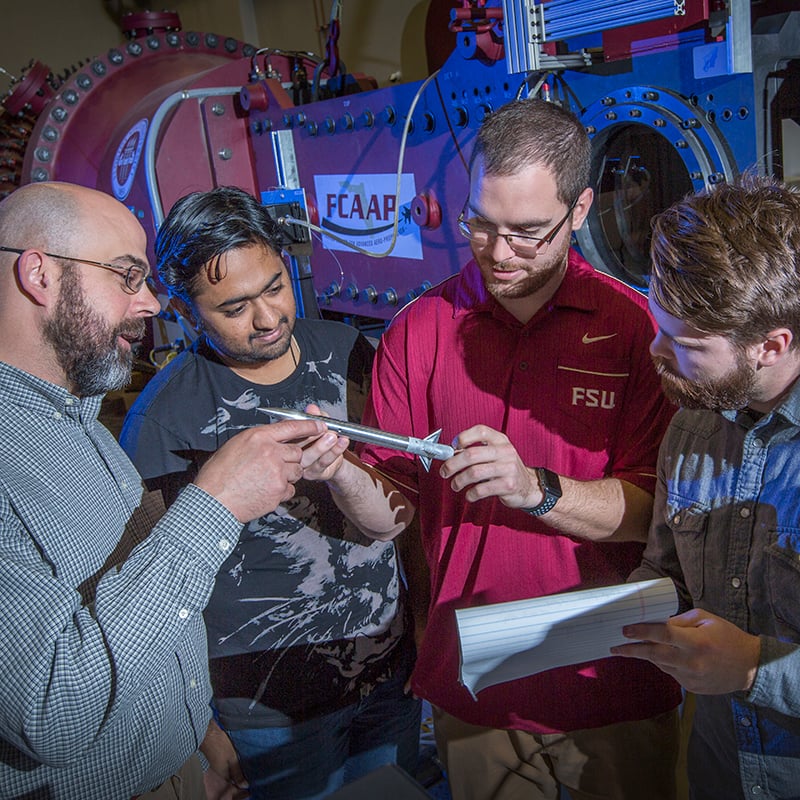 With new degree programs and a strong commitment to affordable tuition and workforce development, Gulf Coast State College and Florida State University Panama City continue to be key players in the effort to grow and diversify the Northwest Florida economy.
This fall, FSU Panama City will launch two new engineering programs — a bachelor's degree in mechanical engineering and a master's degree in systems engineering — expected to have a direct and long-term impact on the local workforce.
"These new programs are coming to FSU Panama City because of the strong demand from local industry and support from the FAMU-FSU College of Engineering," FSU Panama City Dean Randy Hanna said.
"With community partners such as the Navy base, Tyndall and GKN, our students will have unlimited options."
The mechanical engineering program prompted the creation of an Engineering the Future Endowment — which has a goal of $1 million and $150,000 in initial commitments from the Gulf Power Foundation and the St. Joe Community Foundation.
The endowment will be used to fund scholarships, update campus labs and provide professional development opportunities for students and faculty.
The new systems engineering program was developed jointly by the FSU Panama City and FAMU-FSU Department of Industrial and Manufacturing Engineering with support from the Naval Surface Warfare Center Panama City.
Another new offering this fall is a master's degree program in law enforcement intelligence, which includes advanced coursework in criminal justice, economics, and political and military science along with a semester-long project with a law enforcement agency.
"The law enforcement community has been asking for it," Hanna said.
"We are excited about being able to meet that opportunity."
To fully support the new programs, Hanna has hired an additional 10 faculty members.
In addition, he has increased the number of academic advisors across the campus.
"We're making sure our programs remain academically strong," he said.
"The advisors and tutors and career coaches, they help students and make a difference in their lives. Retention is critically important — not only for enrollment but for student success."
Hanna said FSU Panama City, which served more than 2,600 students during the 2017-18 academic year, is getting noticed by more students than ever before.
"We anticipate having the largest freshman class that we've had since we started our freshman initiative," he said.
"… We tell students — especially those from our area — if you want to live in Northwest Florida, what better way to do it than at FSU-PC where you can take classes that are small, you can have internships in your community that, in many cases, lead directly to jobs and the view isn't bad, either!"
FSU Panama City's low tuition rates also make it an attractive choice, Hanna added.
"We work hard to keep higher education here at Florida State affordable," he said.
"I'm a big believer that students, especially at the bachelor's degree level, not take out student loans, that we should work hard to help them get out of college with the smallest amount of debt possible."
Start Here, Go Anywhere
From a funding perspective, GCSC will start the upcoming fall semester in a better position than the previous year.
In 2017, when lawmakers cut $30 million from Florida's state college system budget of more than $2 billion, GCSC was left with a $1 million shortfall.
"That hurt," GCSC President John Holdnak said. "That was tough to swallow. … Our incredible faculty and staff were able to retool, make the appropriate adjustments, and get the job done."
Although forced to eliminate a number of positions across campus, he avoided a direct impact on the college's roughly 8,300 students.
This year lawmakers restored almost 7 percent of the 2017 cut, allowing GCSC to once again forego a tuition increase.
"We are committed to keeping college affordable as long as we can," Holdnak said.
"It's been about seven years since we raised tuition and it's not on our horizon for next year."
In keeping with that mission, one of his top priorities is increasing the number of Northwest Florida high school students pursuing higher education.
Holdnak is especially proud of the GCSC Navigators program, which has placed a full-time college employee on every public high school campus in Bay, Gulf and Franklin counties for the sole purpose of guiding students through high school and on to some level of post-secondary education.
"(Students are) coming out thinking they're done and moving into dead-end jobs, many of which are going to be automated out of existence during the first portion of their lives," he said. "They're going to need something. If we can help figure out the direction they want to go, they are going to be productive members of society … and that rising tide will float all boats."
In addition to helping the K-12 system keep more students from "falling through the cracks," GCSC Navigators has made those local school districts more aware of what GCSC has to offer their students, Holdnak said.
With roughly 40 percent of GCSC's enrollment comprised of occupational programs — ranging from the health sciences to public safety — the college is committed to supporting the regional workforce by providing companies such as GKN with a pipeline of skilled workers.
"For many, we are their first choice for and education after high school, and for others we are their last chance," Holdnak said.
"As an open-door institution, we will take you from wherever you are educationally, and we will support and nurture you until you get to wherever you want to go. Our college slogan or motto for around 40 years is 'Start Here – Go Anywhere!'"
Working Together
In the past year, GCSC and FSU Panama City have also embraced the power of joining forces to make higher education a reality for more residents along the Emerald Coast.
"With FSU-PC literally in our back yard, we do many joint activities with them," Holdnak said. "We have a great relationship."
In October 2017, Hanna and Holdnak formed the Seminole-Commodore Alliance, which is designed to make it easier for GCSC students earning associate degrees to transfer to bachelor-degree programs at FSU Panama City, obtain scholarship money and interact with FSU professors earlier in their college careers.
S tudents who have an associate degree and a minimum transfer GPA of 3.5 will be guaranteed admission to FSU Panama City and guaranteed a scholarship.
"It shows our commitment to the two-plus-two system, and it shows our willingness to work together, which ultimately benefits students," Hanna said.
The Seminole-Commodore Alliance also extends to campus life, allowing students from both schools to participate in common activities, clubs and intramural sports.
"And participation in student activities is directly tied to student success," Hanna said. "There really shouldn't be a distinction between the two campuses. They're both right here next to each other, and the students should know each other."