New Regional Collaboration Celebrates Inaugural Class
Class I graduates of Leadership Northwest Florida are celebrated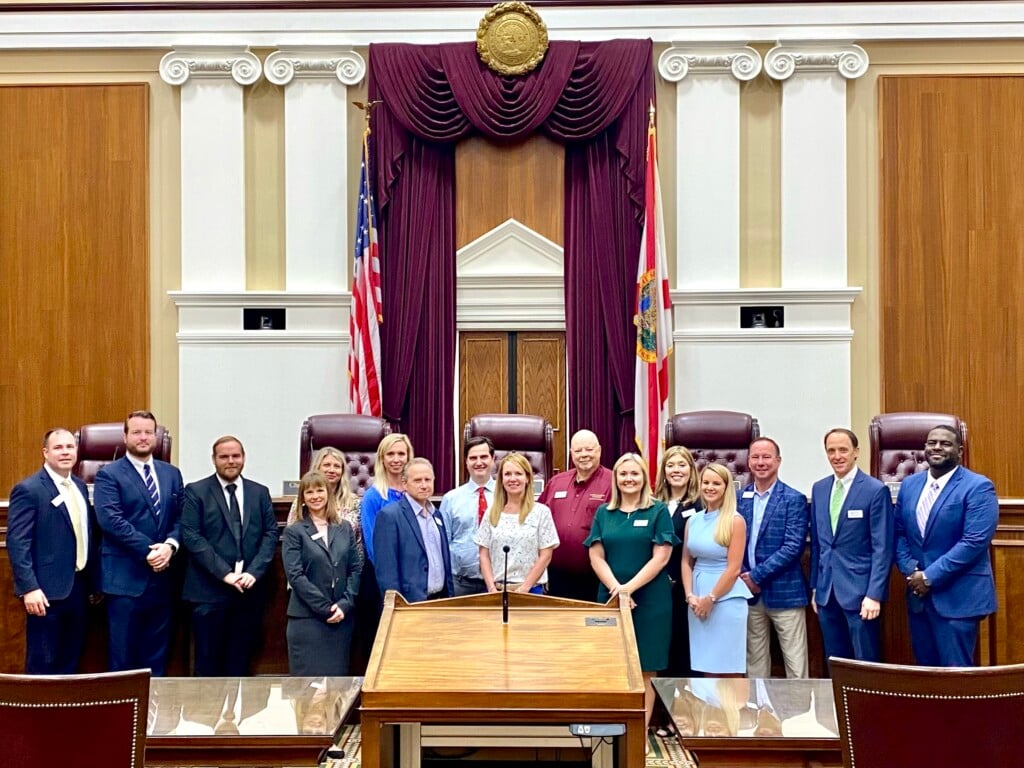 At a closing retreat and graduation ceremony on May 12, 2023, Florida's Great Northwest (FGNW) Foundation honored its new graduates from Leadership Northwest Florida, a new regional collaboration program focused on community, content and connection.
Eighteen leaders from across Northwest Florida participated in the inaugural program that fostered a deeper understanding of the region's diverse landscape.
Class I participants were immersed in a seven-month educational program which offered a holistic view of the conditions, challenges and opportunities that are shared throughout Northwest Florida focusing on the areas of Business Vitality, Entrepreneurship and Innovation, Infrastructure, Talent, and Quality of Place.
Marcus McBride who is president & ceo of CareerSource Escarosa was selected as a participant in the inaugural Leadership Northwest Florida class. He was also elected by his classmates to serve as President of Class I.
"I am grateful for the connections established, information shared, and countless economic development resources identified across the Northwest Florida territory," said McBride. "The Leadership Northwest Florida program was well-organized, allowed every leader in this cohort see the Panhandle of Florida in its truest form and understand how invaluable our communities are when connected with a common purpose."
Another class participant was Elizabeth Forsythe who is a Senior Associate with CBRE, Inc. She shares a similar experience with the Leadership Northwest Florida program.
"Making new life-long connections and friends, visiting and hearing from successful business owners throughout the region, learning about the partnerships and innovation initiatives happening right here along our Emerald Coast, and learning more about our incredible talent base are just some of the things I took away from this program," said Forsythe. "The work that Florida's Great Northwest does to attract new businesses to the area, and to spread the word about all this region has to offer is invaluable!"
Congratulations to all the graduates from Class I of Leadership Northwest Florida:
Kimberly Aderholdt, Navy Federal Credit Union
Robert Arnold, Grayton Beach Capital
Elizabeth Crowe, Florida State University Panama City
Jason Crowe, Community Bank
Grey Dodge, The City of Panama City
Elizabeth Forsythe, CBRE, Inc.
Tiffany Garling, Jackson County Chamber of Commerce & Jackson County Economic Development Committee
KC Gartman, Baptist Health Care
Kelli Godwin, ITI Digital
David Harless, Regions
Lesley Hatfield, Holmes County Development Commission
Charles James IV, Clark Partington
Ryan Long, The Highland Group
Marcus McBride, CareerSource Escarosa
Stacey McGilvray, Hancock Whitney Bank
Chuck McIntosh, Florida Caverns RV Resort
Johnathan Taylor, LandrumHR
Matthew Wright, Troy University
If you are interested in applying for consideration of Class II of the program, visit FloridasGreatNorthwest.com/LNWFL.
The deadline to receive applications for the Class of 2023-2024 will be September 6, 2023. For more information, please contact Kasey Killebrew at 334-790-4557 or kkillebrew@fgnw.org.
---
Leadership Northwest Florida
For Northwest Florida to continue to compete, diversify and thrive, it will take informed, dedicated leaders who understand the complex and competitive environment of economic transformation.
Leadership Northwest Florida is designed to be an educational program offered for professionals in all industry sectors desiring to grow their knowledgebase, network, and skillset in the 12-county region of Florida's Great Northwest footprint.
This experience will ultimately result in long-term influence of the leadership graduates for the betterment of Northwest Florida.
Florida's Great Northwest
Florida's Great Northwest is the regional economic development organization for the Florida Panhandle.
The organization was created to promote Northwest Florida for economic growth and diversification, advocate for economic development issues that affect the region, and collaborate to improve regional competitiveness.
The organization accomplishes this in partnership with the state and local economic development organizations, rural regional economic development organization, utility partners, private sector businesses, local government, higher education institutions, workforce boards, and community leaders.
---