It's A Pretty Big Deal
From recruitment to patient services, the M.T. Mustian Center is making waves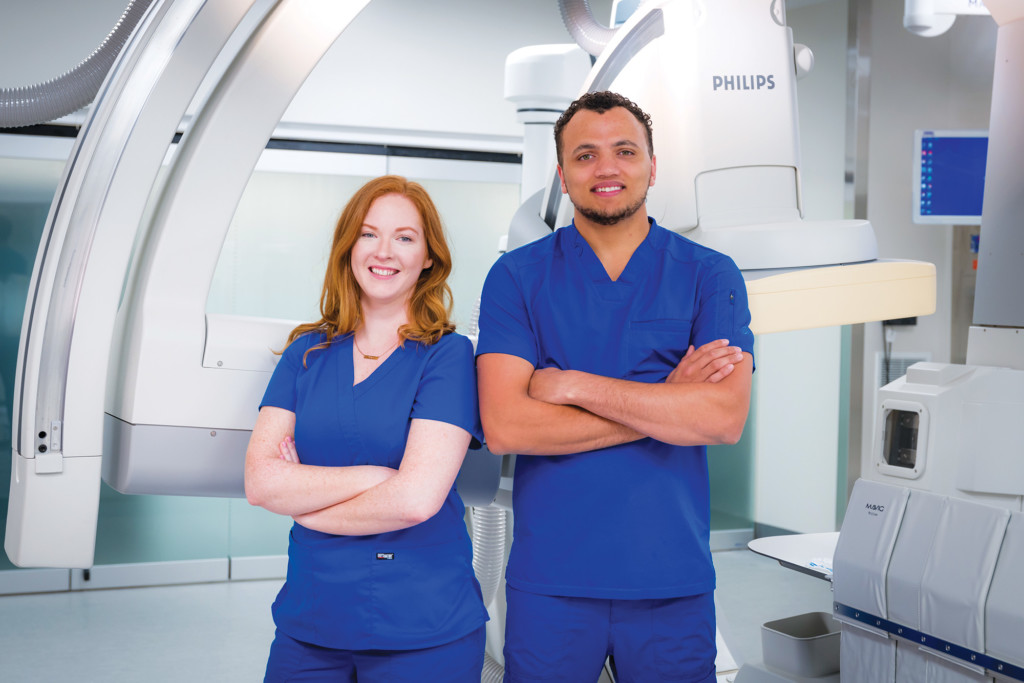 If you go just by the numbers, the newly opened M.T. Mustian Center at Tallahassee Memorial HealthCare (TMH) is, without a doubt, a big deal.
A $275 million price tag, requiring a foray into New York's bond market for financing. A massive, 340,000-square-foot, six-story building, with planning and construction spanning 11 years.
Twenty-eight operating rooms and four interventional suites — some twice the size of existing ORs — and 72 intensive care beds with room to grow. More than 50 hospital departments involved in planning and executing the expansion.
But the impact of this new state-of-the-art facility is currently being felt well beyond its white and glass walls — and will continue to do so far into the future.
"ORs and ICUs are the most expensive and complicated spaces in any healthcare facility. You don't just on a whim decide to make changes," said Mark O'Bryant, President & CEO of Tallahassee Memorial HealthCare.
"Recognizing this, we actually started talking about this prior to 2008. But we put it formally in our strategic plan … and the reason why we decided to do that is because we realized if we were going to do it, we were going to do it right."
O'Bryant channels hockey great Wayne Gretzky — who famously said he doesn't skate to where the puck is, but where it will be — when talking about what he calls a "50-year building."
"You don't build one of these facilities only to meet the needs of the community that day," he said. "If you're going to make this type of investment, you need to make sure it's an investment that's going to have value for a long time."
For a number of reasons, Tallahassee and the region are big winners with the expansion.
While much of the existing staff will move from where they currently work, the new facility adds about 100 jobs to the local economy.
And not just nurses and other clinical staff, but also in food service, environmental services and other positions necessary to the smooth running of the building. Administrators expect that number to continue growing as the spaces that formerly housed ORs and ICUs are repurposed.
"All those positions will support the growth moving in, but the continued growth is going to be important as we backfill the space that's been vacated and we'll be able to increase the number of beds," said former Vice President, Chief Clinical and Nursing Officer Barbara Alford.
In a competitive healthcare job market, the state-of-the-art equipment and even just the newness of the M.T. Mustian Center gives TMH recruiters a leg up, said Steve Haynes, TMH's Vice President, Chief Human Resource Officer.
"Anytime you have new patient care space, from a recruitment standpoint, it's a pretty big deal. And anytime you have new operating suite and ICU space, it kind of exaggerates that big-deal effect because of … so much new technology," Haynes said.
"It's an opportunity for an organization to replace some equipment. Just like cars or computers, there's always the latest and greatest and all the new features. We are beginning to see the appeal, especially to some. If you're a nurse or an imaging technician or a pharmacist … from a career standpoint, that's something they want to be a part of."
TMH works closely with Florida State University, Florida A&M University and other local colleges and schools to create a pipeline from student to employee.
The hospital was instrumental in helping create a four-year nursing program at Tallahassee Community College as well as supporting training for other health professions at TCC's nearby Ghazvini Center for Healthcare Education.
"If they do their clinical training here, we've got a reasonable chance of recruiting them," Haynes said.
"They know some of our leaders, they've gotten a chance to take a peek under the hood, so to speak, for a number of months, and our goal is for it to be a natural next stop when they start their careers."
Even before ground was broken for the M.T. Mustian Center three years ago, the hospital sought to create programs that would attract doctors who are on the cutting edge of medical care, including ones that allow complex heart surgeries without opening the chest and brain surgery conducted through the femoral artery.
"Already we've seen fewer and fewer people leave to go out of town for medical care," said O'Bryant. "And that's mainly because we've been expanding the scope of services that we've provided. We've always been a strong safety net facility, but in the past, we've not had the breadth of services that we have now."
But even more prosaic surgical procedures are part of a healthcare future envisioned by TMH.
"It's looking like hips and knees," quipped TMH's Vice President, Chief Financial Officer Bill Giudice.
"Back in the day 10 years ago, your stay was five, six, seven days in the hospital. Now it's two and three days, and it's rapidly reaching the point where you'll have major joint replacement on an outpatient basis. We're watching these trends change."
Those staying in the hospital will have more need of ICU and intermediate care, he said. And before the M.T. Mustian Center, "we had an inadequate facility for that."
O'Bryant says it's an economic boon any time a doctor sets up a practice in Tallahassee.
"That's about a million-dollar business for every new (physician) that comes in," he said.
"What it does more than anything else is it gives people access to services and a medical home so they don't have to leave. This is a transformative facility, to say the least."
It also greatly widens the area served by TMH as patients travel here for surgeries and services.
"That will continue to make a difference to bring patients here who don't have the ability or means to get to California or Minnesota or New York, and now they can get (care) right here in Tallahassee," said Alford.
"That's going to be a real benefit for patients and families."
As her role as project manager for the M.T. Mustian Center winds down, Katie Hill, Project Manager of the M.T. Mustian Center, echoes the sentiments of many of those involved in the planning and construction of a facility that changes Tallahassee's landscape and the lives of those who will use it.
"I almost feel kidlike, I guess, sometimes when I see it," she said. "The contractor does this business a lot. The architect designs buildings a lot. But to see something like this coming out of the ground like it has, and the impact it's going to have on treating patients, it's pretty exciting."
While the M.T. Mustian Center building — one of the biggest single construction projects in Tallahassee — is an impressive structure, there is a value to the community that goes far beyond bricks and mortar.
"We always talk about the quality of life of Tallahassee. We have a great quality of life and we brag about it," said O'Bryant.
"One of those foundational components of quality of life is quality of health, and no organization has a greater responsibility in affecting and impacting the quality of health in our region than TMH. We want to improve the quality of life to our community by providing a better, more secure, safer environment for the quality of health of this region."