Is Rail the Right Way?
Enhanced service could boost the regional economy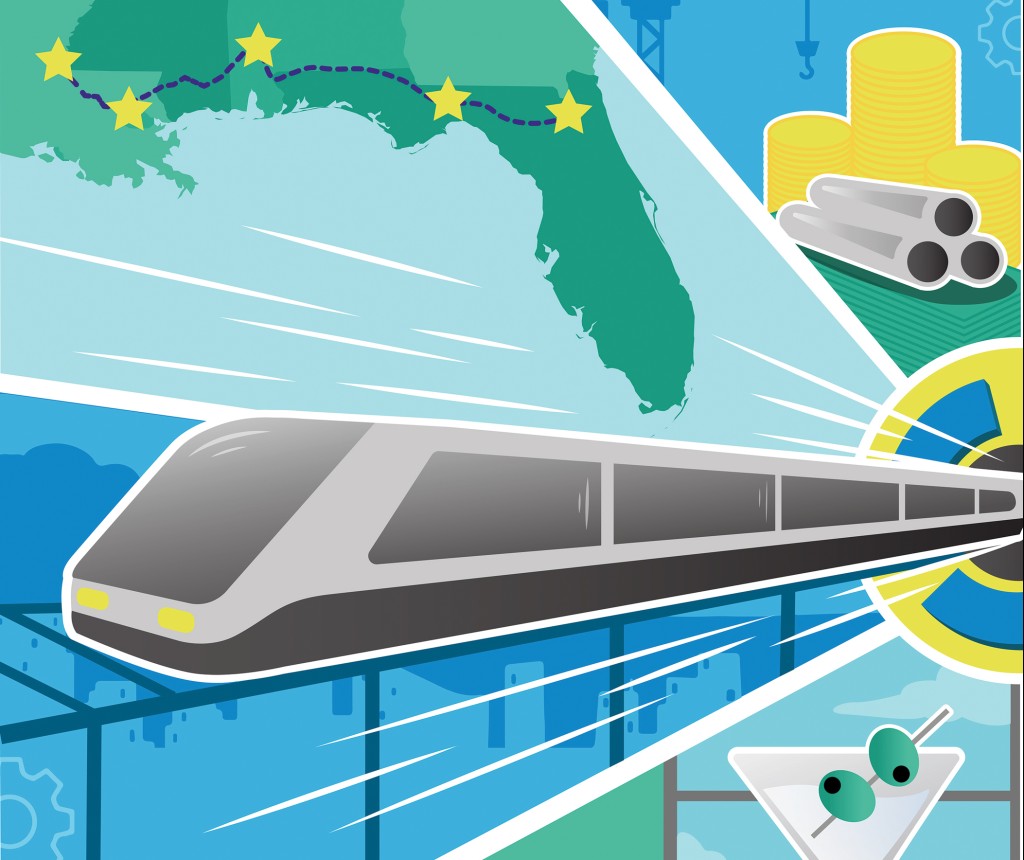 Washington calls the $ı.2 trillion Infrastructure Bill & Jobs Act a pathway to "transformational change," a term that is not well defined, as politics are caught up in those two words.
But as long as that phrase means new jobs, involvement by private business and wealth generation, I can live with it. People want a better America, not a necessarily different America.
In what is a scarcity these days, the infrastructure bill attracted bipartisan support achieved in a spirit of compromise. It stands to provide money for upgrades to roads, bridges and, of particular interest to me, railways. Businesses and municipal entities are well advised to move quickly in order to tap into the authorized funds.
South Dakota, as an example, received $22 million in November for a railroad freight capacity expansion project.
Amtrak is negotiating with the CSX and NS railroads to re-establish rail passenger service that was lost as a result of Hurricane Katrina in 2005. Amtrak has offered to pay for certain rail infrastructure upgrades and to facilitate the smooth operation of a combined passenger and freight operation.
In November 202ı, CSX told Railway Age magazine that it is not opposed to the introduction of new passenger service as long as the new service does not negatively impact freight. Fair enough.
CSX has identified ı4 infrastructure upgrades needed to accommodate four Amtrak trains daily running from Mobile to New Orleans. The projects are to be paid for with $66 billion reserved for Amtrak in the infrastructure bill.
Why stop the project in Mobile? Why not extend it to Tallahassee and on to Jacksonville? The money is in the bank. Out of the $ı.2 trillion in the bill, only $600 billion is earmarked for hard surface infrastructure. The other $600 billion may be used for a variety of public transit and eco-friendly transit projects.
In my view, the resources are available to help Northwest Florida's business community by reviving Amtrak rail passenger service along the Gulf Coast and developing a remodeled train station in Tallahassee. At the same time, we can build in the same corridor a fast freight rail service for CSX, Florida Gulf & Atlantic Railroad and adjoining rail branch lines that will expand the freight customer base and increase delivery efficiency.
All of this is doable with today's construction technology. We might begin with a two-tiered business plan incorporating conventional Amtrak and freight operations, and then advancing to embrace the future with high-speed passenger and freight service across North Florida.
Elevated concrete decks similar to those already in place in China and Japan could accommodate lightning-fast freight operations and high-speed passenger service. On the ground level, slower, conventional freight and Amtrak trains could proceed at their accustomed 79 miles per hour.
If the federal Department of Transportation can be sold on the New Orleans-to-Jacksonville idea, a world-class transportation structure could be built on ground and elevated levels and rival anything on the Asian rim.
Going from New Orleans to Jacksonville also makes sense in terms of construction costs.
The bridge segments would be of typical unit design and replicated over the entire route. A massive concrete and steel construction plant could be strategically located in Tallahassee and manufacture components for new structures from Mobile to Jacksonville and a similar plant could be built to provide components for the stretch from Mobile to New Orleans. Each plant would employ hundreds, if not thousands, of workers.
Florida Gulf & Atlantic Railroad would be able to multiply the quantity of delivery service it provides from Pensacola to Jacksonville by a factor of ı0. Amtrak likely would add ı0 to 20 stops, given the restoration of conventional passenger travel along the route.
Join me in envisioning a new Tallahassee Amtrak station that includes elements of the past and a fully enclosed, double-deck, passenger platform equipped with solar-powered lighting. Passengers ascending to the elevated area would board 230-mph, high-speed Amtrak trains to Orlando, Miami or west to New Orleans.
From New Orleans, the newly merged Canadian Pacific and Kansas City Southern railroad route would take passengers to Kansas City, St. Louis and Chicago. Eventually, the 230-mph service could be converted to 340-mph maglev, magnet-powered service.
Imagine yourself enjoying a drink in a classy club car at that speed and watching Florida, Alabama, Mississippi and Louisiana fly by in 90 minutes! I'll take a martini shaken, not stirred, just like James Bond preferred.
This plan has the capacity to generate great wealth for all stakeholders involved in such a forward-technology rail transportation system. It's all about creating jobs, advancing regional business interests and sustaining prosperity throughout the 850 region.
William Hume retired from the fields of civil engineering and infrastructure land surveying. As a freelance writer, he frequently addresses topics related to transportation and agriculture. He resides in Milwaukee with his wife Jeanine, an international banker.