Is Mobile Dentistry The Next Big Thing?
Blountstown grassroots startup Senior Dental Care expanding nationally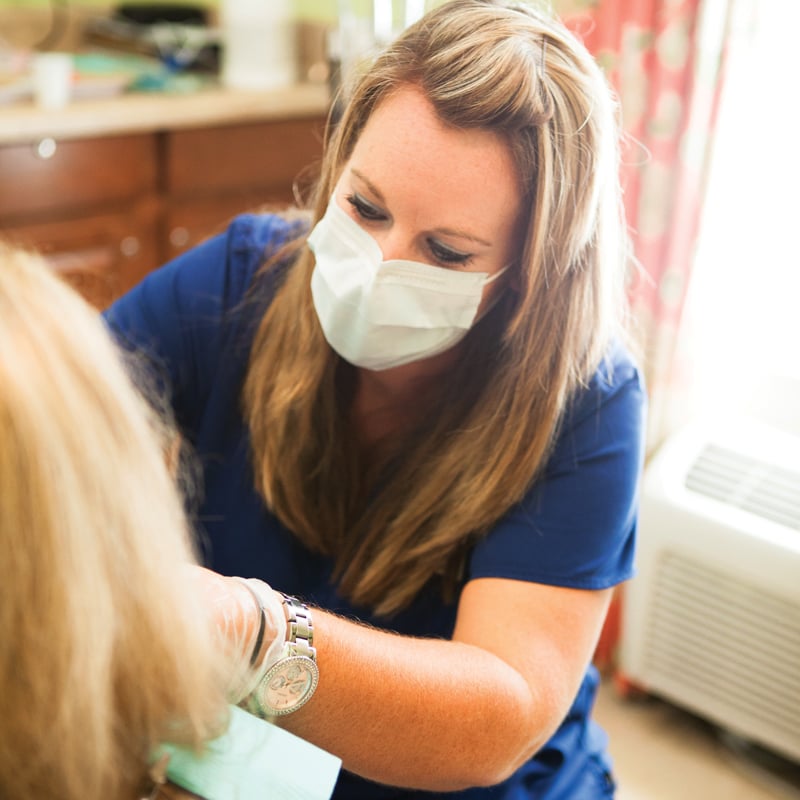 America's health care industry is evolving — and Tony and Cassie Layne of Blountstown aren't afraid to change with the times. As part of an up-and-coming industry known affectionately as "suitcase dentistry," this duo is revolutionizing oral hygiene for the elderly, one assisted living facility visit at a time.
"We got together five years ago and recognized that two things existed," explained Tony, the CEO and co-founder of Senior Dental Care. "The first, a serious area of neglect of care. And the second was that (the situation) offered a good opportunity for business. So we studied the situation and determined that it was really just a good chance to build a business that would make a difference."
The couple's successful entrepreneurial endeavors took root back in 2009, when Cassie was a freelance dental hygienist and Tony was a struggling real estate agent. With long-standing familial ties to dentistry (both Tony's father and brother are dentists in Blountstown), the pair possessed a rare degree of insight, allowing them to see a gap in patient care that other business-minded folks had missed. Addressing the importance of convenient and accessible oral care for senior citizens with limited mobility residing in ALFs was the first thing on their to-do list.
After things shifted into gear, it didn't take long before they were off and running.
In the early days, the newly established Senior Dental Care was only a local provider — with services stretching only as far from the company's Blountstown home office as the Fort Walton area. Peddling the services from one facility to the next, Senior Dental Care slowly expanded its territory.
Cleanings, fillings and oral cancer screenings and biopsies have always been the company's mainstay; nothing cosmetic or surgical is included in their scope of practice.
"We're focused on a couple of goals," emphasized Tony, "and that's to keep the residents healthy and to keep the residents happy. To do that, we're well aware that one of the last freedoms that you have as your body begins to give you the challenges of aging is the pleasure of eating. We really want to keep people eating and maintaining their weight. A tremendous factor in that is the quality of their oral health."
Remarkably, pretty much every tool a dentist or hygienist needs can be made portable and can fit in (as the nickname undoubtedly suggests) a suitcase. Though Senior Dental Care isn't the first mobile dentistry company, it is one of the few that offers dental insurance — which, according to Tony, is a major selling point for many of the facilities they cater to.
"Most organizations don't utilize an insurance funding approach," said Tony. "Most organizations simply operate on a fee-for-service system where they bill Medicaid, and Medicaid reimburses them on a fee basis.
"With it being an insurance that we're intimately involved with we're able to tailor the coverage to what this population needs and deserves with their care. It offers us the chance to have flexibility in the benefits that we allow."
Matt Burke
Tony Layne and his team have set up mobile dental units in several states.
That flexibility has aided in this grassroots company's rapid expansion. In 2011, their first move was to branch into Alabama. As of March of 2014, they were in at least six states. Which states, exactly, the Laynes would not disclose due to the "competitive nature" of the mobile dentistry industry.
Senior Dental Care's growth hasn't always come easy, though. As any business owner whose company's been in a state of flux knows, progress can be stressful.
"I started off with one person," admitted Cassie. "I did the clinical. I did everything. I wore all the hats.
"It's been a huge learning experience," she continued. "I've learned a lot of stuff about myself and a lot of stuff about management. We started off with just a few nursing homes, five or 10. Now we're in several states and close to 400 nursing homes. Our goal is to be in well over 500 by the end of the year."
The kind of expansion the budding company has experienced can only be accomplished through a team effort. To date, Senior Dental Care employs roughly 40 full-time employees, as well as one part-time — and that's not including the dentists and hygienists the company contracts with to deliver services nationwide. Tony and Cassie are quick to attribute their success to the professionals they surround themselves with.
According to Cassie, the logistics of staffing their growing company has, at times, been challenging.
"What's been stressful and what I've learned is finding the right people for the right position," shared Cassie. "When you fit someone to doing what they love to do, and it fits their personality, they'll naturally excel in that position. Knowing what questions to ask and how to weed out people (is important), but once you have a good asset in a person, finding the right fit for them is key."
As for the future, the Laynes have big plans — none of which include abandoning the 850 region as home base. These "multi-generational Apalachicola River people" aren't going anywhere.
Their company, however, seems to be destined for greatness.
Predicted Tony: "We really feel like that, given the right amount of time, we will take this from fifth-bedroom-of-the-house concept to a national brand in one of the fastest growing sectors of our country."