Interstate truck stops adapt to meet trucking industry's changing needs
No longer just a place to get gas and coffee, these modern facilities provide truckers and motorists with lots of the amenities of home.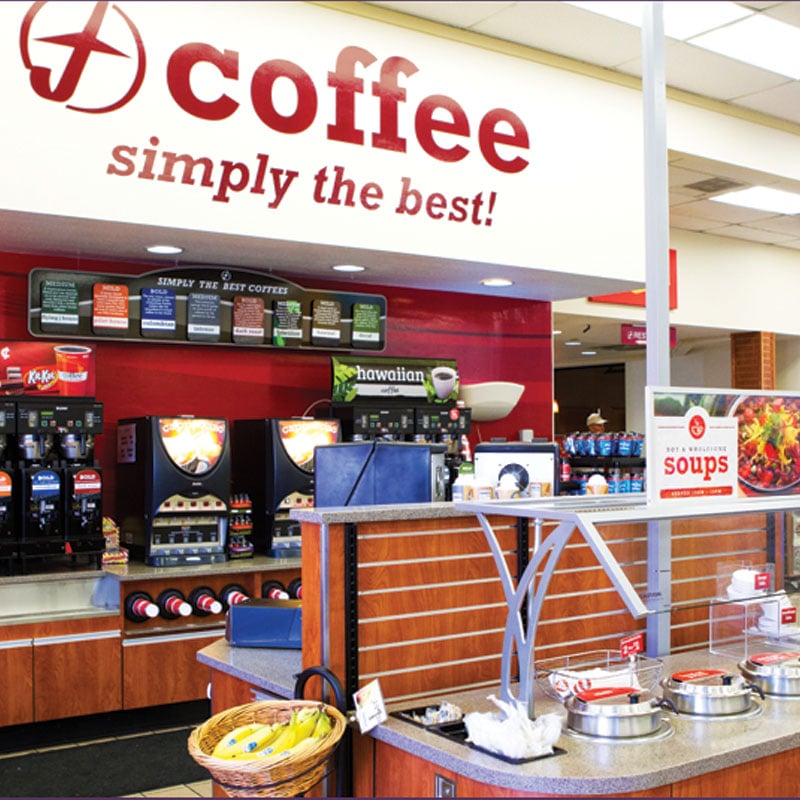 Travel I-10 for any distance, and if you were really to take notice of the 18-wheelers — not just their towering immensity and sometimes menacing proximity, but rather their abundance and variety of cargo — you might discover a startling appreciation of an industry so big, visible and integral to modern society that it's virtually invisible. Here, after all, are trucks carrying nearly every good and commodity that consumers use — from food to fuel, cosmetics to electronics, linens to livestock, cars to chemicals and everything imaginable in-between.
When the American Trucking Association (ATA) boasts that trucking moves America, it's no empty brag. Trucks annually transport nearly 70 percent of all freight tonnage in this country and serve as the sole source of deliveries for 80-plus percent of U.S. communities. Bringing it closer to home, trucks in the Sunshine State move 83 percent of all manufactured tonnage and wholly supply the goods and commodities to 85-plus percent of Floridians.
"A good rule of thumb is to say that everything you eat, touch or wear traveled on an average of four separate trucks to get from the manufacturer to you," says Tisha Crews Keller, communications director for the Florida Trucking Association (FTA), an ATA affiliate.
If you still doubt trucking's crucial role in the country's general wellbeing, consider the social and economic implications of a truck stoppage. In 2006, the ATA conducted an analysis to explore the possible consequences to seven key industries should truck traffic be halted or restricted. Its conclusion: "Restricting or shutting down truck operations in response to a natural disaster, elevated threat level, terrorist attack or pandemic will have a swift and devastating impact on the food, health care, transportation, waste removal, retail, manufacturing and financial sectors." Not to mention the ripple effect to other industries and eventually every U.S. community, the analysis concluded.
But back to our I-10 scenario: Were you to pull off the highway and visit one of the many truck stops that abound alongside the interstate, you might then also gain insight into and appreciation of an allied industry that has largely grown and evolved in step with the trucking industry. The two industries, in fact, are so intertwined as to be almost inseparable, making it virtually impossible to speak about the one without touching on the other.
Arguably, essential as trucking is to America's economic and social wellbeing, so are truck stops, to the degree they help expedite and facilitate the movement of freight by providing convenient locations where truckers — or professional drivers as they prefer to be called — can park, eat, refuel and continue on their way with a maximum of ease and minimum of lost time.
"Clearly, the accessibility of adequate truck parking places is critical to the movement of freight by trucks," says Florida Trucking Association President and CEO Mary Lou Rajchel. "So yes, truck stops are a critical piece of the equation."
From Showers to Bowling Alleys
It's not just food, fuel and parking these facilities provide, although historically that was all they set out to do when they began in the 1940s. Over time, truck stops have evolved into full-service centers that today offer professional drivers a host of amenities, including showers, brand-name restaurants, ATMs, Internet kiosks, wireless access and even movies, gyms and bowling alleys in some instances. And several truck stops have of themselves become roadside attractions and "destination points" by virtue of their extravagant and elaborate offerings.
Nor is it any longer only professional drivers who patronize truck stops, although they remain the mainstay customer around which the services are mostly organized. Increasingly, truck stops have catered to the general traveling public, which is why the term "travel center" or "travel plaza" has come into vogue. More than mere semantics or reimaging to distinguish today's "family friendly" facilities from the sometimes pejorative image associated with the truck stops of old, the name change underscores a true transformation, prompted in no small part by the need to augment profits by capturing a greater market percentage of "four wheelers" — the industry's term for cars.
"Absolutely," affirms Lisa Mullings, president and CEO of the Washington D.C.-based National Association of Truck Stop Operators (NATSO), the industry's trade organization. "More and more of our members' customers are four wheelers, and that's even stronger among independent operators."
Delve into the truck stop industry, and its magnitude and complexity readily become evident, as well as its tremendous growth and evolution during the last 70-plus years, both in response to the trucking industry's needs and such advancements as the establishment of the Federal Interstate Highway System and the advent of the Internet. Today, it's a $60 billion industry that accounts for 75 percent of U.S. retail diesel sales and is dominated by corporations, with Love, Pilot Flying J and Travel Centers of America (TA) among the top players nationally and in Florida, and independents increasingly on the defensive. Like any big business, the industry is subject to government regulations, stock market fluctuations, global happenings, technological advancements and the general economy, particularly as it relates to fuel pricing, freight traffic and consumer spending. Possibly, the industry is also at a crossroads as it seeks solutions to a host of challenges that include shrinking profit margins, emerging energy alternatives and newly implemented or proposed trucking regulations.
Battling the Economy
Unquestionably, the recession rocked the truck stop industry, as it did most other sectors of the economy. In 2007 alone, for example, more than 900 independent truck stops reportedly went under, and TA posted losses of $101 million as a consequence of higher fuel prices, tightening margins and thinning freight traffic.
"Our industry felt the economic downturn sooner than others, because the trucking industry goes first," Mullings says, echoing an often repeated axiom that trucking is a barometer of the economy. "We saw diesel demand drop long before anybody said that we were in recession."
So what's the picture now?
"I don't think it's fully recovered," Mullings allows. "But it's strengthened in the past year-and-a-half to two years."
"Our industry felt the economic downturn sooner than others, because the trucking industry goes first," Mullings says, echoing an often repeated axiom that trucking is a barometer of the economy. "We saw diesel demand drop long before anybody said that we were in recession."
You hear pretty much the same from Tom Liutkus, director of advertising and public relations for the Ohio-based TA; Jenny Love Meyer, director of communications for the Oklahoma-based Love's Travel Stops and Country Stores; and Jimmy Haslam, chairman of the Tennessee-based Pilot Flying J.
"Business is fairly steady at present," Liutkus says.
"We're doing well," Meyer offers, noting that Love nationally averages 18 to 20 openings yearly.
"Pilot Flying J was recently ranked by Forbes as the sixth-largest private company in America," Haslam responds via email.
Talk to an independent truck stop owner, however, and it's a slightly different story.
Arun Kundra is owner/operator of the Capital City Travel Center (CCTC) off I-10 in Lloyd, just east of Tallahassee. A full-service operation dating from 1973, this facility once enjoyed a booming business.
"I would say we are barely managing," Kundra says.
Among his disadvantages, he cites an inability to compete against the chains in the areas of marketing, fuel prices and credit card transaction fees.
"The odds are stacked against small operations," says Kundra, who counts himself among a diminishing minority of independents.
Charles Vignos, a driver for Schneider National Inc., exemplifies the situation. Vignos occasionally fuels at CCTC. But overwhelmingly, he fuels at chains, he says, explaining that fleet managers daily check diesel prices and direct him where to go.
"I'm supposed to be compliant 70 percent," Vignos says, adding that the other 30 percent of the time he can choose where to fuel, with food his first priority for selecting a truck stop on his own.
NATSO's Mullings affirms the plight of independents, citing transaction fees as being particularly onerous since about 2000, when they went from a flat charge to a percentage. She won't vouch for Kundra's claim that the chains are able to negotiate lower fees based on their sales volumes (nor will the three major players, calling it material information). Mullings will, however, affirm that independents are definitely at a disadvantage, given that diesel profit margins can be as thin as a quarter or half penny per gallon, and transaction fees five or 10 cents per gallon.
"It makes it impossible to compete," she says.
Diesel, it must be understood, is not only the trucking industry's bloodline and a major expense, it's also the truck stops' main commodity. Which explains why large trucking companies (consolidation also is the name of the game here) negotiate "best deals" with the chains, thereafter instructing their drivers to fuel only at these locations; and why, for example, Pilot Flying J acquired its own petroleum company.
The independents' best bet for survival is to find a niche, avers Mullings. Which is what Kundra has done.
"Many of our customers we know by name, and they're very loyal," Kundra says. "We provide personalized service. That's our niche."
Even so, he sees the writing on the wall.
"We are rethinking our strategy going forward," he says, alluding to plans for an upgrade of the facility. "We need to change, and we're going to change. In business, if you're stagnant, you will never survive."
Profit and the Environment
It's not only the independents that face challenges, however. The industry as a whole is facing environmental, regulatory and other pressures that call for adjustments.
The search for an alternative to diesel continues gaining momentum, prompted by economic and environmental considerations. Truck manufacturers, in fact, are expected to up production of LNG-fueled trucks this year in anticipation of growing demand. LNG — liquefied natural gas — is a plentiful, domestic fuel significantly cheaper than diesel and "arguably cleaner." Some experts call LNG "a potential game changer."
Already, Love, Pilot Flying J and TA have installed, or have plans to install, LNG refueling pumps at many of their respective locations.
"The trucking industry's adoption of natural gas is something we're watching very carefully," Mullings says. "I don't see it as a game changer soon.
However, I do see it as a potential game changer at some point in the future."
Liutkus agrees, to a degree. Yes, LNG is a potential game changer and TA is positioning itself to offer it, he says. But it's early in the game, he adds, speculating that were current national security concerns and the great price differential between LNG and diesel to go away, the former might not prove as alluring, especially given the LNG infrastructure installation costs.
"Right now, there's a huge advantage to LNG," Liutkus says. "But will the economics still favor it in future?"
Truck "idling" continues to be an industry issue, as many states — including Florida — now have idling regulations. Truck drivers idle engines for numerous reasons, including keeping cargos refrigerated and powering conveniences inside their cabs. Unnecessary idling, however, wastes fuel and adversely affects air quality, although both industries are quick to point out that emission levels have been steadily declining, a consequence of ultra-low sulfur diesel and more efficient engines.
Among the several strategies and technologies that have emerged to reduce unnecessary idling is parking-lot electrification, which allows trucks to power amenities without idling. Pilot Flying J, for example, offers this feature. The model hasn't always proven viable or sustainable, however. TA, for one, has removed its electrification systems and currently relies on auxiliary power units affixed right on the trucks, a solution Mullings seemingly favors.
"The fix has got to be something that's part of the truck, because there's a huge amount of idling that goes on in traffic, at terminals or when unloading freight," she says. "So to have a truckstop-centric kind of solution, I don't see it working."
Evolving Profession and Industry
Drivers' changing needs is another issue. Driver turnover is endemic to the trucking industry and has now grown acute, a consequence of numerous factors that include a minimum age requirement of 21; possession of a CDL license, for which schooling can run up to $10,000; and an unusual lifestyle choice.
"It's a good job and a great industry, but it's not for everybody," says Tommy Thomas, the Florida Trucking Association's membership development director. "The over-the-road guys are sometimes out two, three, four weeks at a time. That's a different lifestyle. It takes a special individual to do it."
To reduce turnovers, trucking companies are employing strategies that range from recruiting more women and older drivers, to making tractor cabs more comfortable, to reworking freight routes to allow drivers more time at home, all of which have consequences for truck stops.
One consequence is that short-haul drivers don't frequent truck stops as much, as they get to go home nights. Another is that even long-haul drivers are reportedly taking less advantage of traditional truck stop amenities, given their RV-like cabs, or they're demanding new amenities. In response, some truck stops have gone to "a type of pay model," where they charge for services such as overnight parking.
Another response has been to add or upgrade amenities, especially given today's focus on healthiness. Liutkus notes that truck drivers are particularly prone to obesity, high-blood pressure, hypertension and other health risk factors.
"It's a stressful and not very active job," he says.
As Americans' behavior has changed to embrace healthier lifestyles and as companies more emphasize employees' wellness, truck stops have responded with healthier menu options, fitness rooms and even walking trails, among other enhanced amenities.
"Our role is to adjust to the needs of the trucking industry," Liutkus says.
Toll roads and commercialization of state rest areas are big concerns for the truck stop industry, especially as financially strapped states eye tolls and commercialization of rest areas as viable revenue enhancers absent tax increases.
"This is a major issue because if existing interstates are tolled, it diverts traffic onto other roads and hurts our members," Mullings says.
As for rest area commercialization, NATSO estimates it could cause the closure of as many as 50 percent of interchange businesses, with resulting property tax losses to local governments.
'We know what the commercial rest areas do because we have commercial rest areas in Florida and elsewhere and can measure the impact," Mullings says.
New federal regulations that aim to increase highway safety by identifying unsafe trucks and drivers via a scoring system (Compliance Safety Accountability, or CSA), and proposed regulations that require drivers to take more breaks to combat fatigue (Hours of Service, or HOS) also "are out there." Already, the three major players have added or enhanced their truck inspection/repair shops in response to the 2010-implemented CSA program. This system remains controversial and continues to be tweaked, however. As for the HOS rules, they go into effect in July and are currently in litigation.
Whatever the outcome of the various challenges, truck stops are sure to adapt and evolve, as they have done historically. Certainly, it's a long-enduring industry, with possible antecedents to the roadside inns of yore that welcomed weary wayfarers, or more directly perhaps, to the Old West relay stations that provided home comforts and meals to stagecoach travelers.
Meyer possibly best sums the industry's prospects.
"There's always going to be trucks moving products across the country," she says. "So whether it's trucks or cars, you're always going to need travel stops to provide products and services for those folks. I don't think that's going to change."
---
Battling Cargo Theft
Florida ranks third nationally in truck cargo thefts, behind California and Texas respectively. The FBI estimates cargo thefts cause companies $30 billion annually in losses. Ultimately, consumers bear the costs, paying an estimated 20 percent markup in retail prices.
Most truck stops, including those in Northwest Florida, have secure parking lots to safeguard against thefts. Even so, thefts occur, testament to the thieves' professionalism.
Florida Highway Patrol Lt. William Jackson heads the Statewide Cargo Theft Taskforce. He reports 235 cargo thefts in Florida in 2012, with a vehicle value of $10.5 million and cargo value of $14.9 million.
"It could be more," Jackson says, explaining that reporting is voluntary and values inconsistent, as some owners give retail and others wholesale numbers.
Even so, the figures approximate previous years' losses and "show a pattern," he says.
A recognized big trucking state, Florida's freight traffic is expected to increase dramatically in the coming years, a development sure to exacerbate the theft problem.
"This is organized crime," Jackson says, adding that the majority of the thieves come from South Florida and much of the stolen cargo ends up in Miami, where it is often quickly ship-bound for Latin America.
He says the thieves are knowledgeable about the trucking business; frequently include CDL drivers in their crews; and target cargos selectively.
"Sometimes, they already have buyers lined up," Jackson says. "They know exactly what they're looking for."
Few of the stolen cargos are ever recovered. And when arrests occur, the penalties are relatively light, compared with those for other profitable crimes.
"Some of these guys get 20 years and others beat us home," Jackson says. "It all depends on the court system and the area of the state."
---
Facilitating Movement of Freight
Trucking is not only a major driver of Florida's economy; the industry is expected to get a significant boost upon completion of the Panama Canal expansion in 2015. In anticipation of this growth, the Florida Department of Transportation (FDOT) is readying a Florida Freight Mobility and Trade Plan (FMTP).
The effort, in brief, aims to facilitate the statewide movement of freight through enhancement of the state's intermodal transportation systems, or its roads, rails and ports, explains Richard Biter, FDOT assistant secretary for Intermodal Systems Development. The plan, he says, will serve as a tool to help the state prioritize projects.
Is the Port of Port St. Joe a plan consideration?
"Absolutely," Biter says, offering that state funds have already been allocated for upgrade of the railroad going into the port, and talks are ongoing with The St. Joe Company, the area's biggest landowner. The goal, Biter says, is to make the port eventually a viable import/export and manufacturing center for the region.
He offers as another example the Port of Miami, which is currently being dredged to allow for entrance of the bigger ships that will soon cross the expanded Canal.
"When the Miami Port is completed, it will be the only port south of Norfolk, Va., capable of handling these big ships," Biter says.
Ultimately, he says, the goal is to position Florida more competitively when it comes to attracting new businesses and business opportunities.
"We don't want to be like the dog that caught the pickup and wondered what to do with it," Biter says. "We want to be able to tout the best transportation system in place to provide the greatest mobility of freight, and that's where you get the connection with jobs and economic development."