In Bay County, Economic Development Projects Are Expanding
From collegiate digital media to automotive manufacturing, Bay County is making its mark.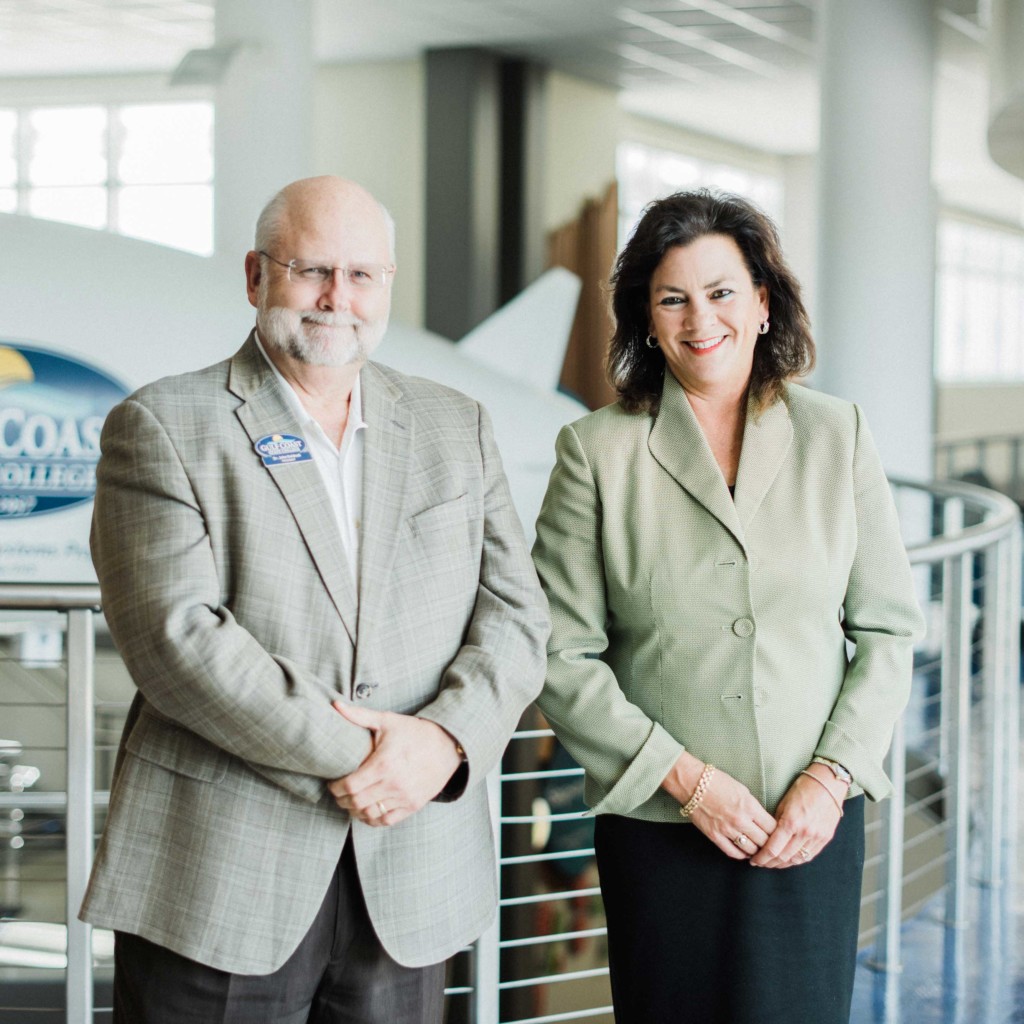 There was a time when Becca Hardin worked as a small-market broadcast journalist. These days, the world is her market.
She travels extensively, making frequent trips across the pond, as the product of Bay County's growing reputation internationally for being a receptive, progressive and effective place to do business.
That is a reputation that Hardin, as executive director of the Bay Economic Development Alliance, works both to enhance and capitalize upon.
Recent months have seen announcements involving companies, one headquartered in Paris and the other in Mérida, Yucatán, Mexico, of plans to establish their first U.S. operations in Panama City.
In May, the EDA, along with Gulf Coast State College, unveiled plans by Butterfly Training, which has seven locations in Europe, to gain a toehold in the U.S. by making Bay County its eighth.
The company will employ just three people in the U.S. initially and a projected 10 within three years.
"But," said Hardin, "Butterfly is an important win for us. This gives us another international company and, with it, more international attention."
The Bay County-Butterfly connection resulted from Hardin's aircraft business recruitment missions to Europe and her attendance at international airshows.
It didn't hurt, either, that the EDA, in 2017, landed a British company, GKN Aerospace, as a tenant at the Venture Crossings industrial park adjoining the airport in West Bay.
Butterfly Training designs and produces e-learning solutions related to airport security, safety and dangerous goods.
Its customers, more than 2,000 in total, include airlines and aviation manufacturers. It offers curriculum in 10-plus languages in more than 15 countries and trains in excess of 50,000 people per year.
Its catalog includes over 100 products, designed for customers including what Hardin called the "big boys" — AIRBUS, Boeing, American Airlines, FedEx, Air France, and other familiar names.
Their entrance into the U.S. market will provide Butterfly Training the proximity needed to develop clients throughout the North American aviation sector.
"Entry into the U.S. is an important step for our company," said Olivier David, founder and CEO of Butterfly Training. "Bay County is proving to be an ideal location for our U.S. headquarters. We know we are well positioned for success."
David anticipates that Gulf Coast State College and its Advanced Technology Center will be a big factor in that anticipated success.
He noted that the college is providing substantial training to students in digital media and computer sciences programs.
"We look forward to working closely with GCSC instructors and students in the development of new products for leading aviation companies," he said.
GCSC president Dr. John Holdnak sees his school's partnership with Butterfly Training as mutually beneficial.
"It's a win-win," he said. "Our mission at Gulf Coast State College is to prepare our students for productive careers and train them to successfully enter the workforce. Through the partnership between Butterfly Training and GCSC, our students will be able to take advantage of practical, hands-on experience in the very skills and abilities expected from them upon graduation. Students and faculty in our Digital Media degree programs will now have the opportunity to work alongside Butterfly Training professionals in the actual creation of products utilized by international aviation companies."
Jorge Gonzalez, Chairman of the Bay Economic Development Alliance and president and CEO of The St. Joe Company, said he is confident that "this project will further enhance Bay County's international exposure to aviation companies located throughout the world. With Bay County and the entire region's recent economic development successes, our communities are continuing to see substantial growth and progress in our regional economy."
Increasingly, Bay County is becoming no place for an isolationist.
Also in May, the EDA announced that a leading automotive supplier would be establishing a U.S. headquarters and first U.S. manufacturing operation in Bay County.
Temp of America, Inc. (Air Temp), a subsidiary of Air Temp de México, is setting up shop in Panama City at the site formerly of Boyd Brothers Printing.
Founded and headquartered in Mérida, Air Temp produces automotive parts that include condensers, radiators, heat exchangers, evaporators and other components. Air Temp is a leading Tier 1 supplier to Volkswagen, Nissan, Ford, Peugeot, and to other original equipment manufacturers (OEMs). It has been named Volkswagen supplier of the year five times.
As of June, the company had begun modernizing the old Boyd property for its manufacturing. It will be making a capital investment of approximately $6 million and create 50 new jobs for skilled employees, Hardin said.
"Air Temp had been using Port Panama City for years, and their plan to place their U.S. headquarters in Bay County is an extension of that relationship," she added.
Hardin and Panama City Mayor Greg Brudnicki were part of a Bay County delegation that visited Air Temp in Mérida two years ago.
"Discussions heated up after the visit and we were able to find a facility that was perfect for their needs," Hardin said. "To have a Mexican company announce in our community we think is a great win."
"We are excited about opening our new operation in Bay County and investing in manufacturing in the United States," said Jorge Habib, president and CEO of Air Temp and a dual citizen of the U.S. and Mexico.
"To create a sustainable future, we must invest in creating high skilled manufacturing jobs and growing our skilled workforce for the future," Habib said.
"In working closely with BayEDA, Port Panama City, CareerSource Gulf Coast, local governments, and other entities, we have found that Bay County is the best location for our new manufacturing operation."
As it happens, Mérida and Panama City have been sister cities since 2003.
"We look forward to Air Temp's example of success for other companies looking to invest and create quality jobs in our community," Gonzalez said. "Our community should be proud of the team that partnered with Air Temp to bring advanced manufacturing to Panama City. It is good to have a new corporate partner as we continue to experience positive economic momentum."
"Air Temp is the first auto parts manufacturing company to locate in Bay County," said Port Panama City executive director Wayne Stubbs. "Their decision was based on the shipping connection between our port and the Port of Progresso in Mérida. We commend them for making this very strategic and timely move and expect others will follow their example."
Hardin has been heartened by recent developments at Port Panama City, which in June became the first applicant to secure Triumph Gulf Coast money from a pool of dollars paid to the State of Florida by BP as compensation for damage caused by the Deepwater Horizon oil disaster.
The $10 million award will be used to complete construction of a forest products warehouse, and bulkhead and other improvements.
"It's an outstanding example of a transformational project," Hardin said. "It will expand the port's footprint, and give them more berth space. And that means we will have more property to market for industrial purposes."
Hardin complimented Stubbs, saying, "He had been working on that project for years. You have to hand it to him for having the vision and the persistence to see it through to completion."
Generally, Hardin said about Bay County's economic development efforts, "We've got momentum and that's a good thing."
That momentum has taken various forms:
On July 25, the EDA and the City of Lynn Haven announced that Pennsylvania-based Revint Solutions, a revenue recovery business that serves healthcare providers nationwide, is establishing a regional headquarters and a new 150-employee service center in Lynn Haven.
Revint will occupy space at the Tyndall Federal Credit Union Building. It plans to retain an established operation in Gulf County, while recruiting and training new employees for the Bay County operation.
As of the day of the announcement, Revint had already hired 15 employees to begin training.
Once fully operational, Revint will add approximately $6 million in annual payroll in Bay County.
"In Bay County, we found partners who were willing to assist in our quick timeline, a skilled workforce, and the willingness of the community to help our company expand," said Revint president Kyle Hicok.
Revint offers a revenue safety net for all types of healthcare provider organizations, providing solutions to more than 1,600 organizations in the U.S. It helps recover in excess of $475 million in underpaid or unidentified revenue for its clients annually.
Florida State University Panama City has added a mechanical engineering major that, Hardin said, "helps create a culture that will support continued advanced manufacturing recruitment."
GKN Aerospace hired a general manager who is living in Panama City. As of July, it had hired 40 employees on its way to 170 and had administered two training courses.
"We hope to see product coming from the factory soon," Hardin said, but exactly what that product will be remains proprietary.
"They have a 25-year federal contract and we don't care what they are making as long as they are creating jobs," Hardin said. Most of the jobs at GKN require security clearances.
The U.S. Air Force has chosen Tyndall Air Force Base as the site for a new wing of MQ-9 Reapers.
Airmen are projected to begin arriving at the base in eastern Bay County in 2020 with the first aircraft expected to arrive two years later.
The wing eventually will comprise 1,600 airmen, Hardin said.
Eastern Shipbuilding Group successfully conducted its Final Critical Design Review (FCDR) with the U.S. Coast Guard for the Offshore Patrol Cutter (OPC) Program on June 29, the company reported in a news release.
Eastern Shipbuilding's contract with the Coast Guard includes options for production of up to nine vessels and has a potential total value of $2.38 billion.
"We've got a lot of big things going on," Hardin said, "and success breeds success."