IHMC Eyes Expansion
Pensacola institute looks to enlarge the human 'healthspan'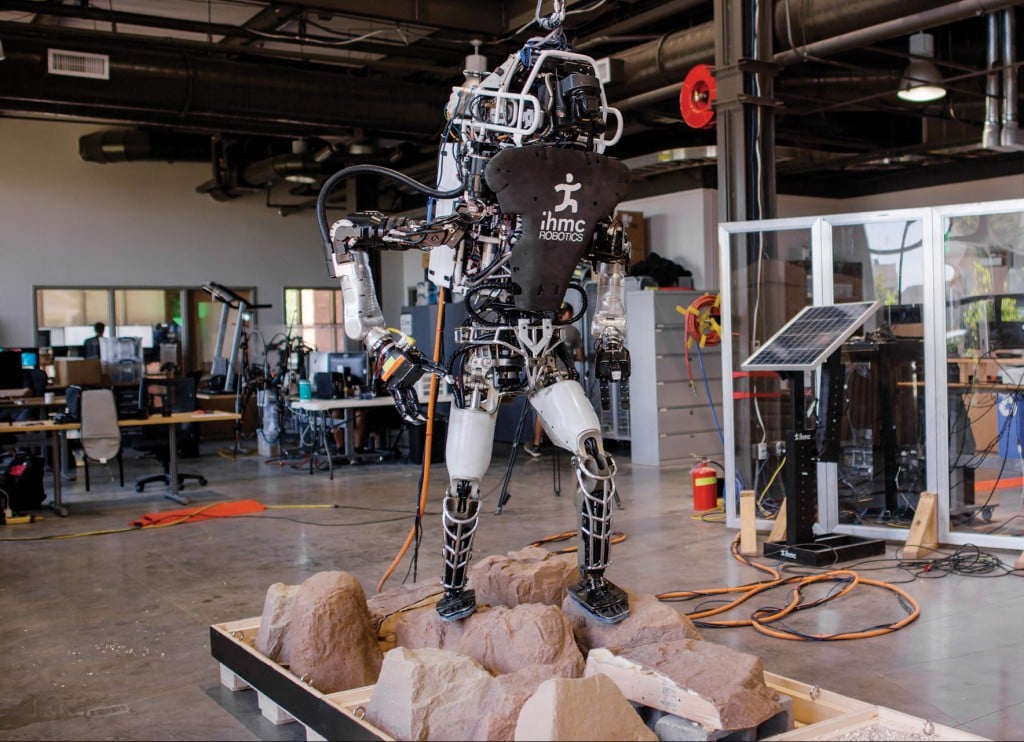 At the Institute for Human & Machine Cognition headquartered in downtown Pensacola, scientists from across the nation are signing on to test the boundaries of human capability.
These leading researchers are coming to study healthspan, resilience and performance, a dynamic field of study that has become the IHMC's latest frontier.
"Originally our work was strictly cognitive because IHMC was started mostly by artificial intelligence people," said Dr. Ken Ford, co-founder and CEO. "Then we moved to broaden that to include robotics. And then next we started looking at not just cognitive performance but also physical performance, exoskeletons and several other related fields."
Ford envisioned such an expansion roughly a decade ago and has since secured private and public funding to build a new Healthspan, Resilience and Performance research complex. IHMC also was awarded more than $6 million in Triumph Gulf Coast funds to jumpstart recruitment of new talent to Pensacola and to purchase some of the cutting-edge research equipment to be used in the new facility. Scheduled to open in January 2024, the multimillion-dollar complex will expand IHMC'S downtown campus to three main buildings.
"I'm very confident this new research complex is going to attract new talent to Pensacola and Northwest Florida," said Marcas Bamman, director of HRP research at IHMC. "We've already done this with some recruitment just on the promise that the facility is coming."
The work is what drew Bamman — a researcher known globally for his contributions to the biology of human skeletal muscle and medical rehabilitation — to IHMC in 2020. Thus far, the team has recruited exceptional talent from a variety of states, including Alabama, Georgia, Utah, California, Pennsylvania and Ohio.
"We are recruiting scientists who are motivated and who can pose the next set of important scientific questions," Bamman said. "It's a very competitive world, and we all thrive on competition."
And while these researchers might represent vastly different disciplines — biochemistry, psychology, neuroscience — they will all focus on the greater study of healthspan, resilience and performance.
"I call it a molecule-to-whole-human research program," said Bamman, who spent 25 years as a professor and center director at the University of Alabama at Birmingham prior to joining IHMC. "If you think about someone who lives to be 80 years old, what we're trying to do is extend or expand their healthy lifetime, so they don't spend the last 20 years of those 80 years being compromised."
To find those answers, Bamman's team spends a great deal of time studying how a human body stands up to stress and how long it takes that same body to bounce back.
"That ranges from an older person dealing with a chronic disease to a military pilot who experiences numerous environmental, physical and cognitive stressors in the cockpit," he said.
In addition to its ongoing research for the Department of Defense, NASA and other federal departments and agencies, IHMC also wants to tackle research that has the potential to improve the lives of average people.
"We plan to expand in several important areas, do innovative research that is military relevant, whether it's Navy divers or Air Force pilots, but also perform leading-edge research to help those who are injured or disabled," Bamman said. "The new research complex is going to help us succeed in all focus areas."
When the new HRP complex is up and running, the HRP team will be able expand its internal collaborations, which have long been a hallmark of the IHMC culture. It will also be able to conduct more studies simultaneously.
"The vision for the human performance complex is to have a place where you can combine the computational expertise, the biological expertise and the translational expertise all in one place so that we can, as Marcas says, do research from molecule to man," Ford said. "This facility really will be one of a kind."
The building's first floor will house clinical labs, while the second floor will be devoted to office space, and the third floor will be used for wet labs where samples of blood, tissue and saliva can be analyzed. Scientists will conduct clinical trials and applied research studies with a wide range of research cores to evaluate physiological and cognitive performance as well as intervention studies to improve health, resilience and performance.
Bamman is excited about what the future holds for IHMC, but he's not surprised by the ground it's breaking.
"I fully expected it to grow into this because the leadership at IHMC has been forward thinking," he added. "Dr. Ken Ford had this as a vision, and I certainly share that vision."
The Triumph Gulf Coast funds, which were awarded in the legal settlement following the 20ı0 Deepwater Horizon Oil Spill, were earmarked to stimulate economic development in eight Northwest Florida counties that were significantly impacted by the spill. Bamman predicts the new HRP complex will more than meet Triumph's challenge.
"We're excited about bringing new people to Pensacola," he said. "We've got a great group of people here, and I think we're in the early stages of something really important.