How Can I Help You?
Day and night, PATLive answers the call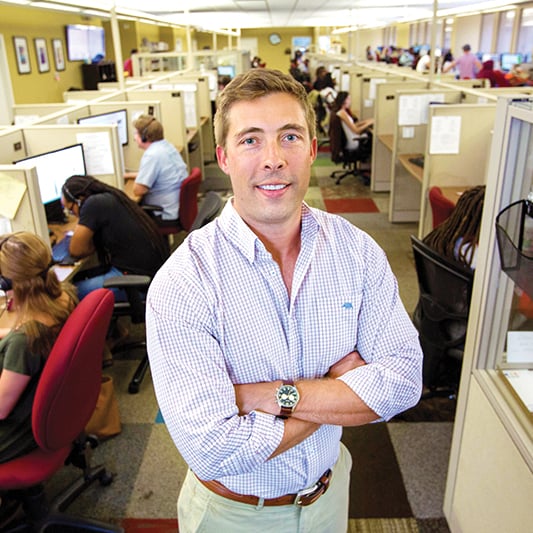 "Good afternoon, XYZ Real Estate. This is Pat; how can I help you today?"
You're probably envisioning "Pat" at the reception desk of a bustling office filled with agents and printers spewing out closing paperwork. But it may surprise you to learn the person you're speaking to is one of 50 sitting in a cubicle in front of pair of monitors with a script that allows them to pleasantly handle whatever your query might be.
And when your call has concluded, that agent will pick up the phone and answer the calls of any one of 2,400 businesses and government agencies in the U.S. and Canada who contract for the services of Tallahassee-based PATLive.
For 17 of the 27 years it has been in business, PATLive has provided 24/7, live answering and call-center services for a growing roster of customers such as automotive and e-commerce companies, health-care providers, home services contractors, law and other professional services firms, insurance and real-estate companies, small businesses and utility companies.
After years of word-of-mouth, organic growth, in 2016 the company decided to "market the service explicitly and put the advertising behind it," says PATLive President and CEO Austin Davidson. "We've actually doubled our call volume over the last 18 months, taking in about 150,000 to 160,000 calls every month."
Located in a 20,000-square-foot facility, PATLive employs about 160 people, most of them part-time phone agents who attend one of the area's three higher education institutions — Florida State University, Florida A&M University and Tallahassee Community College. It's an attractive option for students who enjoy the flexible scheduling, a $10 per hour starting salary and food — lots of food.
While answering the phone seems a simple enough task, only 1 percent of those who apply to be an agent are hired. They then undergo two weeks of training in the classroom and shadowing before answering the first call. Newbies are tasked with answering simpler calls, but can move up the ranks with additional training and coaching to use more involved scripts and software.
"It's harder than you would think to find people that have the right level of professionalism and etiquette, typing speed, spelling and grammar, and availability," he said. "We really do not compromise our standards. We have a full-time recruiter and her job is to continually keep finding the best agents."
The one-on-one "human touch" service is backed up by a sophisticated array of proprietary technology and software developers as well as a data center that's double and triple redundant for uninterrupted service.
Plans are in the works to migrate the data center to a cloud-based one over the next year or so. In addition to eliminating the need for onsite servers, the cloud would allow PATLive to hire agents to work from home. "What would be great for us are things like microshifts," Davidson said. "Think about a stay-at-home mom who … can say 'hey, I'm available for two or three hours.' It wouldn't be worth it to come all the way in to the call center, but it's a great thing if you can just pop on your headset and go online at home."
While prices vary based on the amount of usage and the complexity of service, the average PATLive customer pays around $200 monthly. And the company offers a free two-week trial.
"You can get our services for as little as $99 a month," Davidson explained. "In many lines of business, a single call that (otherwise) is missed pays for the service many times over."
In addition to traditional phone answering and message taking, PATLive agents can provide an array of services using scripts developed in-house that allow them to transfer calls, share offers, capture caller information, schedule appointments, process orders, collect leads, register for events, provide after-hours support and serve as a help desk. English-language operators are available all day, every day, and Spanish-speaking agents are available during limited hours.
PATLive also can provide support during emergencies; for example, when Tropical Storm Hermine and Hurricane Matthew affected northern Florida in the fall of 2016. Talquin Electric was already a customer when Hermine passed through the electric cooperative's four-county service area. Used to taking outage calls for Talquin, PATLive was able to staff up during and after the storm to handle the increased volume.
Based on the Hermine experience, the state's Division of Emergency Management reached out to PATLive to provide services when Matthew threatened Florida's Atlantic coast. The company ramped up a 70-person Florida Emergency Information Line staff within 72 hours, in addition to their daily call volume.
PATLive's services include an initial consultation to develop a "script" personalized to a client's needs. "On the phone, it takes 10 or 15 minutes. We have a team and all they do is create the scripts with our software. They really get to know the business that we're working with," Davidson said. "They're complete subject-matter experts on how little tweaks and settings can make a difference."
Is Davidson worried rapid advancements in technology could ultimately automate the process and put PATLive out of business?
"We have some great technology that enables us to do our jobs, but for our customers, technology is not a significant part at all of how they perceive our PATLive services," he answered. "They're buying agents that are always available, that are well-trained, that are friendly, that are professional. It's really a people business more than a technology business."
He continued: "When AI or machine learning begins to pop up, there are still going to be just as many businesses that want the human touch. No matter how good a computer gets at understanding, it cannot empathize and cannot provide the real, live experience that a person can."
PATLive By the Numbers
» 27 years in business, 17 of them providing answering and call-center services
» 2,400 customers in the U.S. and Canada
» 44 percent growth in customer count and revenues between 2016 and 2017
» 150,000 to 160,000 calls answered each month
» 160 employees, including 130 phone agents
» 24/7 English-speaking operators available
» 51 agents taking calls at peak times
» 1 percent of applicants hired
» 11 seconds on average before call is answered
» 90 percent of calls answered in less than 20 seconds
» 75 percent of callers hang up if they get sent to a business' voicemail.