Gulf Winds Credit Union Welcomes New President and CEO
Daniel Souers is committed to active listening and servant leadership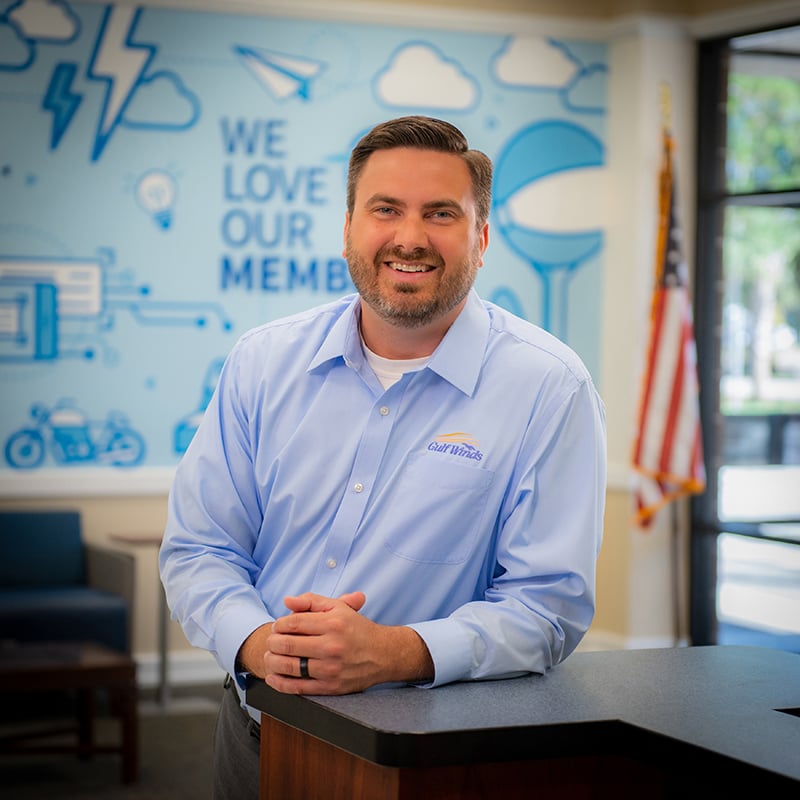 For Daniel Souers, president and CEO of Gulf Winds Credit Union, satisfaction stems from serving others. A sense of community accounts for his career in credit unions and led him back to his native Gulf Coast to join Gulf Winds in October 2022.
"From the start, Gulf Winds Credit Union set itself apart because of the company culture and fantastic team of professionals that care about their community," Souers said.
Souers brings talent and experience to Gulf Winds. He is adept in community outreach, marketing, leadership, product development and financial management and combines those skills to enhance the employee and member experience.
His extensive background includes service recently as the chief experience officer for a credit union based in Houston, Texas. Souers began his career as a market research consultant for a real estate development company. He later managed marketing at a large credit union in Alabama. This experience helps him to lead with a members-first mentality. 
In his first few months as CEO, he visited all thirteen Gulf Winds branches, which provide service across 75 counties spanning Florida, Alabama and Georgia in the course of a "listening tour." Along the way, he gained valuable insights from employees and members while familiarizing himself with the Gulf Winds culture and identifying areas for growth.
"I intend to always be nimble and responsive to the needs of this team and the members," Souers said. "A strong foundation of my career is the desire to help each individual member have the tools they need for success."
Souers is adaptable to changing market conditions and member expectations. Within his first 90 days as CEO, the Gulf Winds team introduced a new money market account, an option that offers great rates, higher returns, no locked terms and access to your money at any time without penalty. This addition allows members to save their money while building their wealth.
Helping people extends into all facets of the community. The Gulf Winds Cares Foundation contributes to local charitable endeavors in the areas of elder services, youth services, basic needs and financial education. Additionally, Gulf Winds sponsors many community events throughout the year and gives its team members 16 hours of paid volunteer time a year.
"Gulf Winds has a stake in the region, which is why I want to always be a part in supporting our communities so they can thrive," said Souers. "This is a dream job for me because I get to help people attain success and security. There's a lot changing in this world, but I want to make sure that Gulf Winds and its standout culture and services are still here in 100 years."
---
Gulf Winds Credit Union
---