Growing Catering Bsiness Began In A Church Kitchen
Carrie Ann & Company now reaches as far as Destin and into Georgia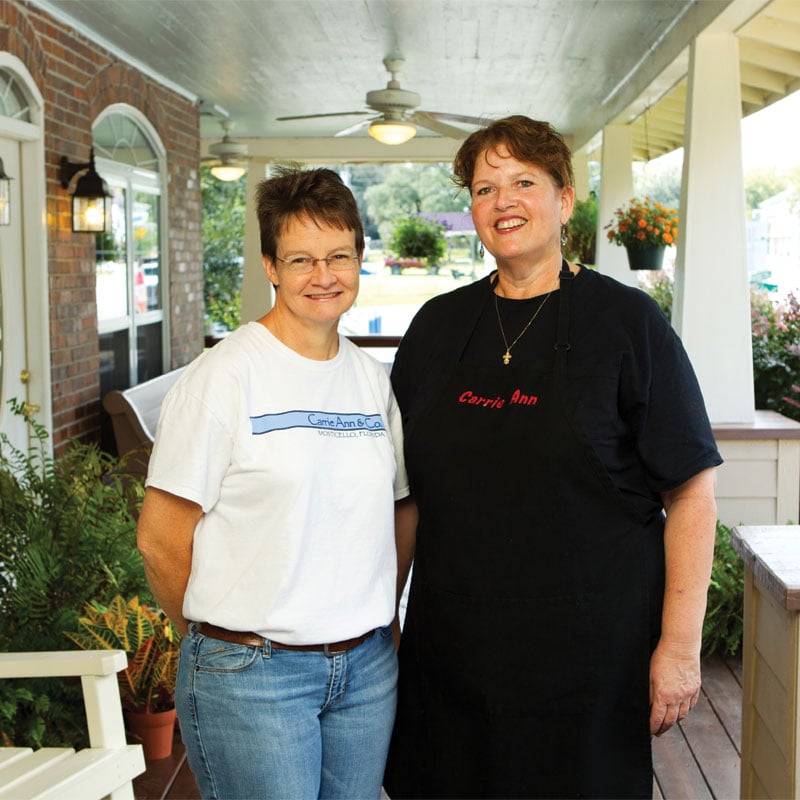 Some businesses come on the scene with a splash (and not infrequently fade away almost as quickly), while others start out inconspicuously, integrate quietly into a community and then grow organically and incrementally, absent fanfare. Such is the case with Carrie Ann & Company, a two-partner custom catering service that started in the kitchen of a church 10 years ago and today boasts two facilities, some 50 full and part-time employees and a service area that stretches from Destin to Monticello in Florida, takes in part of South Georgia and extends to points beyond on occasion.
Denise Vogelgesang & Carrie Ann Tellefsen
Equally impressive, the two partners — longtime friends Carrie Ann Tellefsen and Denise Vogelgesang — started their enterprise in Monticello, a small town with a barely sustainable economy, and managed to grow their business during one of the worst recessions in recent history. It's what can happen when business acumen is joined to culinary talent, and the two go hand-in-hand with quality food, excellent service, reasonable prices and a smart business plan, not to mention much determination and hard work.
"Ours is the perfect marriage," says Vogelgesang, a retired educator whose last assignment was assistant principal at Lincoln High School in Tallahassee. "Carrie Ann is the food genius, and I'm the organizer and business person."
Carrie Ann & Company will cater affairs of any size; provide freshly prepared, flavorful food that reflects whatever the occasion's theme or client's desires (within reason); prepare the food onsite (given the amenities are available) or cater wherever the client specifies, indoors or outdoors; and do it with flair, personalized service and special attention to detail.
"It makes me feel good when someone is working on a budget, and we come in under cost," says Tellefsen, whose love of cooking derives from her late father, an attorney who enjoyed hosting lavish parties and early on enlisted his then 12-year-old daughter in the cause. "Just because you don't have gobs of money doesn't mean you can't have a nice event. If you have lots of money, it's easy; anything is possible. The challenge is doing something really nice on a small budget."
A 26-year veteran in the catering business, Tellefsen began by baking cakes, cookies and other sweets at home and selling them as the opportunity allowed, driven by her love of cooking and a desire to contribute to the family finances as a stay-at-home mom with three kids. To her surprise, her confections proved extremely popular, and people began asking her to prepare entire meals for special occasions. "It snowballed," Tellefsen says. Soon, she and two friends formed Cornucopia, a small-scale catering service that mainly focused on Monticello events. When the group disbanded several years later, Tellefsen returned to working solo from her home, all the while expanding her reach into Leon County and building a reputation for quality food and excellent service.
As the pace and demands of the business increased over the years, however, it became apparent to her that she couldn't continue single-handedly. Enter Vogelgesang, one of whose reasons for retiring was the prospect of joining forces with Tellefsen. "We decided to merge our brains," Vogelgesang says. "Our friends cautioned it was a perfect way to ruin a friendship."
In 2002, the two formed a partnership, developed a business plan, rented kitchen space in the Christ Episcopal Church fellowship hall in Monticello and set about reconfiguring the business. Vogelgesang, among her other attributes, brought business savvy and marketing expertise to the enterprise. One of the first things she did that had a significant impact on the business was simply to begin advertising — something Tellefsen had never done.
One goal the two set early was to acquire a place of their own — ideally a building with enough kitchen, storage and gathering space to satisfy their needs and that would also serve ultimately as a long-term investment. Another was to redefine their service area, based on the recognition that although Monticello would serve well as a home base, it would never support the kind of business they envisioned. A third was to keep their overhead low, especially as they tested the waters.
"One of the biggest mistakes people make is they want to go fast and invest all kinds of money to set up," Tellefsen says. "Unless you have money to burn, you need to keep your overhead low. We worked out of the church three years."
In 2005, the two purchased a 1922-built craftsman-style structure on the east side of Monticello that they — along with husbands Bill Tellefsen and Tom Vogelgesang, and Vogelgesang's father, Thomas "Buzz" Phillips — proceeded to restore and remodel. Today, the 90-year-old Mays House, with its pergola entrance, well-appointed rooms, landscaped grounds and large gazebo, serves as a perfect setting for anniversary celebrations, graduation parties, wedding receptions and rehearsal dinners, among other catered affairs.
"Eighty percent of our business is out of the county and 60 percent of it is weddings," says Vogelgesang, who handles the bookkeeping, scheduling, proposals and contracts.
"If it's less than 50 people we can do anything," says Tellefsen, adding that the menu serves as a starting point, especially for clients needing guidance. "It all depends on the place and the number of people. There are times when we have to say, 'No, we won't do that.' We can't deliver piping hot food to 400 people in a pasture."
In 2011, Carrie Ann & Company opened the Rosemary Tree in Monticello's historic downtown district. A deli-style café and gift shop, the restaurant serves custom blended coffees and a variety of sandwiches, wraps, salads and other light fare. The gift shop, meanwhile, offers an assortment of locally produced specialty foods and arts and crafts.
"Part of our philosophy is to help the community," says Tellefsen. "Giving back is important. I recognize how lucky I am. I actually love what I do. My attorney father hated what he did."
In the spirit of community development and sustainability, Carrie Ann & Company purchases local and area products whenever possible, paying a little extra if necessary.
Tellefsen and Vogelgesang describe catering as organized chaos. "Carrie Ann heads the chaos, and I provide the organization," quips Vogelgesang. Although the two have their respective parts of the operation down pat, they never know what unforeseen circumstances may arise, especially when catering events outdoors or at facilities other than their own. The list of potential mishaps includes sudden rainstorms, stopped-up sinks, backed-up toilets, failed flower deliveries and minor accidents, usually involving children.
"If you can't be flexible in this business, you have a problem," says Tellefsen.
Vogelgesang agrees.
"Flexibility is why we were able to survive the recession," she says. "At one point, we started doing more to-go casseroles. You do different things to appeal to people's budgets. You have to stay flexible."
What's ahead?
Possibly a cookbook. For the time being, however, they're content to continue doing what they're doing, the success of which is apparent from their bookings — running months, and in some instances a year, in advance. Even so, the two review their business plan at least twice annually and make adjustments as necessary.
"It's a constant conversation," Vogelgesang says. "It has to be in a successful business."