Going to The Show
International aviation fairs yield prospects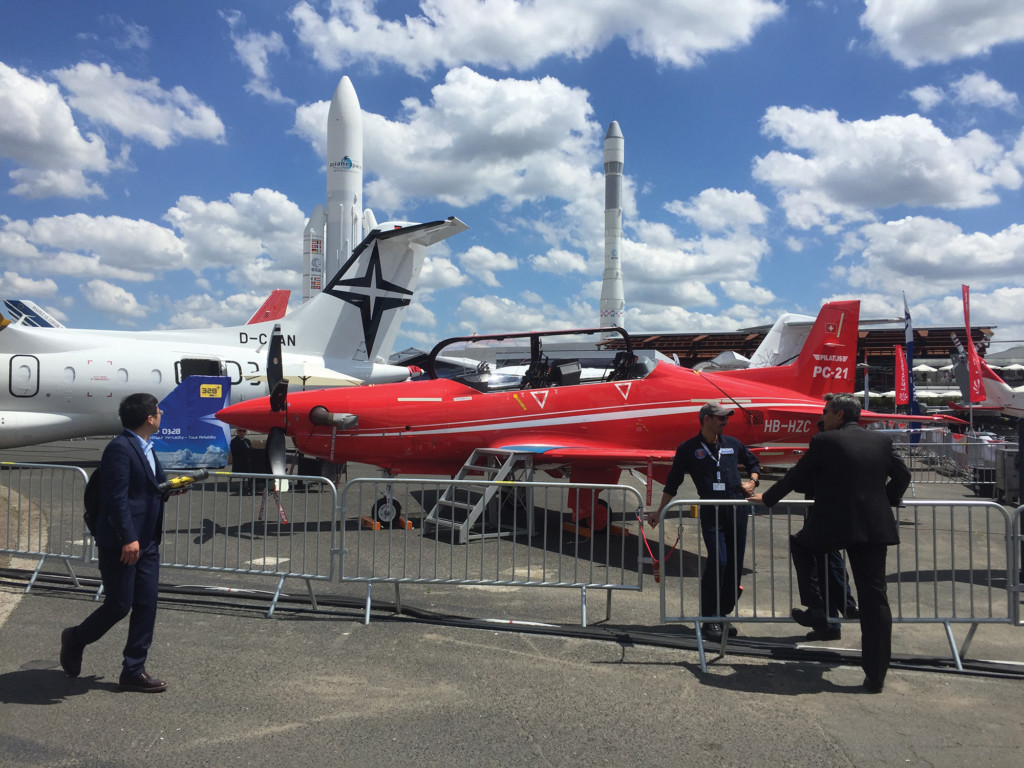 Long before she landed in Bay County in 2014, Bay County Economic Development Alliance president Becca Hardin had earned her international air-show wings.
As an economic developer employed by the Columbus Chamber of Commerce in Georgia, Hardin worked closely on expansion projects with the aerospace contractor Pratt & Whitney, which maintains a large presence there.
Pratt & Whitney officials convinced Hardin that, for anyone engaged in recruiting aviation businesses, attendance at the Farnborough Air Show and the Paris Air Show is essential.
"They are massive, and they are complicated because there are so many people there," Hardin said.
"You have to have somebody show you how to do these shows, or you would be completely overwhelmed."
For Hardin, members of Pratt & Whitney filled that role.
"I was fortunate," Hardin said. "They showed me where to stay, how to make appointments and how to work the show. I learned that if you don't have everything organized before you go over there, it's a waste of time."
Over the course of three intense, 18-hour days in June, Hardin, Bay County EDA vice president Garrett Wright and the EDA's aviation consultant, Paul Cocker, a former GKN Aerospace CEO, met with representatives of 37 companies in Paris. They would return to Bay County with eight substantial leads.
"It may be years before they germinate," Hardin said, a stack of precious business cards collected across the pond in front of her.
"But we have planted seeds with companies who are outgrowing their space and know that they will be expanding to new locations."
A two-tiered hierarchy governs the Paris Air Show.
Six exhibit halls each house hundreds of booths. But the big dogs — the likes of GKN, Boeing, Emery Air, Pratt & Whitney, Airbus and Spirit Aviation — entertain selected visitors in larger spaces called chalets.
Anyone may circulate among the exhibit halls, but no one gets into a chalet without an appointment and credentials.
"Our goal is always to get appointments in chalets," Hardin said, "and you don't get them unless you have a relationship."
At the air shows, the Bay EDA partners in booth space with Enterprise Florida and the State of Florida. This year, Okaloosa, Santa Rosa and Escambia counties also joined in.
Sometimes, the Bay EDA will participate as part of a regional delegation in meetings arranged by Gulf Power Co. and Power South.
But Hardin, Wright and Cocker prefer to spend their time at the meetings they bring about.
Bay County enjoys special status in aviation circles for having reeled in GKN's latest U.S. manufacturing facility, located at the VentureCrossings commerce park, near the Northwest Florida Beaches International Airport.
"The GKN plant, that's a wow factor," Hardin said.
"All of the states that are big into aviation attend the shows and showcase what they have to offer," Wright said, noting Kansas and Missouri in particular. "We have to compete with economic developers from states with big war chests that are prepared to stroke big checks."
"The state is our partner, but, in Florida, true economic development wins occur at the local level," Hardin explained.
Wright noted that he and Hardin frequently are asked about the ROI generated by attendance at the international air shows.
"We wouldn't have GKN if we hadn't gone to Paris, and we wouldn't have two projects we announced this year if we hadn't had GKN," Wright said.
He referred to the arrival in Bay County of Butterfly Training, a designer and producer of electronic learning solutions related to airport security and safety and aviation manufacturing companies and ACMT, Inc., an aerospace component manufacturer that has moved into the old
Honeywell plant in Lynn Haven.
GKN, ACMT and Butterfly combine for $75 million in capital investment in Bay County.
Hardin recalled that after the Deepwater Horizon oil spill, civic leaders in Bay County viewed economic diversity as an imperative.
They had seen how vulnerable the county's tourism industry and, by extension, its economic well-being was to even the perception that its beaches were fouled.
"Tourism is always going to be very important to us here, but with a brand new airport and an international port, leadership knew that advanced manufacturing and logistics/distribution could be two key parts of the county's economic future," Hardin said.
"We had great assets, and we needed to begin to showcase them around the world. My predecessor, Neal Wade, did a great job devising a strategy, and I was recruited to Bay County given my experience in recruiting aviation businesses in Columbus."
Exceptional assets notwithstanding, there is nothing automatic about economic development.
"We might work on a hundred projects and not get any of them," Hardin said. "And that's hard on me because I am probably the most competitive person you ever met in your life."
Hearing that, Wright silently nodded.