Georgia Vineyard Farmer's Daughter is All About Building Relationships
Hopes pinned on local vineyard are bearing fruit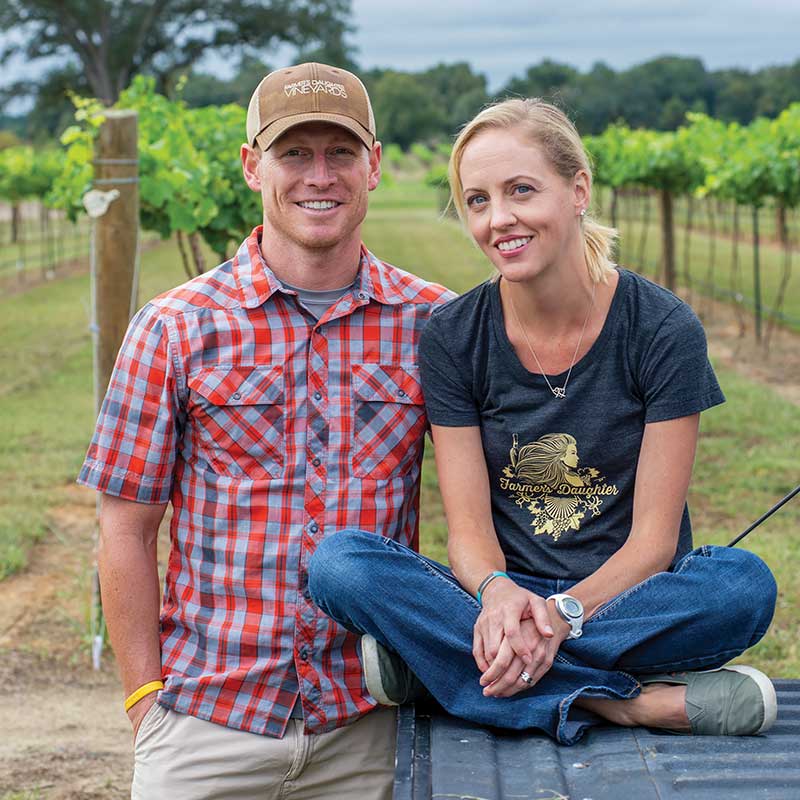 There's a John Mayer song called "Why Georgia" that delineates the artist's quarter-life crisis:
"Cause I wonder sometimes
About the outcome
Of a still verdictless life
Am I living it right?"
The lines struck a chord with a young Reneé Moss. Having bounced around for years in the corporate realms of graphic design, marketing, creative directing and copywriting, everyone asked her when she was going to settle on something. Moss herself wondered if she was on the right track.
She had no doubts about her husband, Clayton Moss, with whom she was smitten the moment they met on Match.com. But even he began to contemplate his current career path in sales when his father, a farmer, announced his retirement.
Growing up as a farmer's son was a privilege, and he wasn't quite ready to turn his back on that lifestyle.
"Am I living it right?
Why, why Georgia, why?"
Turns out, Georgia would be the stomping grounds of Farmer's Daughter Vineyards, source of the couple's nationally distinguished, prized wines.
Upon taking the leap south to Thomasville, Clayton began apprenticing with cotton and peanuts to learn how to take over the farm. He obtained a 10-acre plot of land with rich soil but wondered how best to diversify it.
Farmers like the Mosses will tell you that when one commodity goes up, another goes down, so it's best not to place all your eggs in one basket.
"The theory is if you're in the alcohol business, you're up all the time," Reneé Moss, co-owner of Farmer's Daughter Vineyards, laughs.
"Even in times when economics are depressed, people still buy booze. We knew we had good dirt, so we began considering high-risk, high-return crops, like olive oil, blueberries, or … wine grapes."
Well, Clayton just happened to know about Southern wine grapes from his post-graduate, alternative crop studies at the University of Kentucky, where, ironically, he conducted a feasibility study on the very French-American hybrid grape that constitutes Farmer's Daughter white wines.
While he never obtained his master's degree in agricultural economics due to a business opportunity that temporarily took farming off the table, his education had come full circle.
"During that study, he had determined that the Blanc DuBois grape wouldn't reliably fly economically," Reneé Moss explains.
"There was also the question of would we pay someone else to make the wine, or would we make our own winery? I'm fairly conservative and prefer safe options and reliable outcomes. He's not like that. He's not afraid of anything. That's why we're here today."
Though he's brave, Moss stresses, her husband isn't cocky and knows the keys to success are establishing what you don't know and enlisting the help of people who do know those things.
He sought counsel from a sage winemaking consultant to plan the layout and technical aspects of the winery.
An expert on viticulture explained how to grow, prune and trellis their grapes.
And who better to handle marketing and sales than Reneé herself?
The Mosses planted Blanc DuBois white grapes and two red varieties, Lenoir "Favorite" and Lomanto, in the spring of 2014.
Theirs are the only vineyards in South Georgia that don't grow the tough-skinned, sweet muscadine grape, which is native to the area.
While other cultivators do harvest hybrid grapes as the Mosses do, they often muddle them with muscadines in their product.
"For us, it's about quality," states Reneé Moss. "We want to make sure that we enjoy and stand behind whatever we manufacture, and that means getting you the full flavor profile of the hybrids."
Farmer's Daughter grapes are crushed, pressed, fermented, bottled and stored onsite, utilizing state-of-the-art equipment and a small but steadfast assembly of helping hands.
By 2016, 1,100 cases of Bombshell vintage, Troublemaker and Hellraiser white wine (along with a sole red wine, Knockout) were distributed for the first time.
In 2017, the vineyard produced 2,400 more cases and welcomed the darkly complex Heartbreaker and Daredevil reds to its group of labels.
This summer, you'll be able to sip a crisp, new rosé, SandAngel.
Along with Bro's Cider, made with apples from the Mosses' sister operation, Hawthorne Farms, Farmer's Daughter wines have has received more than 60 awards.
These include Best in Show for Hellraiser in 2017's San Francisco Chronicle Wine Competition, the world's largest convention of American wine. Both Heartbreaker and Bombshell snagged silver medals in 2018's event.
With names that pack a punch, each label is significant, depicting the profile of a blonde woman … the farmer's daughter.
Though Charlie Moss is only 6 right now, parents Reneé and Clayton imagine her growing into that lady, already possessing the personality of a Daredevil, Heartbreaker and Knockout.
(The Hellraiser phase took placing during her terrible 2s.)
Reneé Moss says Charlie is their inspiration behind the business.
"There's no guarantee that your kids are going to do what you want them to do or be near you, right? But we are building a legacy and we thought the wine business might be a little more interesting for her and, now, for my son, Cayman. We wanted to build a fun, empowering and engaging brand to reflect the strong young woman that she is."
Those values are powerfully reflected at the Farmer's Daughter Tasting Room in downtown Thomasville, where guests can sample flights of all seven flavors and munch on macaroons, charcuterie and gourmet chocolate to please their palate.
While adults socialize and enjoy live, local music, children have an area of their own to watch movies and play games.
"We're not trying to conquer the world and go nationwide. There's a lot of value in South Georgia and North Florida, and we take pride in being a locally grown and known business. We want people to be able to come up to shake our hands, ask us questions about the product and learn what we're all about. It's those relationships that matter."