Gearing Up
Advanced Technology Center synchronizes specialized training with job arrivals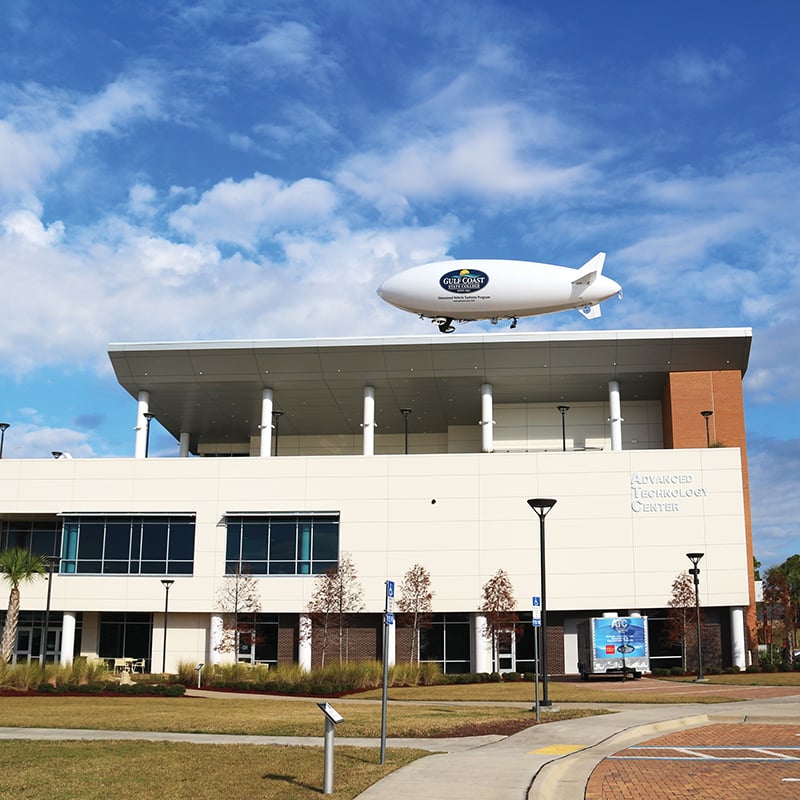 When Dr. John Holdnak worked for the Division of Florida Colleges under the Florida Department of Education, he found himself in a quandary.
Huge companies — think Microsoft, IBM — would flock to his office in Tallahassee, complaining about the "skills gap." Meaning, there were more jobs than sufficiently trained workers to fill them. When Holdnak asked how many of those jobs were currently open in Florida, the company representatives were baffled. Why would they bring jobs to Florida in the absence of a readily available, skilled workforce?
That sounded to him a lot like the chicken-or-egg question: Which comes first? The training or the jobs?
Essentially, employers were asking schools here to train students for jobs that might never exist in Florida, potentially forcing graduates to move away or be left jobless with a useless education and student-loan debt.
Fast-forward to 2017 developments in Bay County, where GKN, an international, multi-billion dollar automotive and aerospace manufacturer, constructed its first Florida aerospace manufacturing facility in Bay County. When representatives of GKN first approached Holdnak, he discussed with them the quandary about training and jobs. If they committed to building a site in Florida, then he would provide trained workers by the time they were ready to open. How would he deliver? Holdnak said, "Through a cooperative effort."
Holdnak upholds his part of the bargain by serving as president of Gulf Coast State College, where training programs for GKN are one of the paths students may choose at the college's Advanced Technology Center. Since its launch in 2013, the ATC has been focusing on the future of cutting-edge technologies and eradicating the skills gap by preparing students for immediate work with both corporate giants and homegrown businesses in Bay County.
"When the ATC was in its beginning stages, we wondered how far we could go to support industries with these advanced technologies and how this would impact our community," says Holdnak. "I can tell you, we're now really coming into our own and promoting the growth of economic development in Bay, Gulf and Franklin counties."
During the 2017 fall semester orientation, Holdnak spoke to students and faculty about new companies that are planning to relocate to the region, providing an estimated 75 to 150 tech-oriented jobs. Holdnak is meeting with some of these manufacturing businesses to demonstrate how his college can provide trained employees.
"When you think about manufacturing, you may picture these huge buildings belching smoke and covering everything in soot, but that's not what manufacturing is anymore," stresses Holdnak. "These are all clean, non-polluting industries that focus on the use of brand-new technology to produce things that are, in my mind, unreal."
Unreal. Straight out of science fiction.
Take a tour of the ATC and you'll find chefs creating treats with one of the few 3D printers in the country that prints entirely in chocolate. Yes, chocolate.
The engineering department of the ATC also dabbles in 3D printing by experimenting with additive manufacturing — 3D printing with metal and other industrial materials. In typical subtractive manufacturing, workers start with a hunk of metal and carve away at it until becomes a desired part — generating from 100 pounds of metal about 6 pounds of parts and 94 pounds of scrap. In contrast, specialized additive manufacturing reverses that ratio, allowing businesses to boost productivity and prevent waste of resources.
"We are substantially expanding our engineering technology program to include additive manufacturing because it's absolutely where businesses are headed," Holdnak explains. "There are companies in some parts of the world right now using this method to make auto parts. Some places print plastics and polymers that go into airplanes."
That's another reason Bay County landed GKN, as the company plans to utilize additives by laminating carbon fibers with titanium and electroforming parts to lengthen durability.
But that's not the only program that's drawing attention to the ATC.
Currently, it is the only public institution in Florida to host an accredited unmanned vehicle systems program. Transportation that pilots itself, but not like the robotic "Johnny Cab" from Total Recall.
Bay County's Tyndall Air Force Base launches unmanned aircraft as large as F-16's for target practice. If you see an F-16 with an orange tail flying overhead, Holdnak says it's likely nobody's home up there. Likewise, Naval Support Activity Panama City is in the process of designing and employing unmanned submarines and land-to-water vehicles to assist with missions.
Suspended over the lobby of the ATC is a 20-foot-long blimp that can be flown remotely by program participants. Equipped with high-resolution cameras, it can take photographs of Bay County from a bird's-eye view.
"Experts will tell you that unmanned vehicles will eventually replace everything people do that's dangerous, dirty or dull," says Holdnak. He is particularly passionate about a new vehicle designed to help first responders locate missing persons.
To search for a lost child in the woods, the vehicle can be programmed to identify him or her based on physical attributes. This is made possible through the use of geo-fencing and thermodynamic technologies. Other responders can launch their own search vehicles and cover a far wider area than, say, 100 hunting through dark thickets with flashlights. Holdnak estimates that the unmanned vehicle systems program will perfect this technology and release it in about 12 months.
Speaking of new developments, plans are underway to expand the ATC into the college's old science building, where the center will increase in both size and scope to promote an influx of even more opportunities.
"We're building what we anticipate will be a magnet for some of the best thinking and manufacturing in the world," Holdnak asserts. "Due to the accessibility and breadth of the ATC, it's become clear that the future of this college and the region will be in growing more of these technologies and all related careers."