FPL Economic Symposium Celebrates 25th Year
Gathering encourages economic growth and community connections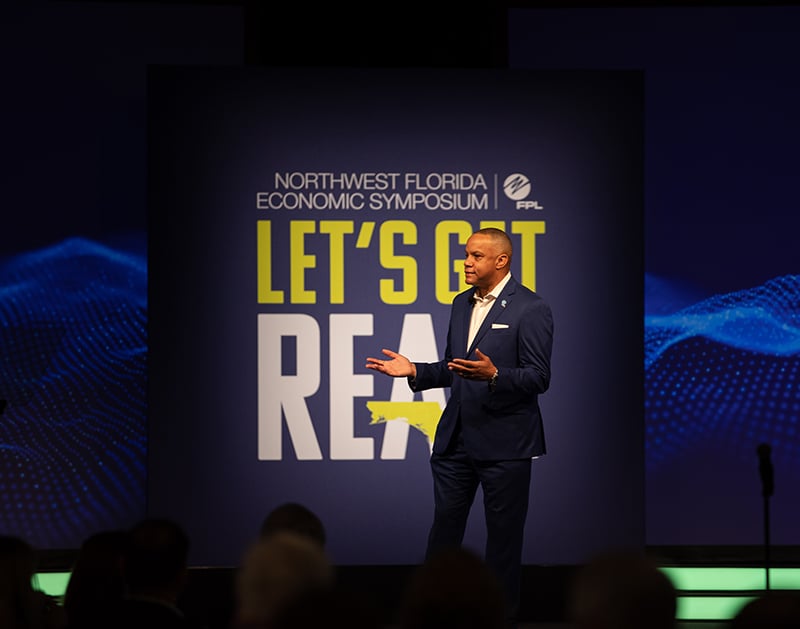 Since 1996, the FPL Northwest Florida Economic Symposium, formerly the Gulf Power Economic Symposium, has stimulated innovation and progressive action among community and business leaders.
The 2023 event took place Feb. 28-March 1 at the Sandestin Golf and Beach Resort and observed a "Let's Get Real!" theme, which inspired speaker Jorge Gonzalez, the president and CEO of The St. Joe Company, to address "REALizing Our Potential: A Placemaking Discussion." Lital Marom, an innovation strategist and entrepreneur, offered a "REAL Vision for REAL Growth."
Keynote speaker Don Yaeger, a longtime associate editor of Sports Illustrated, discussed lessons for achieving greatness, which he gleaned from his dealings with some of the most accomplished sports legends in the world.
Afshin Molavi, an expert on geo-economics, spoke on global issues that stand to affect how business is conducted in the future.
Dr. Jerry Parrish, an economist who is focused on economic development and workforce issues facing Florida and is a faculty adjunct in the Masters of Applied Economics program at Florida State University, provided a Northwest Florida economic update.
Darrick McGhee, a favorite from last year's event, again provided the Florida legislative update.
J.T. Young, FPL's vice president and general manager for Northwest Florida, served as the host for the event.
"FPL's role has always been to be facilitators that allow our regional businesses and community leaders the opportunity to come together and share thoughts and ideas summoned by the great group of speakers we secure every year and the many networking opportunities available," Young said.
Young honored people who have been instrumental in the success of the symposium throughout the years. He paid tribute to Bobby Branning and Bob Cordis, who spearheaded the inaugural event, known then as the Gulf Power Economic Symposium.
"We are grateful to those who had the foresight to put this unique event together that energizes the region by providing the tools and resources to help attendees pursue excellence and know this is a region where they can grow and thrive in their business, interests and families," Young said.
Photos and session videos from the 2023 event will soon be available online. For this, as well as forthcoming details about the 2024 Symposium as they become available, visit FPLSymposium.com.