FloridaWest Is Proceeding Strategically
Embarking on a five-year plan to diversify economy and boost wages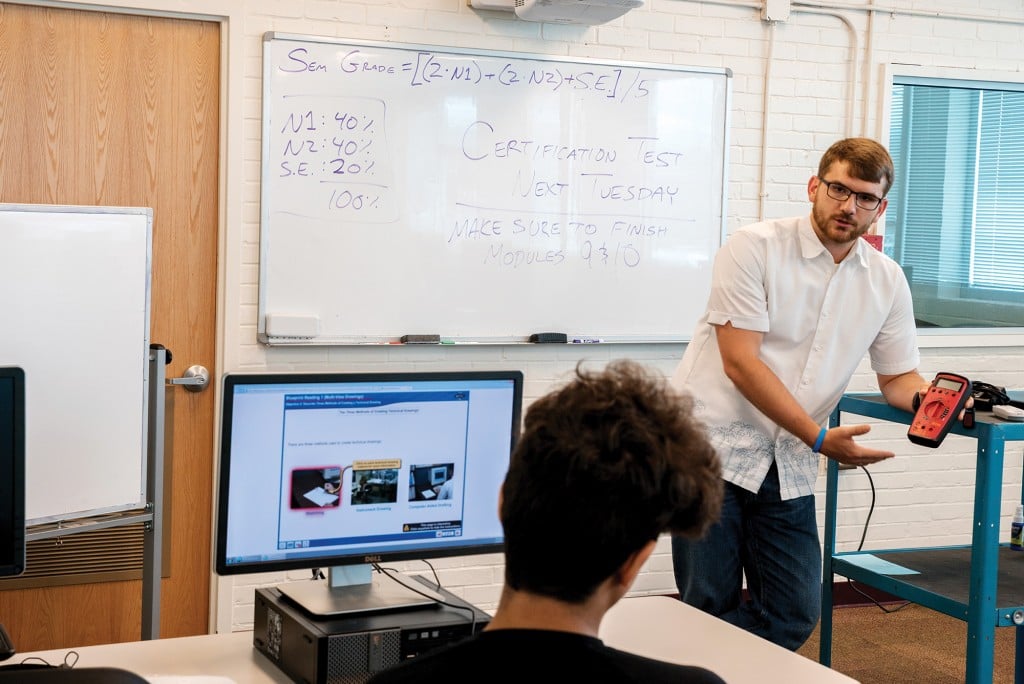 In 2014, when FloridaWest was established as the Pensacola area's economic development organization, it worked to take advantage of the cyclical growth in business and industry that occurred as the nation rebounded from the Great Recession.
Today, FloridaWest is more intentional and targeted with its approach.
"Right now, our unemployment rate (2.9% in Escambia County at this writing) is as low it has ever been, and we have more job holders (143,377) than ever before," noted Scott Luth, FloridaWest's chief executive officer.
"Things are good right now, but you can't let up. We will be focusing on our workforce development issues and diversification strategies to prepare our area for the future."
Those issues and strategies are identified in FloridaWest's new five-year strategic plan.
"We are out there knocking on doors, and we've opened up the third floor of our small business incubator — we're growing our entrepreneurial community," Luth said.
"We have established strategic partnerships with the Studer Community Institute, the University of West Florida, Pensacola State College and the Pensacola Chamber of Commerce, and together we're rolling out new mentoring programs.
"We are committed to growing our own, expanding existing businesses where we can and bringing in new employers."
As to workforce development, the strategic plan commits FloridaWest to helping to bring about a highly trained workforce that is compatible with targeted industries and capable of attracting new employers while supporting the existing industry.
Further, workforce development efforts, according to the plan, should help meet the skills-training needs of area residents.
Calculating those needs, Luth said, requires a baseline assessment of the local workforce and an understanding of what the jobs of the future will be and the skills, knowledge and experience they will require.
To those ends, FloridaWest is fortunate, said Luth, to be one of five economic development organizations nationwide who were selected to participate in the Inclusive Development Network (IDN), a project of the Chicago-based Council for Adult and Experiential Learning.
The initiative seeks to identify and implement strategies that reduce equity gaps in local workforce development.
At this stage, FloridaWest is taking what Luth described as a deep statistical dive into the Pensacola area.
"We're looking at populations within the community based on age, race, gender and education levels," Luth said. "We're looking at levels of educational attainment, which fields people are choosing and which jobs are susceptible to automation."
The data collection phase will be followed by the formulation of strategies and related action items. Organizations including Achieve Escambia, Workforce EscaRosa and the Community Action Program Committee are participating in the project, which includes both Escambia and Santa Rosa counties.
In addition to Pensacola, the IDN selected Cleveland; Corpus Christi, Texas; Coweta, Oklahoma; and Spokane, Washington, for its inaugural group of participants. Thirty-five organizations applied.
"This program, as well as our own commitment over the coming years, will allow us to focus on making sure that all individuals in our community have the opportunity for success," Luth said.
Communities receive a $60,000 dollar stipend to offset the costs of participation in the IDN.
FloridaWest's strategic plan details a program of work aimed at diversifying employment and increasing wages and per capita income.
It focuses on two sectors: manufacturing/cyber and information technologies.
FloridaWest intends that over the five years covered by the plan, the effort will generate an average of 400 jobs per year for a total of 2,000 new jobs by 2023.
FloridaWest looks to its "Live Coastal,Work Cyber" initiative to be a jobs generator.
"There is a lot of momentum behind that program right now," Luth said. "It's an initiative that has to be workforce-led. Many times, we bring a company in and we build a workforce around the company, but in this area we knew we needed to start with a workforce."
Cybersecurity figures in career academies in the public K-12 school system and in degree programs at Pensacola State College and the University of West Florida.
"The cybersecurity center at UWF is receiving a lot of regional, state and national attention," said Luth, who has closely monitored public-sector activity related to cybertechnology.
"We are seeing a very strong cluster of public-sector cyber develop here," Luth said.
He cited expansion and growth at the Naval Center for Information Warfare Training's Corry Station and at the Department of Homeland Security.
"Private-sector activity will follow," Luth said. "This is, for us, a definite strategy and opportunity."
FloridaWest, in emphasizing workforce development and other jobs-producing activities, recognizes that whales the size of ST Engineering Aerospace occur maybe once in an economic developer's career, if at all.
ST Aerospace, based in Singapore, is the world's largest commercial airframe maintenance, repair and overhaul service provider and, since 2018, has been in operation in a hangar at Pensacola International Airport.
Luth and a cadre of others had pursued it for eight years.
"They are moving along and supporting their launch customer, United Parcel Service," Luth said.
"We have been in discussions with them regarding significant expansion and have received great support from the Triumph Gulf Coast board, the Governor's Office, the City of Pensacola, Escambia County, Congressman Matt Gaetz and the federal Economic Development Administration."
Contemplated is a $211 million expansion to included construction of three hangars and an administration building.
"We have conditional approval from all the funding sources and support from the company, so we are now going through the contracting negotiation stage," Luth said late last year.
"We anticipate that in four to five years, whenever construction is complete, we will have 1,700 to 2,000 people working at ST Aerospace.
"All along Northwest Florida's Gulf Coast and extending into Baldwin County, Alabama, good things are happening," Luth said.
"As the largest city and MSA in the area, we are happy to play a leadership role and to be one of the region's greatest champions." 
Strategic Planning
Six planks make up the overall  work  program:
1. BUSINESS INCUBATOR
Operate a business incubator (Co:Lab) to encourage entrepreneurship and create new businesses.
Five-year budget: $2,062,000
2. BUSINESS EXPANSION
Encourage business expansion and the expansion of existing industries.
Five-year budget: $1,158,000
3. BUSINESS DEVELOPMENT
Attract new employers offering wages higher than the state average.
Five-year budget: $2,311,000
4. WORKFORCE DEVELOPMENT
Provide support to help recruit and create a well-trained, diverse workforce that will appeal to targeted industries.
Five-year budget: $926,000
5. SITES AND BUILDINGS
Work with the Pensacola-Escambia Development Commission to support and advocate for the development of high-quality business parks and industrial sites.
Five-year budget: $864,000
6. ORGANIZATIONAL SUPPORT
Pursue organizational strategies to secure the resources and partnerships needed to carry out the mission.
Five-year budget: $508,000