Florida's Only Commercial Shrimp Farm Is 20 Miles from the Gulf
Farming Seafood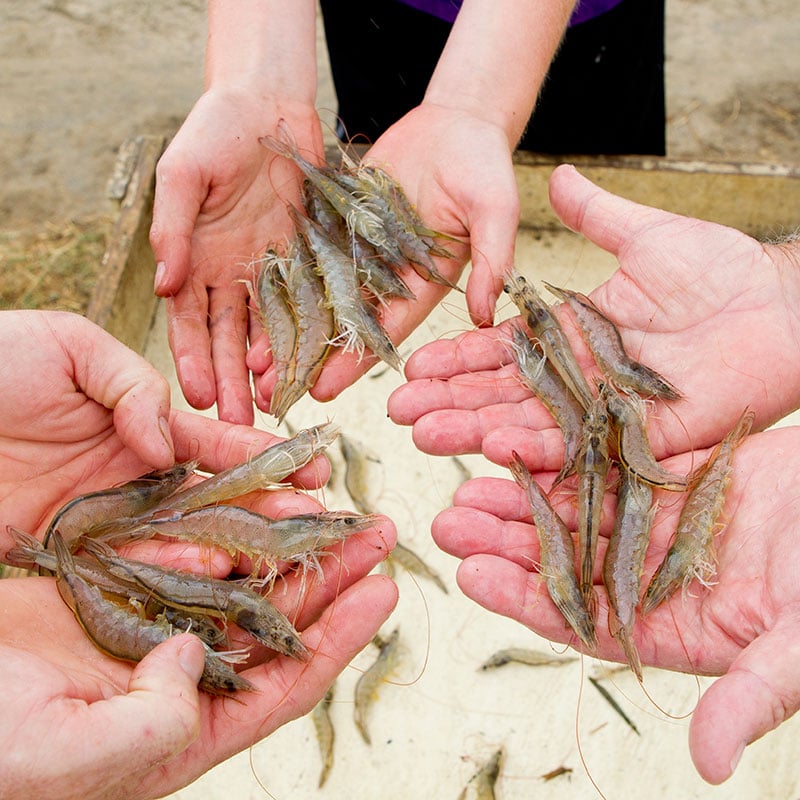 Mark Godwin is servicing a harvester at the metal Quonset hut that serves as office/storage barn for Gulf American Shrimp, an aquaculture farm he part owns and manages 20 miles inland of Port St. Joe in Gulf County. Tall, fit and wearing a coat against the cold of a gray November morning, he talks about the operations between production cycles, a time dedicated to equipment upkeep and readying the ponds for refilling and restocking come spring.
Nearby, the open ponds are visible, their clay bottoms exposed and showing many of the computer-driven paddlewheel aerators used to oxygenate and cool the water. As in agriculture, the ponds' soil requires tilling and treating between harvests. And, like in agriculture, shrimp farming is seasonal, with the growing months typically running April through October.
"Oct. 31 was the last day of our harvest," Godwin says, explaining that the month-long process entailed daily 1 a.m. to noon shifts to drain each of the 12 ponds, harvest the shrimp live with a hydraulic pump and harvester, then ice them down and haul them to the processing plant for sorting, grading, de-heading, deveining and packaging.
"The harvest is a choreographed effort," he explains. "Once you start, you can't stop."
A University of Florida graduate with a degree in business administration and a minor in landscape architecture, Godwin speaks in a measured and precise manner. A tour of the operation reveals a massive configuration that he himself designed, consisting of two parallel rows of six rectangular ponds each, totaling a combined 55 acres or about five acres per pond. A network of levees/roads interconnects the ponds, and a system of canals allows water to enter and leave each pond independently. Surrounding the entire configuration is a grand levee that ensures containment of the operation's low-salinity water, accounting for the facility's bio-secure, zero-discharge designation.
Godwin points out a marshy area just west of the existing ponds, where he plans to add another eight ponds totaling 45 acres. He has already started clearing what formerly were catfish ponds and stockpiling materials for the expansion. Altogether, the property is 300 acres.
"This was a catfish farm in the 1980s," he says, adding that catfish ponds are typically around 10 acres and flat bottomed, whereas shrimp ponds are smaller, deeper and sloped, to allow for draining.
On average, the 12 ponds hold some nine million shrimp, which translate into annual harvests of about 220,000 pounds once the growth and survival rates are factored. The goal is 500,000 pounds.
The only commercial shrimp farm in Florida, and one of fewer than 10 in the United States, Gulf American Shrimp is a component of the 5th generation family-owned-and-operated Wood's Fisheries — a Port St. Joe business that dates from the 1860s and that Godwin's father-in-law, Edward "Buddy" Wood Sr., presides over, with Godwin as vice president.
The farm produces Pacific White Shrimp, which Wood's Fisheries processes and primarily wholesales frozen to stores, restaurants and chains across the country. The shrimp are marketed as "all natural," meaning they are chemical free. They are also rated "Green" by the Monterrey Bay Aquarium and FishWise, national organizations that inform consumers of seafood products' sustainability.
Growing shrimp, Godwin relates, is equal parts guesswork, experience, intuition and flying by the seat of one's pants — with a lot of hard work thrown in.
"If you have shrimp in the water, they don't know the difference between 8 a.m. and 2 a.m. or between Wednesday and Sunday," he says. "It's pretty much 24/7."
The shrimp require three feedings a day. Additionally, each pond must be monitored daily for such parameters as water temperature, salinity, pH, turbidity and oxygen, the latter a most critical measurement. Should the oxygen level drop sufficiently, it could spell disaster.
"You can lose a pond and $50,000 worth of shrimp in one night if the oxygen fails," Godwin says.
Typically, the computer system automatically adjusts the aerators to compensate for oxygen deficiencies. Additionally, Godwin can log into the system from anywhere and diagnose or correct most problems. If the computer sends an alarm, however, it requires him driving immediately to the farm — no matter the time of day or night — and aerating the pond with the use of a diesel powered aerator.
Which explains his diligence in the upkeep of equipment.
"When you're dealing with a live animal, you can't afford unnecessary delays," Godwin says. "You have to keep equipment serviced and in working order. There's no forgiveness for dead shrimp."
Generally speaking, the lower the stocking density is, the higher the growth rate. The goal is to maximize pounds per acre by finding the sweet spot, in terms of the stocking numbers and net survival and growth rates.
"We're close," Godwin says.
His average survival rate currently is 40 to 42 percent, a percentage he would like to increase to 50 or 55 percent. Toward that end, Godwin is constantly tweaking the operation to achieve maximum efficiency. When dealing with live animals, however, it's impossible to control all the variables, or even know sometimes which controllable ones need adjusting.
Take the challenge of achieving the correct feed rate to assure uniformity of growth for practically invisible stock. When Godwin purchases the post-larval shrimp from the Islamorada hatchery, they are mosquito or love bug size and virtually disappear once in the ponds' opaque waters. Underfeed and it risks loss of shrimp and variations in quality and sizes; overfeed and it wastes food, one of the costlier operational expenses, and propagates the growth of algae, which consume oxygen. Godwin takes weekly samplings to gauge the size and health of each pond's shrimp population and adjusts the feeding accordingly to achieve the desired growth rate. But at best the samplings are random estimates.
"We're growing a commodity we can't see," he says. "A farmer can walk in the field and touch his products. With shrimp, it's trial and error. You're feeding blind because the feed sinks to the bottom and you don't know what gets consumed."
Godwin concedes that were the farm not part of Wood's Fisheries, its survival and viability might be in question. As it is, the farm has a ready-made outlet for its product via the parent company, which markets the shrimp under its Premium Farm Raised brand. Wood's Fisheries additionally buys boatloads of wild-caught Gulf shrimp, which it processes, cold stores, markets, sells and distributes under its Wood's Wild Premium brand.
"We're a facilitator from boat to table," Godwin says.
The farm, in fact, was an outgrowth of a major upgrade of Wood's Fisheries that Godwin and the senior Wood undertook about 1996, and that ultimately resulted in the complete modernization and tripling of the operation.
"My father-in-law has a work ethic like you wouldn't believe," Godwin says. "We're both workaholics. When the two of us get together, it's like pouring fuel on fire. We didn't have a plan. We just went to work. It was one project after another. And when we ran out of projects, my father-in-law said: 'What's next?' "
Godwin had, in his words, been "poking and stabbing" at the idea of a shrimp farm for a while. He suggested the two travel to Texas and further study the industry.
"Long story short, I didn't see anything I thought was rocket science," Godwin says. "A lot of it was just hard work and attention to details, traits I have anyway."
A feasibility study on the former catfish farm at Howard Creek showed the property, which was on the market, had ideal soil that wouldn't percolate and that quality saltwater could be accessed at 1,200 feet deep. It then took some doing to get the water management district to issue the necessary water consumptive permit, but in 2006 — three years after its purchase — the farm produced its first shrimp crop. Ever since, it's been a learning curve, with increased production every year.
Godwin reflects on his decision to give up his plan of moving to Atlanta and pursuing landscape architecture and instead returning to his hometown and shrugs philosophically. He remembers a UF professor telling him at the time that even if he ended up selling clay pots by the roadside, he would feel fulfilled so long as he satisfied his basic passion, which was to be productive and efficient.
"I guess I've found my clay pots," Godwin says.