Experts at finding expert witnesses
Expert witness testimony can be crucial to a case. So how do lawyers find these experts?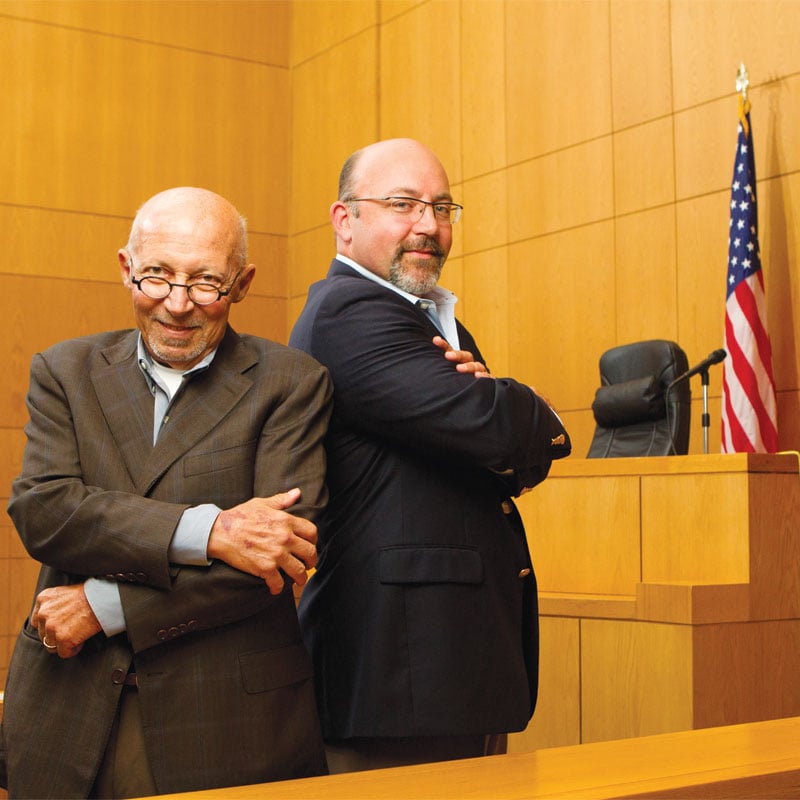 We've all seen them called in to save cases in Law and Order. We might have listened to them while serving jury duty. They provide knowledge and clarity to subjects unknown to most people, including attorneys, allowing courts to make informed decisions — the right decisions. But where do attorneys find them, anyway?
Expert witness testimony can be crucial to making a case. The experts themselves can represent all sorts of fields, from psychology to geology. Presumably, finding a good psychologist or even geologist should not prove terribly difficult, but what if you need a design copyright expert in decorative glass art? Preferably with 10 to 15 years of experience in fine art design, with emphasis on the use of color, overall design and materials used, as well as special expertise in the area of decorative art glass? Asking around might turn up something, but chances are things would start to look very bleak. This is where IMS ExpertServices comes in.
In 2002, father-son team Mike and Bill Wein founded IMS ExpertServices, a company they determined would deliver experts and consultants in support of high-profile cases that could make or break the companies involved. IMS's founding followed two other successful search firms they co-founded and operated for the telecommunications industry in the '90s, Media Management Resources and Intelligent Management Solutions.
"In late 2000, while the company was focused on providing high-end executive searches for companies in the telecommunications industry, a client contact at Time Warner called us with a need for an expert in a damages case that their law firm was having difficulty finding. They asked us to find that expert," remembers co-founder and father Mike Wein.
Six months later, the CEO of Cox communications requested a similar service. These events turned the light bulb on, and got the pair thinking about the growing need for high-end expert search services in a large corporate market. "That became the catalyst for the company's change in focus to providing experts and consultants to the legal industry," says his son and co-founder.
In 2002, the company made the switch from focusing on telecommunications to dedicating itself to finding specialized expert witnesses for high-stakes litigation. Since then, IMS has kept its focus on providing expert witnesses, litigation consultants and subject matter experts to major law firms and Fortune 500 companies. This focus has given them access to a staggering network of expert contacts in even the most obscure fields.
That is why when asked to deliver an expert in design copyright as it pertains to decorative glass art, they could provide not just one, but three fully vetted and qualified candidates from which the client could choose.
The goal of IMS has not changed, according to the younger Wein; it was and still is, "to make a positive difference in the outcome of the complex commercial litigation facing corporate America by delivering highly experienced experts and consultants to our clients."
Uniqueness Pays Off
IMS is a genuinely unique company in multiple ways. Most obviously, it is the only firm of its kind in the industry today. Comparable providers are either limited to a certain industry or function as automated database-driven registries.
"We find our experts by doing plain hard work," says Mike Wein. "Our job is to determine our client's needs and to then search, interview, vet and conflict check the best experts to assist in the case. We search for publications, speeches, patent work they have done, as well as prior cases in which they have been involved. We are willing to do what other companies are not willing to do. We are willing to put the time and effort into pinpointing needle-in-a-haystack experts that our competitors would often not consider spending the time to find."
Finding these experts, as one can imagine, is definitely not a walk in the park. Wein recalls their most difficult case, when they were asked to find an expert to testify in a technology development case, specifically for a company within the home gaming industry. "The expert was required to be non-conflicted, testify regarding a patent infringement issue surrounding a new home gaming technology and have previous testimony experience on this topic — a tall order, considering the current novelty and age of the technology!"
They found their expert, of course.
Although based in Pensacola, IMS is far from limited in its operational reach. Since early 2010, they have conducted 1,536 searches for 976 clients/attorneys, who practice within 301 various law firms, companies and government entities. Usual clients are civil litigating attorneys within the world's largest law firms, general counsels within Fortune 500 companies and government agencies. They work in major metropolitan areas around the world and provide service across the spectrum of the state, federal and international court systems.
As for what kinds of cases these clients need expert witnesses for, the answer is anything and everything. "On any given day, we may be presented with a client that needs an expert in biotechnology, aviation security, nano-science, DNA sequencing, offshore drilling, robotic automation or mortgage-backed securities, to name only a few," says Bill Wein. But these are just the beginning.
"There are many cases that cause us to raise our eyebrows and laugh a little," adds Mike Wein. "We have done patent cases involving adult toys, psychological autopsies (what was the victim's frame of mind just before he committed suicide) and even proprietary methods of pig nutrition! Another particularly interesting case dealt with casino gaming machines and whether or not they were programmed to give the player a false sense of the possibility of winning."
Finding the Right Fit
More commonly, IMS is the leading provider of experts for patent infringement, a major concentration in today's litigation environment. These cases range from pharmaceutical patent litigation to those in the high-tech industry.
Donald Loft, retired senior partner in Morris, Manning and Martin in Atlanta, Ga., worked with Bill Wein and IMS on several expert cases covering a wide variety of topics.
When Loft represented about 50 high-net-worth people in Atlanta whose assets were taken by an options trader, he needed an expert on options trading and the clearing of those trades. IMS delivered. "[IMS] always seemed to be able to find good, experienced people who had the expertise I needed," he says.
In another case, Loft represented one of the world's largest insurance companies against one of the largest banks. An expert was needed who had thorough knowledge of Australian accounting standards, special rules regarding accounting for derivatives and standards of conduct for derivatives brokers and dealers.
"You need a good firm to help you find experts like that!" he concludes.
Of course, attorneys like Loft have other options. There are always experts used in the past, but once an attorney begins using the same witnesses repeatedly, the integrity of such witnesses' judgment becomes suspect and bias can be implied. Attorneys could always ask around and hope to find an expert through the grapevine, but this tactic becomes less effective as the qualifications needed become more specialized. Plus, the turn-around time can take far too long. These worries are what IMS eliminates when they work on a case.
"They have such a far-reaching net of experts that they can find the right people a lot quicker than a lawyer can, and save the client the hourly fees they'd otherwise be paying a lawyer to do the search," Loft points out. "The net you cast is going to be fairly limited in comparison."
The choice in base of operations might seem odd to some people; it is easier to imagine a company with such a broad network basing itself somewhere more cosmopolitan, like New York City or Washington D.C.
"Pensacola has a low cost of living, a large potential for growth and an impressive talent pool," Wein points out. "Originally, we located IMS here because of the lifestyle it offers … We stay because our business is able to thrive here, and we enjoy being part of the dynamic environment this progressive community offers."