Everything You Need To Know About The New Tax Reform
The most far-reaching overhaul of the country's tax system in 30 years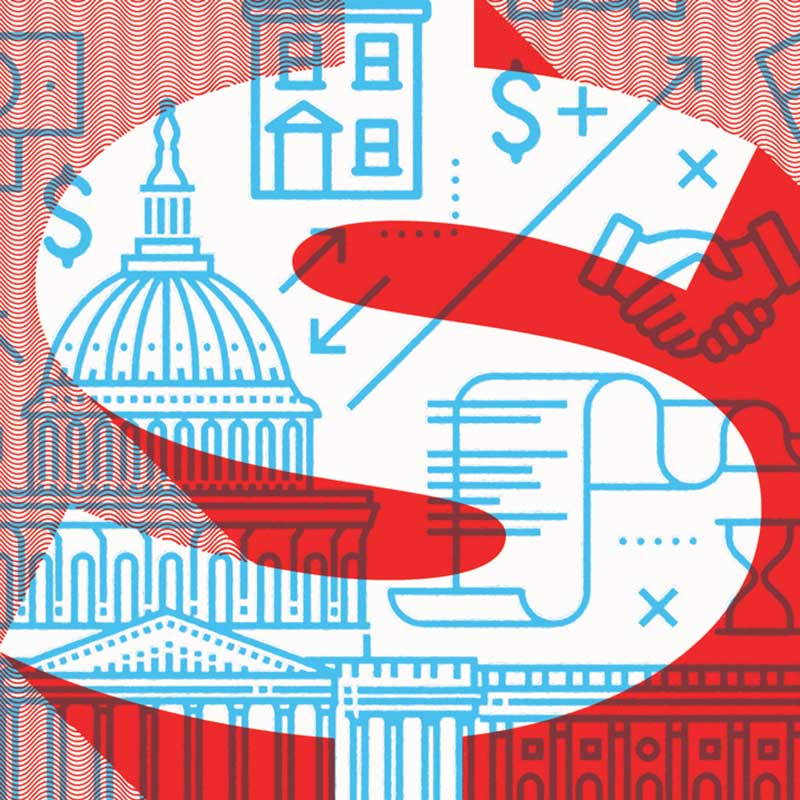 Since the United States Congress passed the sweeping Tax Cuts and Jobs Act in December, it's left many taxpayers feeling concerned, confused or cautiously optimistic. The questions persist. Is it a boon or a bust for the economy? For consumers? For business?
The answers? They're complicated as well.
The changes — the most far-reaching overhaul of the country's tax system in 30 years — hinge on many factors, including the size and composition of an individual's family (consider the number and age of children), salary, source of income, and state.
Sorting through the new provisions for businesses is enough to make an accountant's head spin.
"In general, everyone is going to save money," said Abby Dupree, managing partner of Tallahassee's Carroll and Company, certified public accountants. "Anyone getting a regular paycheck has already seen an increase in what they're bringing home because of the change in the tax tables."
Much of the business world is celebrating the new tax law, which slashes the corporate tax rate to 21 percent from 35 percent, changes some provisions for companies abroad and lowers taxes for many small businesses known as "pass-through" entities.
"It's great news for American businesses in general, particularly manufacturing and technology," said Tom Feeney, president and CEO, Associated Industries of Florida. "Reducing the corporate tax rate enables companies to grow more quickly, to hire more people and expand. Businesses also have more incentive to put their plant in the United States instead of overseas."
Amid all the cheers for the legislation, there are concerns about certain aspects of this mammoth tax act, particularly its tab — adding an estimated $1.5 trillion to the deficit — and its uncertain ramifications.
"I'm wondering about cuts," said Roy Lee Carter Sr., 66, of Wewahitchka, retired director of the University of Florida's Institute of Food and Agricultural
Sciences Extension service in Gulf County. "The money will have to come from somewhere."
In its economic outlook, the Congressional Budget Office projected that benefits from the tax overhaul would include an expected increase in jobs and wages, but also noted that "such high and rising debt would have serious negative consequences for the budget and the nation."
Spending without cutting worries Dominic Calabro, president and CEO of Florida TaxWatch.
"In the long term, it's a very serious issue," he said. "We don't need to be adding to the debt. It's high time to improve long-term economic stability."
Concerns about adding to the debt, which could result in pressure to make budget cuts, are among the reasons the AARP opposed the legislation, said Florida AARP Director Jeff Johnson.
"We were concerned that a $1.5 trillion deficit would put pressure on programs that people 65-plus really rely on for their financial and health security: Medicare and Social Security," said Johnson.
The AARP also objected to the measure in the law that eliminates in 2019 the Affordable Care Act individual mandate. "People in their 50s and early 60s not qualified for Medicare could see more significant premium increases to health insurance," Johnson said.
A possible conundrum for future politicians: The corporate tax change is a permanent rate cut, but tax breaks for pass-through businesses and individuals are set to expire after 2025 unless Congress decides to make them stick.
It may take "a year or two of this tax package under our belt" to get a better idea of the economic impact, said Mark Wilson, president of the Florida Chamber of Commerce. "There will likely be a second package to fix what's not working."
If you've saved money from these changes, returning to the old rates — and a possible tax hike — in 2026 would be a letdown. There could be a push to keep the cuts, which could worsen debt.
"Stay tuned for developments," said Steve R. Johnson, Dunbar Family professor of law at Florida State University's College of Law.
Here's a look at the expected impact of key provisions of the new tax law.
A windfall for corporations
The massive corporate tax cut, to 21 percent from 35, is at the heart of the federal tax bill.
While he's concerned about adding to the debt, Calabro called the changes "a very pro-competitive, pro-American initiative. It encourages countries to bring their tens of billions of dollars back to the U.S."
And that's the refrain from the bill's backers: The tax changes will improve the economy and boost employment and salaries.
"Year-end bonuses were more prevalent," said the Chamber's Wilson, noting that several businesses, including JPMorgan Chase & Company, Florida Power & Light and AT&T issued bonuses or raises or increased investments as a result of the cuts.
"For our part, we are committed to increase our investment this year by an additional $1 billion. Research tells us every $1 billion in capital invested in telecom creates about 7,000 good jobs for the middle class," said Rosie Montalvo, AT&T spokesperson.
"We also invested more than $1 billion in our people following tax reform — $800 million to fund health care benefits and more than $200 million in special bonuses to more than 200,000 frontline U.S. employees," she said.
FPL announced in January that customers will not pay a surcharge for Hurricane Irma restoration as previously expected. Instead, FPL plans to apply federal tax savings toward the $1.3 billion cost of Hurricane Irma restoration, which the utility stated will save each of FPL's 4.9 million customers an average of approximately $250.
AARP's Johnson noted it's important that consumers be alert in examining how the tax changes "affect the bottom line" for FPL.
Some of the country's biggest unions are pressing companies for more disclosure about how companies are spending tax-cut savings.
In April, four unions filed formal information requests with 11 companies, including American Airlines Group Inc., AT&T Inc. and PepsiCo subsidiary Frito-Lay, requesting disclosure of the firms' plans for the extra cash freed up by the tax cuts.
A Bank of America Merrill Lynch analysis found that fewer than 45 of the 500 large companies that make up the Standard & Poor's 500 stock index had paid out cash bonuses to their workers in the four months after the new tax law took effect. By the bank's count, about 150 — roughly a third — of S&P 500 companies have publicly announced their tax-cut spending plans, citing data through March 27.
Only 13 percent of companies' tax-cut savings will go to pay raises, bonuses and employee benefits, according to a survey of Morgan Stanley analysts released Feb. 8. The analysts predicted that 43 percent will go to investors in the form of stock buybacks and dividends.
"The bulk of savings and tax cuts seem to go toward high-income and corporations versus middle-class families," said Jeff Johnson, at AARP. "I'm not implying that middle class families won't save money. In most cases, they will. Short term, there are a number of changes that will lead to most people being able to save a few dollars and in some cases, the savings may be significant.
"But they won't be doing as well compared to high-income folks and corporations," he said.
Spencer Ingram, managing member of Spencer Ingram Accounting & Consulting in Tallahassee, shares that concern.
"Big business really got the home run, and the rest of us are dealing with the crumbs," he said. "What impact will this have on our nation? Hopefully, the trickle-down effect works, but it's been known not to."
While tax experts agree that the tax rates paid by U.S. corporations were exceptionally high on paper, some companies are so skilled at using special provisions, "they paid little or no income tax" in the past, said Steve Johnson, law professor at Florida State University and a recognized scholar on tax litigation and procedure.
Yet, for the economy, the cuts are a "shot in the arm," said Feeney, at Associated Industries.
A break for many small businesses
Among those who'd like to see the tax changes remain are certain pass-through businesses that got a break through the new law. Pass-throughs are organized as sole proprietorships, LLCs and partnerships, and instead of paying corporate income tax rates, the owners pay individual income taxes on their share of business income.
The rates for pass-through businesses are the same as individual tax rates, but under the new law, some business owners can take a 20 percent deduction on their pass-through business income with limits for those earning above $157,000 (single) and $315,000 (married, filing jointly).
"Business owners can use these tax advantages to advance what they've been wanting to do," said Sue Dick, president and CEO, Greater Tallahassee Chamber of Commerce. "It can enable them to hire that extra person, get equipment, do a renovation. It builds momentum to move forward."
Michael Clarke, co-founder of Hanto & Clarke General Contractors in Pensacola, said the tax changes will enable his company to "build and retain as much equity as possible. This will allow us to put more money into our company, to purchase more assets and it increases our bonding capacity. It's a big break for us."
Clarke pointed to another bonus: Businesses buying equipment willhave the ability to deduct the entire cost of their purchases in the first year instead of deducting them over several years according to depreciation schedules.
The pass-through deduction "is one of the biggest benefits I've seen for the real estate business," said Joe Naumann, broker/owner of The Naumann Group Real Estate. "We'll see the greater effect next season."
The new tax structure allowed Phil Swartz, co-owner of Holiday Cruises & Tours, "to give significant bonuses to our employees. It's up in the air whether the 20 percent deduction for pass-through businesses will continue, but it's absolutely a good thing."
But the changes "may not benefit every situation," said Johnny Branch, business consultant, at the Small Business Development Center in Panama City.
Businesses such as lawyers, doctors and accountants are likely not eligible, but tax experts said it will likely take time and more clarification to work out the kinks.
In another measure, "companies lost the ability to write off business entertainment expenses," said Ingram. Those expenses include sky boxes, sporting events, golf and hunting excursions, tickets and membership dues. The change could impact entertainment and sports industries as well as university sports programs.
Wilson, at the Florida Chamber, said he expects firms will continue to offer those perks even if they're not deductible: "It's a necessary part of doing business."
Favorable for Florida?
"Florida is a clear winner compared to other states," Wilson has concluded. "It's almost like an economic development package for Florida."
The new law caps state and local tax deductions at $10,000 (this ends in 2025), dealing a blow to high-tax places like New York, New Jersey, Illinois and California. Previously, these deductions were unlimited.
Florida does not have a state income tax or a personal income tax. Corporations that do business in and earn income in Florida must file a corporate income tax return (unless they are exempt).
"The big losers are the high-tax states," said Ray McGovern, managing director and wealth management advisor with Merrill Lynch in Fort Walton Beach.
Florida is capitalizing on its lower taxes to lure companies and residents of big cities, said Wilson. The Florida Chamber and Enterprise Florida launched advertising in New York City with the headline: "We don't like cold weather or high taxes. That's why we live in Florida."
"Taxpayers in New York have about twice the tax burden as the average person in Florida. The tax advantages in Florida are even greater than they were," Wilson said.
But Florida's Chief Financial Officer Jimmy Patronis isn't celebrating yet. He cautions that, with the new changes, Texas may have an advantage over Florida because of the state corporate income tax.
"With the way the tax cuts are written, it's created a larger pot of money from which corporations can be taxed," said Anna Farrar, the CFO communications director.
Businesses are expected to pay an estimated 13 percent more in Florida in taxes over the next 10 years, which equates to an estimated $313 million increase over a decade, she said.
Patronis pointed to a March study by Andrew Phillips and Steve Wlodychak on the effects of the Trump tax cut. "While Florida businesses would pay 13 percent more, our No.1 competitor for jobs — Texas — would have no similar increase in business taxes," Patronis stated in a release.
"The CFO staff is in the process of diving deeper into how we can strategically roll back the corporate income tax to keep Florida at a competitive advantage," said Farrar. The office is expected to come up with a plan by the fall, she said.
Individual taxpayers: Winners and Losers
Many taxpayers have been winners under the new tax law, at least in the short term, happy to find a spike in their take-home pay after the passage of the legislation. But there's still uncertainty — and concern that many taxpayers could eventually wind up losers.
The new law lowered tax rates and nearly doubled the standard deduction. But the tax cuts for individuals will slowly diminish — and are slated to end in 2025.
Deductions have increased from $6,350 to $12,000 for single people, $9,350 to $18,000 for head-of-household filers and $12,700 to $24,000 for married couples filing jointly.
There are still seven tax brackets but the threshold for income has changed. (See chart on page 42).
With the new law, individuals with taxable income between $9,526 to $38,700 are now in the 12 percent bracket, $38,701 to $82,500 are in the 22 percent bracket, and $82,501 to $157,500 are in the 24 percent bracket.
Couples being taxed on income between $19,051 to $77,400 are now in the 12 percent bracket, those with taxable income from $77,401 to $165,000 are in the 22 percent bracket, and $165,001 to $315,000 are taxed in the 24 percent bracket.
The tax plan eliminates personal exemptions, so you can no longer claim dependents. Under the previous law, the personal exemption was $4,050 per person; this exemption is slated to return after 2025, when the tax cuts are set to expire.
"Where the changes get sticky is where you have dependents," said CPA
Nadia Batey, a senior manager with James Moore & Co. in Tallahassee. "Exemptions have completely gone away. The standard deduction has increased, so it depends if that increase makes up for the loss of exemptions.
"If you have 10 kids, it doesn't come close to making it up," Batey said.
To help offset some of the loss, the child tax credit has increased from $1,000 to $2,000 per child under the age of 17 for married couples earning under
$400,000.
There is a cost-saving benefit for those caring for their parents or relatives, said Fred Bates, the volunteer regional coordinator of the extensive AARP Foundation Tax-Aide program, which serves more than 300,000 people in the Gulf region of Florida and Georgia.
"A $500 tax credit is available for each dependent over the age of 17 living with the taxpayer," said Bates.
According to AARP research, "there are more than 2.67 million family caregivers in Florida, hundreds of thousands of whom are adult children who are helping to provide for a frail parent or another older loved one."
If a single caregiver's relatives qualify as a dependent, the taxpayer is eligible for head-of-household status, which is preferable to single status filing due to an increased standard deduction and more favorable income tax tables.
There is a long list of itemized deductions that may be limited or totally phased out under the new law. Among them: Moving expenses (there's a military exemption) will be eliminated, and boosters will not be able to take a tax deduction on the donation related to their season tickets. Alimony is no longer deductible or taxable (after 2018), and there are lower limits on mortgage interest deductions (for homes purchased after Dec. 31, 2017).
About 30 percent of Americans had been itemizing their expenses for deductions. With all the changes, tax experts estimate that 10 percent or less will still itemize.
Uncertainty for nonprofits
There's a concern that the reduction in deductions could drastically affect charitable giving, Batey said.
Roy Lee Carter, the retiree in Gulf County, is among the many taxpayers who have deducted donations to charities. He is concerned about whether people will have to cut back.
"I donate $12,000 each year to my church, and I was able to deduct it all," said Carter, who now runs a cattle business. "We'll continue to give the same amount, but I guarantee there will be people who may not be able to give as much."
Donor motivations will be tested.
"I'm optimistic that a tax deduction is not the primary reason that people give to charity," said Joy Watkins, president and CEO of the Community Foundation of North Florida.
"They give because they care and they want to give back."
What's next?
"The law is subject to change based on guidance from IRS and court interpretations," said Michael Kalifeh, director of tax services for Thomas Howell Ferguson P.A. in Tallahassee.
"There's a lack of clarification and guidance because the law is so new."
At FSU, Steve Johnson said that "some of these provisions are horrendously complicated."
"This measure was put together pretty rapidly and there are places that are not particularly well-drafted," he said. "What happens next depends upon the U.S.
Treasury and the IRS. All of this is complicated by the fact that the IRS workload has gone up. Some provisions will need just a few regulations and others will need an unbelievable amount of regulations."
Whatever the future, taxpayers are likely going to need guidance — as soon as possible.
"People will want to seek help to be sure they're doing things right," said AARP's Jeff Johnson. "We all need to pretend that this is a brand new ballgame."
Key Changes
The tax legislation slashes the corporate tax rate to 21 percent from 35 percent.
Owners of many small businesses can take a 20 percent deduction on their pass-through business income with limits for those earning above $157,000 (single) and $315,000 (married, filing jointly).
Companies can write off the entire cost of hardware, off-the-shelf software and other equipment during the year they make their purchases, rather than spread out the deduction over a normal depreciation schedule.
Businesses will not be able to deduct most entertainment and recreation costs such as tickets for sporting and concert events and membership fees.
The individual health care mandate penalty that was part of the Affordable Care Act is repealed effective Dec. 31, 2018.
Standard deductions have nearly doubled, from $6,350 to $12,000 for single people, $9,350 to $18,000 for head-of-household filers and $12,700 to $24,000 for married couples filing jointly.
The seven federal income tax brackets reflect somewhat lower rates and adjusted income ranges.
The personal exemption is eliminated.
The tax bill doubles the former child tax credit from $1,000 to $2,000 per child under age 17.
A $500 tax credit is available for each dependent over the age of 17, considered a boon for caregivers of elderly relatives.
Boosters will not be able to take a tax deduction on donations related to season tickets.
Homeowners who deduct mortgage interest are limited to the amount they pay on $750,000 worth of debt, down from $1 million on homes purchased after Dec. 31, 2017.
Alimony payments won't be tax deductible for couples divorced or separated after 2018. Alimony recipients won't have to claim the sum as income.
The new tax law increases the amount of money that's automatically exempt from the federal estate tax to $11.2 million of an estate for someone who was unmarried or $22.4 million if married. (Applies after Dec. 31, 2017, and before Jan. 1, 2026. )