Erin Ennis
Business leader's elevator seems only to go up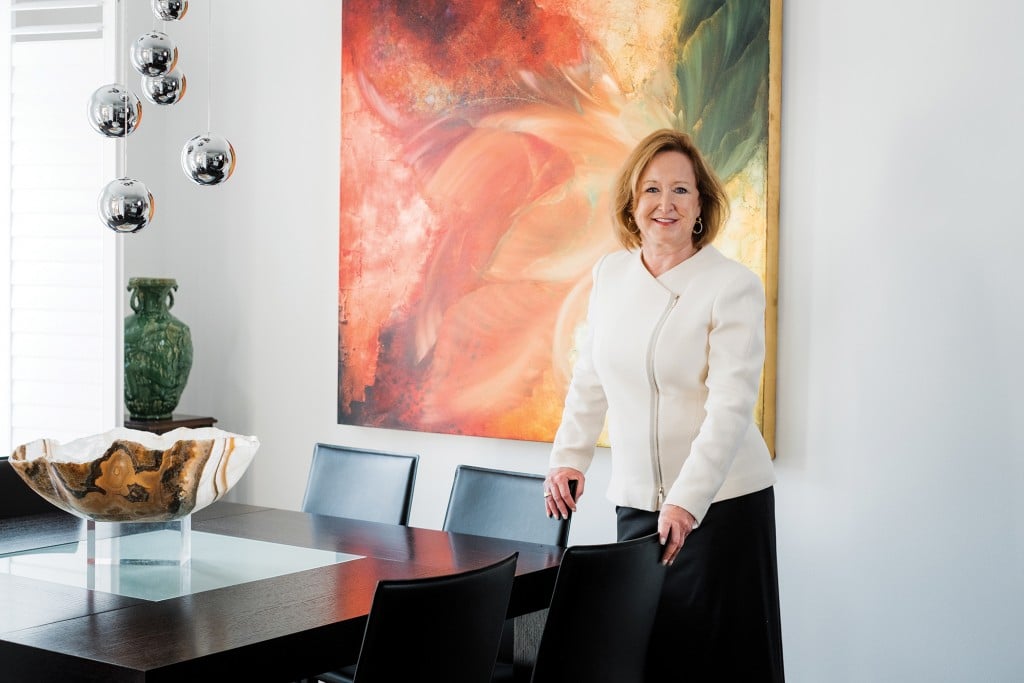 Erin Ennis arrived in Tallahassee in ı984, never dreaming she would still be here more than 35 years later.
An Orlando native who earned a bachelor's degree in zoology at the University of Florida and then pivoted into dentistry, she traveled an unlikely path to the Florida State University College of Business.
She was excited for the opportunity but expected her time in the capital city to be brief.
"It was going to be two years and done," Ennis remembers thinking.
But, as she has learned multiple times throughout her career, things don't always go as planned.
And, in this case, Ennis is glad that they didn't.
What was originally intended to be a two-year rendezvous in Tallahassee has instead blossomed into a loving relationship with the city and the emergence of Ennis as one of the most prominent and dynamic business leaders in the region.
Sue Dick, the president and CEO of the Greater Tallahassee Chamber of Commerce, said Ennis could thrive in any market.
"But I think she's continued to stay here because she loves this community and she has strong ties in it," Dick said.
Indeed, since beginning her business career with Mainline Information Systems in the mid-ı990s, Ennis has worked almost exclusively with family owned and operated companies. 
That includes her current post at Residential Elevators Inc., where she has been since 2007 — including the last three years as president.
"It's been a great experience with a great company," Ennis said of REI, which is the largest builder and seller of "turn-key" residential elevators in the country. "It's a fabulous group of people."
Ennis also has devoted years to supporting her community.
Since completing her MBA from the FSU College of Business in ı990, she has served on the college's board, given the keynote address at the college's commencement ceremonies, spent nine years on the board at Tallahassee Memorial HealthCare and is a past president of the Tallahassee Chamber.
She also served with Leadership Tallahassee and Leadership Florida and, all the while, raised a son who was born in ı99ı.
"I don't know how she does it," said Dick, who became fast friends with Ennis after meeting her through the Chamber. "Then again, I do know how she does it because I've been around her long enough. She's one of those people who tends to take things on because they want to help."
Ennis passes that attitude on to everyone she comes across — especially to young, aspiring professionals.
"I always try to talk to graduates about paying it forward," she said. "The opportunities they've had with their education — they need to give back to their institution, their alma mater, and the company that supported them. And then they need to pay it forward by coaching, educating and grooming other young people."
Ennis can easily recall people who set her up for success, including the elderly owner of the department store in South Carolina where Ennis worked in her early 20s. Sensing her potential, the store pulled her off of the sales floor and made her the human resources manager.
"I got thrown into the deep end of the pool," Ennis said. "But I found that I loved it."
That allowed Ennis to dip her toes into the business world. Her first chance to fully dive in came thanks to another chance conversation.
Working at Investors Realty of Tallahassee in the ı980s, Ennis was ready for a change of scene. She'd thought of pursuing an MBA at Florida State, but the college at the time required its students to attend on a full-time basis, and Ennis couldn't commit to that.
So she applied to law school and turned in her resignation.
That same day, Ennis's boss, Bob Bryson, called her into his office for a conversation that would change the course of her professional life — not to mention the future of the Tallahassee business community.
"He said, 'Erin, you have a head for business,' " Ennis remembers. " 'You don't even realize you have a head for business.' "
Bryson offered to pay for Ennis's MBA at Florida State. And when Ennis brought up her previous concerns about the college's full-time requirement, he had news for her. It had just started a part-time program.
So for the next four years, each hour of Ennis's life was all but spoken for; she worked full time during the day, then attended classes at night. 
There were 40 students in her class at the outset of the program. Ennis was one of only six who saw it through to completion.
"People would take off for the summer and they never came back," she said. "There were six of us that said, 'We're not taking off for the summer. We're going to go year-round.' And we did. It was that group effort that got us all through."
After more than 30 years in the business world, Ennis has been described as a business "consigliere," a trusted adviser within a family structure. (The word came to prominence in popular culture thanks to Robert Duvall's character in The Godfather.)
Perhaps it's only appropriate, then, that she serves a company that provides a popular product to homeowners. 
Ennis said that demand for residential elevators, once considered a luxury, has dramatically increased in recent years for reasons that include baby boomers reaching their 70s.
A recent customer survey revealed that elevators are also helpful to aging pets.
"We think we're helping people, but we're really helping elderly dogs," Ennis laughed.
She said that REI installs about 2,500 elevators per year, and new homes are now often built to be "elevator-ready."
"The market has changed," she said. "Homeowners are definitely asking for them."
Although the COVID-ı9 pandemic has made forecasting difficult, it has also brought priorities into focus.
"I think the fact that all of us have been spending so much time in our homes, we've come to realize what we value and what we would like to have," Ennis said. "Right now, the residential market is red hot. I think it's going to stay red hot at least through the second or third quarter of 202ı."
After investing her life and career in Tallahassee, Ennis is happy to see the city thrive. 
"Tallahassee," she said, "has been really good to me."