Empathic Support
Adoption attorney helps women through an emotional process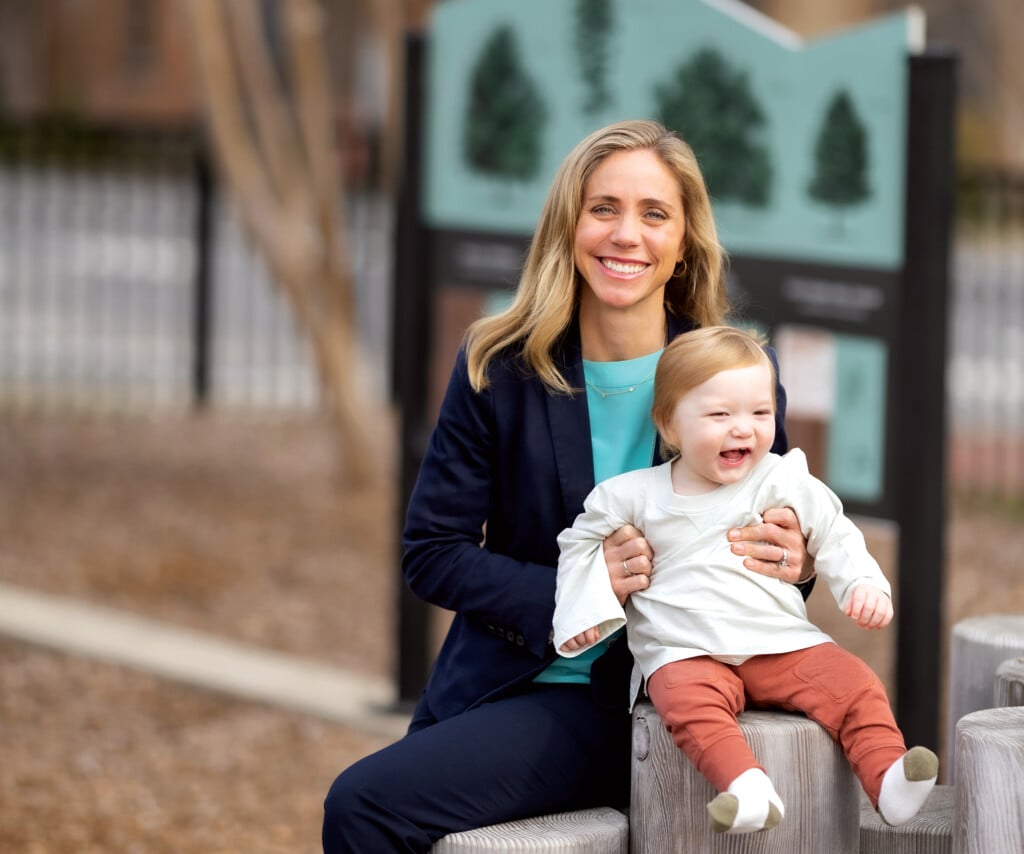 It was definitely a journey," said Stephanie White of the road that led her to open one of Pensacola's first adoption-centered law firms.
White is the founding attorney of Florida Loving Adoptions/Berkowitz & White PLLC. She is a wife and mother of four children, a Sunday school teacher and an advocate for children in her community.
She was appointed by Gov. Ron DeSantis to the Escambia Children's Trust Board, which she now chairs. She serves on the University of West Florida's board of trustees. And she serves on boards of several nonprofits including Secret Place, which offers services to survivors of human trafficking.
Her plate is full.
"I was raised to give back," said White. "My faith teaches that we're called to help others."
Growing up, White knew as a student at Pensacola High School participating in mock trials and preparing for college that being a lawyer was her calling.
She earned her law degree at the Southern Methodist University School of Law in Dallas, where she met her now husband, Frank, and worked in commercial litigation.
"This sounds corny, but when I went to law school, I knew I wanted to do something to help people," she said. But commercial litigation didn't turn out to be what she'd expected. "It was not why I went to law school. And I did not feel fulfilled. That's when I decided, I've got to do something that impacts people."
White switched gears and worked as a foster care attorney in Dallas. But when she became pregnant, she and her husband departed the big-city rat race and moved to her hometown of Pensacola.
"I took some time off of work and when I realized that there was no adoption attorney here in Pensacola, I said, 'Why don't I start my own practice?'" White recalled. "I spent a lot of time talking to attorneys from around the state. I went to Orlando and met with an attorney who does adoptions, and I got involved in the Florida Adoption Council."
She launched her practice in 2017. Expansion followed in 2021 when she opened a second firm in North Palm Beach with partner Elizabeth Berkowitz.
"We find the birth mothers, we help with the adoptive parents to make their profiles, we vet the adoptive parents," White said. "We get lots of inquiries from parents who want to adopt. And we have a process where we talk to them and make sure they are actually capable of adopting."
The firm specializes in private placement adoptions and works with foster care adoptions, too. At an adoption agency, a lawyer is arranged for, but an adoption firm eliminates the need for a third party.
"Any attorney who's licensed in the state of Florida can do it. However, it is a very statute-specific process. So that's why it's highly recommended that you go with an attorney who has specialized in adoption," White explained.
White has found great joy in helping parents, both birth and adoptive, in addition to children. And her firm makes the well-being of the birth mothers a top priority.
"You need to honor these birth mothers — they're giving up a baby so you can raise their child," she said. "There's a lot of power for the birth mother. And that's what we tell them. They drive the train; they really do."
Birth mothers choose the adoptive parents for their child and they get to choose the type of post-communication agreement, too — fully open, semi-open or fully closed.
"Our goal is to place the children with a family that will love them forever and to make sure that the birth mom feels loved and cared for while she's going through the adoption process," White said. "We work really closely with our moms who decide
to place."
The connections White makes would be atypical for most, but for her they are inevitable. In a recent adoption, she was called to the bedside of a birth mother in labor and responded immediately. She stays in touch with many of the birth mothers she meets.
"I feel like we are unique because we do get to know the birth mothers," White said. "But I think that helps them to feel comfortable. It helps them to feel comfortable with the adoptive parents. It just helps with the grieving process, too."
Florida law allows assistance to be provided to birth mothers throughout the entire pregnancy and up to six weeks after birth. And Florida Loving Adoptions prioritizes counseling for them.
"There's lots of grief in adoption that people don't see and people don't realize unless you're in it and working it," White said. "There's lots of grief, but there's also lots of joy and lots of hope.
"It's challenging. It's rewarding. Especially when you're able to hand a baby to a family who hasn't been able to have a child for years. And it's also rewarding to get to know the birth mothers who are placing for adoption. Some of these moms are incredible. The strength they have is amazing."
---
Escambia County Community Profile
Total Population: 322,699
Age Distribution
1–9 = 34,724
10–19 = 39,630
20–29 = 47,255
30–39 = 38,260
40–45 = 36,460
50–55 = 42,186
60–64 = 22,113
65+ = 62,069
Educations Attainment
<Grade 9 = 2.48%
Grade 9–12 = 7.09%
High School = 26.93%
Some College = 24.63%
Associate Degree = 11.78%
Bachelor's Degree = 16.88%
Graduate Degree = 10.2%
Labor Force
Top Jobs by Occupation
Office/Admin Support – 14.49%
Sales – 10.72%
Management/Admin – 9.53%
Health Diagnosing and Treating Practitioners – 6.74%
Food Prep Serving – 5.99%
Top Industries by Jobs
Health and Social Services – 31,534
Retail – 18,049
Public Administration – 14,387
Education – 13,436
---