Crystal Air Is Helping Apalachicola Airport Soar to New Heights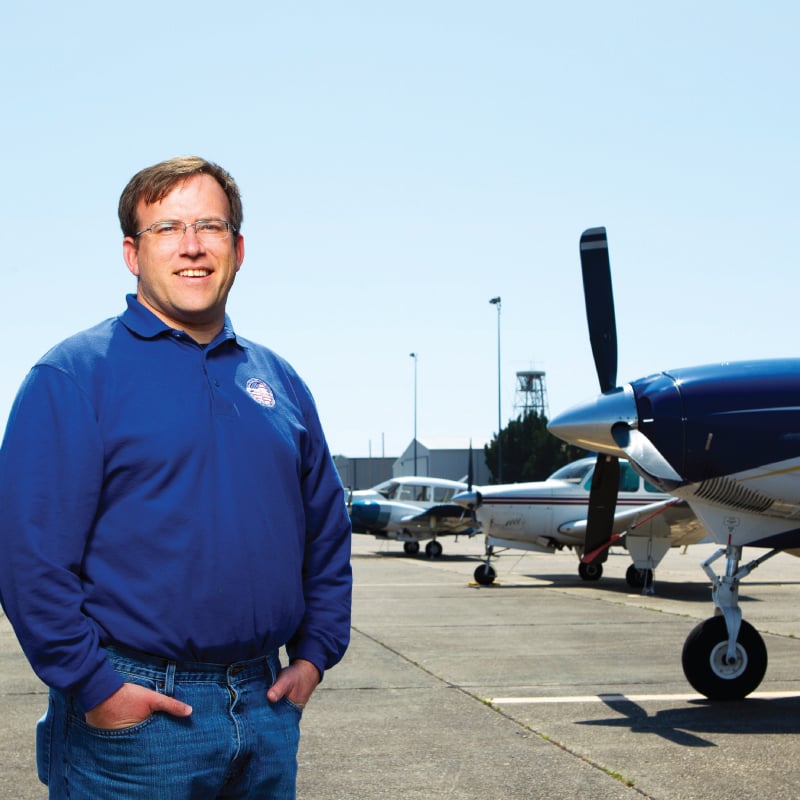 Apalachicola-based pilot Randall Terry couldn't believe his eyes one random winter Tuesday afternoon at the regional airport. A Leer jet from New York City made an unscheduled landing on the airport's runway. Five people deplaned, asking for some local cuisine. The four men and a woman jumped in a courtesy car, filled up on local seafood and then flew back to New York.
"They weren't even scheduled to come in," remembers Terry of the group from NYC. "They flew in, ate lunch and bought 250 gallons of jet fuel. That's saying something about our community and airport. This is a $5 million jet that came in; that's saying something."
What Terry is saying is that the new regime at the Apalachicola airport has re-energized this coastal town. On Nov. 1, 2012, Crystal Air of Chattanooga, Tenn., was hired as the new Fixed Base Operator (FBO) for the facility. It is a five-year contract to make the airport relevant again and provide a forum for employment and good will to a struggling community. Crystal Air's arrival came without much fanfare, but that's only because of the drama that ensued before they came on board. The city had flirted with other companies, but none panned out for a variety of reasons. So when the vote was put on the table to recommend Crystal Air it was approved in one day.
Among the many "chores" given to Crystal and its Apalachicola-based team is to improve the aesthetic look of the airport and improve its customer service — two areas that had been lacking in recent times. Bottom line, the airport was in need of some TLC.
"Pilots check websites like Avnet.com and Foreflight.com to pick what airports they will get the best service at," said Crystal Director of Operations Taylor Newman. "It's similar to a hotel rating. We want our airports to be running at four to five stars. The four other airports that we manage are all four or five stars, and we want the same for the Apalachicola airport."
Pilot Lloyd Webb posted about his experience on Avnet.com on Dec. 31, 2012, and gave the airport and the FBO five-stars. "This was my first visit to KAAF and Crystal Air. First Class Service! The FBO has a great bunch of people. The flight line crew person was right on the spot as we taxied in and ready to provide us what we needed. Our Hertz rental car was ready to go, and we were tied down and on our way to our hotel right away. On our departure, our plane was filled up and ready to go."
Focusing on Customer Service
Newman and his team are going door to door in the community, asking questions and shaking hands — politician style. There is no election to run but there is good will and promotion to be had. Crystal Air currently runs airports in Dalton and Suwannee, Ga., and Cleveland and Sparta, Tenn. All four airports are well respected in the aviation community for their customer service, and that same type of service will be part of the culture in Apalachicola.
Beverly Burke, manager of the Apalachicola River Inn, says she's already noticed a difference in the number of people coming in and out of town because the reputation as a tourist destination is slowly returning. And the idea of premier customer service is trickling down into the community. "It's helped a lot," Burke says, "They are coming in from Atlanta, even had some in from Germany. We'll send a car to pick them up and bring them back to their plane."
Adds Newman, "We have carpets that we are laying down for people who land here and providing courtesy cars. We pride ourselves on customer service. That is what is going to get people coming back for more. We are hiring people out of the community and going through our Workforce program to help lower income people, trying to help the community."
The airport already has a contract with Thrifty and Hertz car rental to come on board as well. Even in the down economy, Newman said he plans to bring in at least a handful of new employees, ranging from a mechanic to groundskeepers.
"Mowing season is about to take off, and we have three tractors that will have to run 6-8 hours per day because we have so much land," Newman said, "We'll hire between 3-5 people, including a mechanic and two others to help with the grounds."
Spreading the News: Local pilot Randall Terry is spreads the word to fellow pilots about improvements and changed attitudes at the airport. Photo by Scott Holstein
Newman and Crystal are in charge of 1,100 acres — that's a lot of mowing. There's also the issue of TLC, which the airport is in dire need of. During their first few weeks in town, Crystal employees — all two of them at the time — painted the gates and the fence-posts, but the parking lot needs a new paint job, the deck needs re-staining and Crystal plans to bring in furniture to create a lounge for the pilots. First class and customer service — the new motto of the Apalachicola airport.
"I've been telling a lot of other pilots about the Apalachicola airport and what these guys are doing," Terry said. "They are extremely committed. They are doing a lot to make it better, and their attitude is great."
Creating Jobs and Enthusiasm
Terry says on an average day around 10 planes will come in to the Apalachicola airport. He remembers a time in late December when he counted 27 planes on the runway. He was so blown away that he took a picture with his phone so he could show his friends.
"I'm excited about what's happening here," said Terry. "I mean, these FBO guys are loaning out their personal vehicles to pilots coming to town. That's saying something."
Eventually, Crystal wants to bring in more hangar space and expand the airport. On Jan. 2, the county commission voted unanimously to build another corporate hangar at Apalachicola Regional Airport, another sign that the community believes in the new team in charge of the airport.
Apalachicola is one of the largest regional airports in the Southeast in terms of landing space. Newman and Crystal have dreams of bringing in a charter, flight instruction school and providing sightseeing opportunities up and down the beach. All that will come in time, but for now, he's putting on the hat of a politician and pounding the pavement. Not so much to remind people that there is an airport, but to let them know that they are there to help. Crystal Air even held a fly-in community open house in April to coincide with the annual National Fly-in held in Lakeland. The company offered discount fuel for pilots and airplane rides to the community at large.
"We are really getting out in the community," Newman said, "We've been going to the restaurants saying we want to help promote you. We want to encourage people to come in and out of our airport and let them know that we are sending business their way."
By the Numbers:
Financial Impact of the Apalachicola Regional Airport
Direct Impacts:
$2,123,800
Indirect Impacts:
$1,552,500
Multi-Year Impacts:
$3,000,700
Total Employment:
70 jobs
Total Economic Activity:
$6,677,000
Source: Florida Department of Transportation