Team Effort Brings About a Bank Raising
Westward expansion of Capital City Bank Group reaches South Walton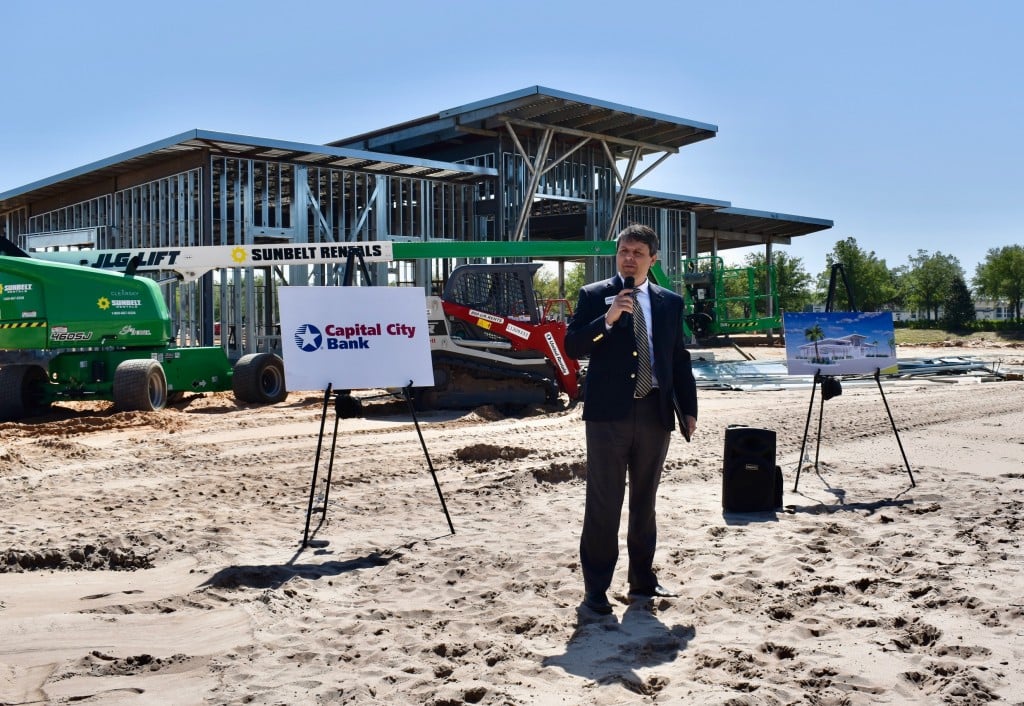 Capital City Bank Group's future branch location at the WaterSound Town Center in South Walton is taking shape.
Construction workers were on the job Wednesday when Capital City Bank Group (CCGB) and the St. Joe Company joined in a "groundbreaking" ceremony that had been scheduled for March, but was postponed due to the weather.
So, the groundbreaking was more of a celebration of construction progress.
CCBG president/CEO Bill Smith said he was grateful for the bank group's partnership with St. Joe and said leaders from both organizations have done a "wonderful job" in bringing about the new branch office.
"On April 1, we started our 128th year in the banking business," Smith said. "We've got two areas we're expanding to, and this was first on the list."
With $4.3 billion in assets, CCBG is among the largest publicly traded financial holding companies in Florida, and currently boasts 57 banking locations in Florida and Georgia.
The new bank faces U.S. Highway 98 and is located at the entrance to Watersound Origins. It will be situated next door to a Publix Supermarket, which is also under construction.
"Capital City Bank has had great success expanding across Northwest Florida and this ideal location at Watersound Town Center will provide an even greater ability for them to serve customers throughout the market," Dan Velazquez, St. Joe's senior vice president of commercial real estate, said in a prepared statement.
"Throughout recent years, we've followed St. Joe through some of their growth and have offices in a lot of their locations," said CCBG Walton County president Stephen Stabler. "We've got a very good working relationship with St. Joe."
Stabler said that CCBG's growth relates closely to that of St. Joe. In addition to its new location at Watersound Origins, the bank will be establishing an office at the massive Latitude Margaritaville Watersound development.
"What we're seeing down here is that a lot of out-of-town people are making this area their home," Stabler said. "We're looking forward to continuing our community banking approach that focuses on relationship banking and really making a difference in the communities that we serve."
Stabler said that the new CCBG location at the Watersound Town Center is projected to open by the end of the year. Smith joked that it will open its doors for the first time on Friday.
Which Friday has yet to be determined.