Business Advice from Barbara Corcoran, Star of ABC's Shark Tank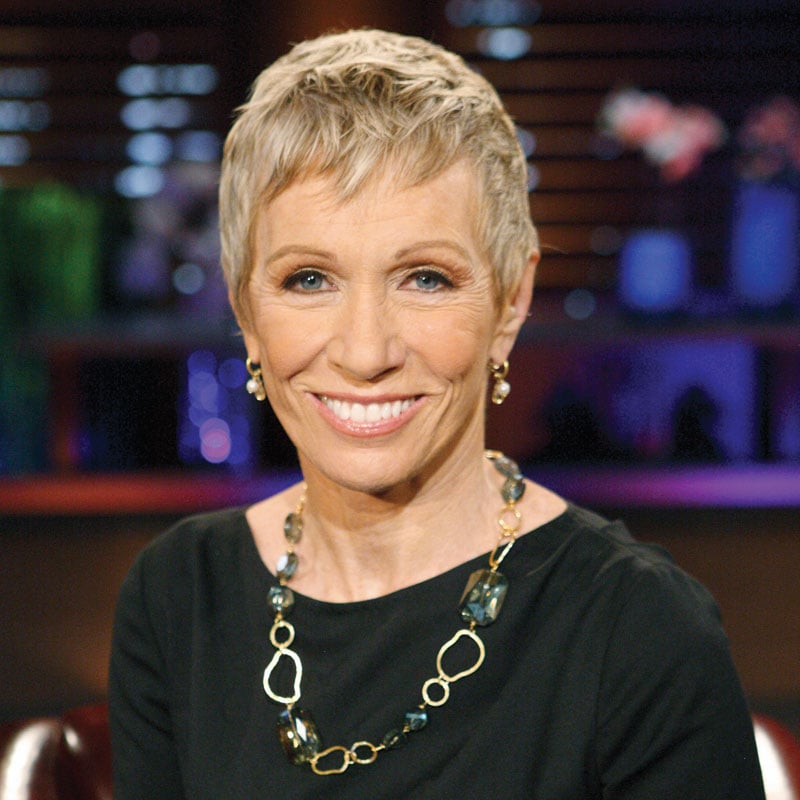 Barbara Corcoran's parlay of a $1,000 short-term loan into a $5 billion real estate business wasn't really planned.
She'd already had 22 jobs when her new boyfriend suggested her personality would be a perfect fit for a job in real estate. Having tried her hand at a series of jobs (mostly menial) starting at age 11, she thought, "Yeah, I'll give it a whirl."
Pretty soon she was wheeling and dealing New York City real estate. Now, she reflects, "The minute I was in it, I was in love with it. It didn't seem like a job." She loved it because of the freedom and the fact she wasn't at a desk, or selling hot dogs from a cart or behind the counter at a diner. "I was free to roam in New York. I could hop a cab, meet people, take them in and out of apartments. It was like playing more than working. It was also the first time in my life I didn't have a boss."
Today, Corcoran is a star of ABC's entrepreneurial reality hit "Shark Tank" — where she has invested in 31 entrepreneurs over four seasons — and real estate contributor for NBC's "TODAY" show. Her best-selling books include "If You Don't Have Big Breasts, Put Ribbons on Your Pigtails" — real advice from her mother, which she literally took to heart and then started getting bigger tips at her waitress job.
On Nov. 6, Corcoran will be featured speaker at the first Power Forward event in Tallahassee. She recently spoke with 850 Editor Linda Kleindienst to pass along some hard-earned advice.
On Being Your Own Boss
"I didn't realize how motivating that would be, to be responsible for everything yourself, no one telling you what to do. It certainly agreed with me."
Recipe for Success
Corcoran pointed to two reasons for her success:
1. Fear of failure. "I was a horrific student, constantly bad in a class setting, ashamed of my inability to read or speak properly. And so I was out to prove that I could be successful … I think my insecurity drove me. I was always in fear of being embarrassed, so I over prepared, I worked extra hard, I did everything I could to avoid what was a painful situation for me."
2. A positive attitude backed with boundless energy. "I think I would credit my success to the attitude given to me by my mother, because she was a hugely positive person. She pushed 150 percent for every hour she worked. She raised 10 children … and she never ran out of gas. I never ran out of gas, ever."
Biggest Entrepreneurial Mistake
"They fail to ask, will someone buy it? Is there is a need for it? You know who they ask? Their family and friends, who love them. The best thing you could do is run (the idea) by your mother-in-law or find the kid that hated you most in school. People who love you never give you the truth.
"Most bad entrepreneurial ideas are born out of wild ass enthusiasm, in a vacuum. A fine place to start, but you really want to know the population's reaction before you start investing your time, your money. It's a marriage, and you better be sure the makings are there to make it a long-term marriage."
Important Entrepreneurial Traits
"After salesmanship and enthusiasm, the ability to bounce back up. It's very hard to determine on the front side but quickly shows itself when you're working with someone. My most powerful entrepreneurs really have the inability to feel sorry for themselves. And that's a wonderful trait for an entrepreneur. 'Hit me again, I'm okay!' "
Writing a Business Plan
"I have seen the worst entrepreneurs with the best business plans. I'm not a fan of business plans. They're a reason for getting funding, because it's the norm today and taught in all business schools. But the minute the ink is dry, it doesn't apply anymore because most of what business is is reacting to what you find along the way. It's more (about) how you navigate the waters, how well you react to the obstacles, how you navigate around them. Can you reinvent yourself or your product to quickly meet demand? You can't put that in a business plan."
Growth of Entrepreneurship
" 'Shark Tank' has made a lot of average, typical families think, 'Hey, what idea do I have?' or 'Why didn't I think about that?'
"The insecurity in the job market, the idea that you could pick a company and become a company man and have a secure career is out the window. Who really takes care of their employees any more? Nobody.
"I can't tell you how many young kids I meet in airports who tell me, I'm going to be an entrepreneur, I've got a product. There is definitely a trend away from big business."
Sponsors of the Power Forward Event include First Commerce Credit Union and the Florida State University College of Business along with The Jim Moran Institute for Global Entrepreneurship, Proctor University, Summit East, Dale Earnhardt Jr. GMC/Buick/Cadillac/Chevrolet, the Economic Development Council of Tallahassee/Leon County, Mainline Information Systems, 850 Business Magazine, the Tallahassee Democrat, ABC 27 WTXL and 100.7 WFLA. For more information, visit FirstCommerceCU.org.