Building Back Tyndall
Expo explores strategies for making bases and communities more resilient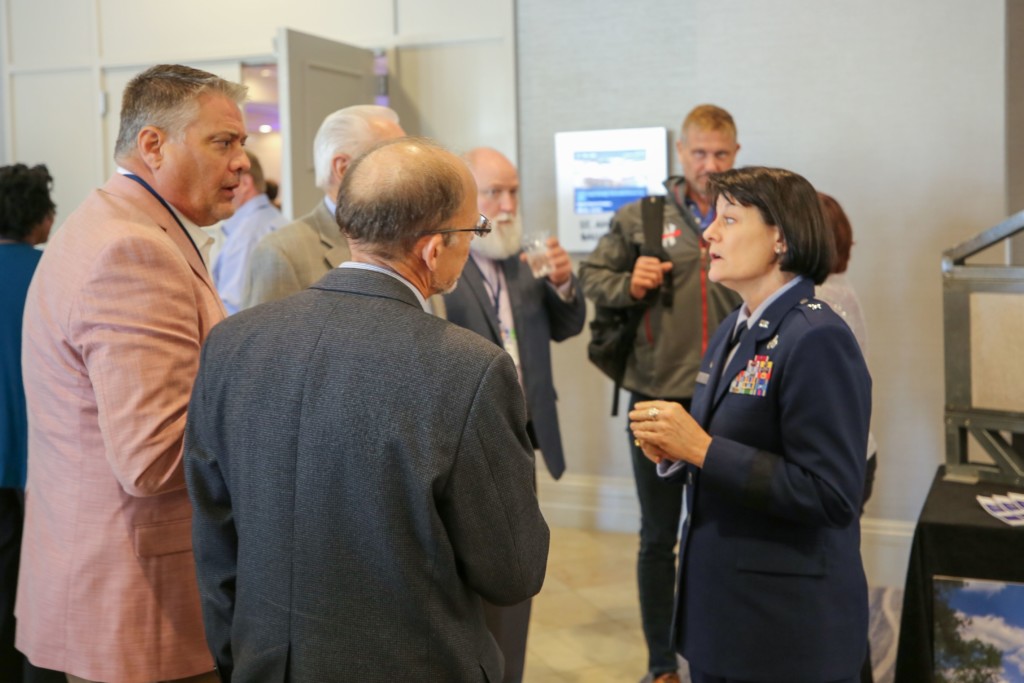 For years, the United States Air Force had been exploring concepts that might be made parts of a base of the future.
"But, under normal circumstances," explained Brian Stahl, "you are not going to get the resources you need to substantially rebuild a base and integrate a lot of those ideas."
Then, Hurricane Michael undid normal.
The storm damaged every building on 29,000-acre Tyndall Air Force Base, half of them so heavily that they were marked for demolition.
Tyndall was rendered a do-over.
So it was that the Air Force, courtesy of a natural disaster, has its opportunity to develop a base that will incorporate leading edge technologies and systems — and one capable of withstanding major wind and water events.
"We've got to get this right," said Stahl, citing Tyndall's importance to both national security and the economy of Bay County and Northwest Florida. "If a future storm were to destroy Tyndall, we wouldn't be given a chance to rebuild it again."
Stahl is the deputy director of Tyndall's Reconstruction Program Management Office, which was established to coordinate the work of restoring and contemporizing the base. He spoke Thursday at the Power Up Energy Expo, held at the Sheraton Panama City Beach Golf & Spa Resort and organized by the Defense Leadership Forum and the Gulf Coast Energy Network.
Stahl retired from the Air Force following 29 years of active duty. He has been a Bay County resident for 18 years and Tyndall's deputy base civil engineer for the past 14.
Tyndall is home to missions including the First Air Force (AFNORTH), which is responsible for air defense throughout the continental United States, and the 325th Fighter Wing, which was made up of F-22s prior to Michael and will be home to three units of combat-coded F-35s (72-78 aircraft) in the future. The 53rd Weapons Evaluation Group at Tyndall, Stahl noted, "gives every fighter pilot in the Air Force the chance to shoot live missiles in the Gulf Range Complex in the Gulf of Mexico."
The total rebuild of Tyndall will require seven or eight years, Stahl said, "but we are excited about the future, and a more resilient, robust base will serve our national security interests."
The six hangars at Tyndall all sustained heavy damage due to the storm. They had been built to withstand winds of from 83 to 130 miles per hour. As a Category 5 hurricane, Michael delivered sustained winds of 160 mph.
Because, Stahl said, there is no existing template or blueprint for rebuilding an entire Air Force base, decision-makers had to decide what was going to be built, to what standards and where.
The Air Force Research Lab at Tyndall, which had been located at the eastern edge of the base in a location just 5 to 8 feet above sea level, will be moved to another area of the base.
Stahl said buildings south of U.S. Highway 98 will be built at least 19 feet above sea level and structures north of the highway will be at least 14 feet above sea level. An extensive airfield drainage project forms another part of the rebuild. Replacement buildings will be constructed to withstand winds of 165 or 170 miles per hour.
Stahl said in an interview with 850 Magazine that post-Michael conditions at Tyndall were worse than those at "bare base" sites in Afghanistan he visited while in the Air Force.
The base was without power and water usually supplied by Gulf Power and Bay County and resorted to generators and former drinking water wells.
"The wells hadn't been used in years, but we did have people who knew how to turn them on," Stahl said. "After a couple of days, we were at least able to flush the toilets."
Tyndall learned, Stahl said, that its storm preparedness exercises were appropriate to a Category 1 or 2 hurricane. But a 5? Not so much.
"We were in a state of shock," Stahl reflected. "But, that being said, because we are a military organization, we benefitted from the regimented structure that we are used to and we were already organized with the command and control authority."
Still, the lack of cell phone and Internet service was hard to overcome. The base had a few satellite phones, but they worked only at the right times of day and in certain locations.
"For the first couple of days, we really didn't know what was going on in the outside world," Stahl said. "You felt like you were on an island."
Stahl has found that the cost estimates and budget arrived at for Tyndall reconstruction — much of that work was done at the Pentagon — are holding up well.
"Any time you have a major event like this, like Eglin and Hurricane Ivan in 2004, there is a desire at very senior levels to get a number and there always is some guesswork," Stahl said. "In this case, because we had limited communication, up at the Pentagon, based on the information we were able to provide them, they started putting together cost estimates. We know, under normal conditions, what it is going to cost to build a 20,000-square-foot building."
To those usual costs, money was added for "base of the future" features and the cost to bring a reconstruction workforce in from elsewhere. The budgeters also recognized that Tyndall would be competing for resources with other areas affected by natural disasters and other calamitous events.
"We're usually pretty good at this," Stahl said. "Some initial estimates have been revised, but not to the magnitude of changing the program from $3 billion (the projected cost of the rebuild) to $5 billion."
Stahl said support from the Military Affairs Committee of the Bay County Chamber of Commerce and Bay County, generally, has been critical to the future of Tyndall.
"I don't think you would be seeing Tyndall being rebuilt the way it is being rebuilt without the community support it has received," Stahl said.
Brig. Gen. Patrice A. Melancon, the executive director of the Tyndall Reconstruction Program Management Office, and Dr. Julia Nesheiwat, recently named Florida's chief resiliency officer, joined Stahl as conference speakers.