Bright Future
Diversification strengthens Panama City Beach's tourism economy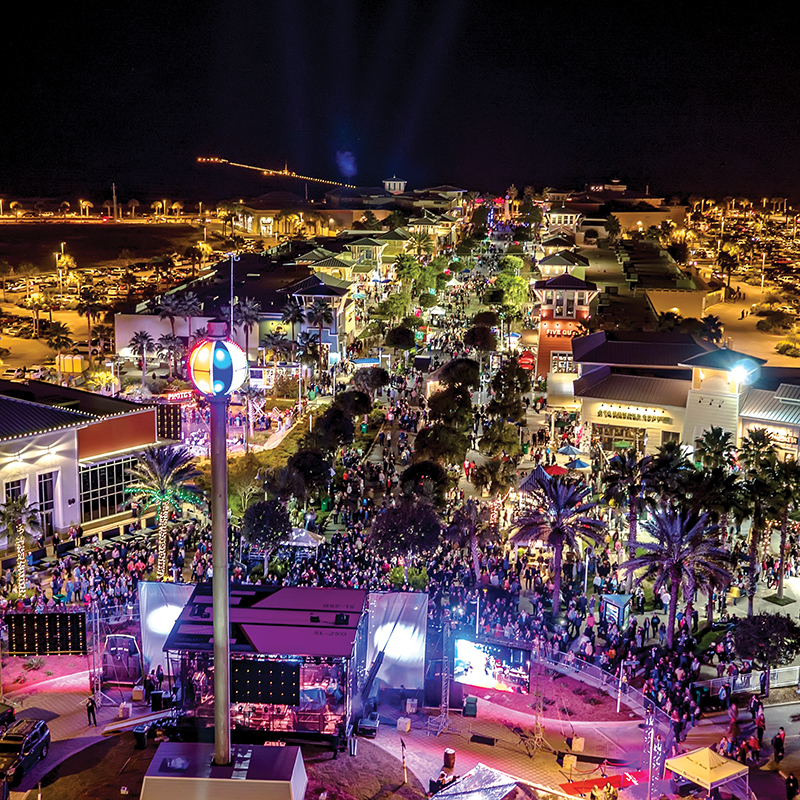 Dan Rowe's 10 years as Bay County's top tourism official has coincided with the most difficult period in Panama City Beach's bed-tax era.
There was the matter of the Great Recession. And the disruption caused by the Deepwater Horizon oil spill. Thirdly, bad behavior strained the community's relationship with the annual bacchanal known as Spring Break to the breaking point, leading the Bay County Commission and the Panama City Beach City Council to adopt ordinances curtailing alcohol consumption on the sand.
Only twice in the history of the bed tax, known more formally as the Tourist Development Tax, have collections in Bay County's western beaches area dropped from year to year. Both of those dips occurred on Rowe's watch, but both were beyond tourism officials' control.
"We've been through the wringer," said Rowe, the president and CEO of Visit Panama City Beach and the longest tenured top dog in the history of the Bay County Tourist Development Council (TDC). "But Panama City Beach has been exceedingly resilient and the most fundamental reason for that is simple: We are a great destination."
Some predicted that the alcohol ordinances would prove calamitous for Panama City Beach, where tourism, as a component of the local economy, is as great as it is anywhere in the state and where March, traditionally, had been the third strongest tourism month of the year. Briefly, it appeared the doomsayers might be right.
Bed tax collections dropped 41 percent for the month of March in 2016, the first year in which the ordinances were in force. But March collections rebounded this year by 19 percent and, meanwhile, efforts to make Panama City Beach a 12-month destination are paying off.
In 2009, the TDC, Rowe recalled, committed strategically to giving people more reasons to come to the beach … at all times of the year. To do so, Rowe and his team have introduced new special events, including a wildly successful Beach Ball Drop on New Year's Eve, and they have leveraged the power of the news media, social media and especially video to promote awareness of them.
"We were working to diversify our tourism economy years before the alcohol ordinances were put in place and that effort was continuing," Rowe said. "Even the 100 days of summer were under attack with school resuming earlier and earlier. Standardized testing has not been our friend. And we had learned that even June and July are not immune from unforeseen impacts. The oil spill occurred in April, but its effects were felt in the middle of our summer season."
Diversification has made Panama City Beach harder for the media to pigeonhole, a development that Rowe has much welcomed.
"We're not just that place where a certain Spring Break episode happened," he said. "We're a family destination that happens to be visited by college students a few weeks each year. We share with the media photos and video of kids taken at our Pirate's Festival (held in October) and that point is made."
The story of the provenance of the Beach Ball Drop is a favorite one for Rowe. The idea was first expressed by Richard Sanders, the sports marketing director for Visit Panama City Beach. Rowe repeated the idea as part of his president's report at a meeting of the TDC on May 13, 2008. (He's never forgotten the date.) A day later, the Panama City News Herald published a headline promising a Beach Ball Drop at newly opened Pier Park on New Year's Eve.
"I read that and said to myself, 'Now we're committed,' " Rowe said, recalling a moment he can now laugh about. "I was deadly afraid that we would throw a party and no one would show up. I begged people to turn out. I did early-morning television, I talked up the event at Kiwanis Club meetings, whatever I could think of."
The event drew 7,500 people in Year 1, thanks in part to the support of Pier Park marketing director Felicia Cook. Last year, it attracted an estimated 50,000 revelers and Rowe now says confidently that "we have one of the greatest New Year's Eve events on the planet."
Rowe is pleased, with good reason, with the way Panama City Beach tourism numbers are trending. Visitation is up, the average income of a visitor is up, the average daily spend is increasing and tourists are coming from a greatly enlarged footprint, given the arrival of more direct flights at Northwest Florida Beaches International Airport.
"When plans for a new direct flight to Panama City Beach are announced, we're in the originating city telling our story before the first such flight leaves the ground," Rowe said. Earlier this year, Jayna Leach, vice president/marketing for Visit Panama City Beach, was in Chicago, where Southwest Airlines was introducing a seasonal direct flight to the "World's Most Beautiful Beaches."
Leach met with media including the editors of Chicago Parent magazine and "they were saying that they had heard that Panama City Beach was the place to go on summer vacation."
Gone, perhaps forever, are the days when Panama City Beach was saddled with the moniker "Redneck Riviera," at whose mention Leach snarls.
But, for Rowe, for whom the sun is always shining, even that handle wasn't all that bad.
"You have to break it down into components," Rowe offered. "You hear 'Riviera' and you think Monaco and the most desired, aspirational beach in the world. And 'Redneck' is just a geographical reference that signifies that, by the grace of God, you were fortunate enough to be born in the agrarian Southeast, just a couple of hours from our fabulous beaches."
Rowe sees the future of tourism in Panama City Beach as bright. He believes that advances in technology will intensify in people the need to take a vacation and "disconnect." He noted a book, Megatrends, authored by John Nesbitt and first published in 1983.
"One of the themes Nesbitt emphasized," Rowe said, "was high-tech, high-touch. High tech is a depersonalization of the world. Some of what it has had to offer we like, ATMs, for example. But we need texture in our lives, things like plants … and beaches. We need to replenish and we're at our most free when we're on vacation."
Rowe noted that after the 9/11 terrorist attacks, which he described as a "gut punch to America's psyche and all of its sectors," business travel dropped off dramatically, but leisure travel spiked.
"We weren't going to let anyone rob us of activities that we hold dear and going on vacation is one of them," Rowe said. "It's almost as if we view it as a right."
Maybe that is something that Gideon Thomas sensed when he decided to build a motel on Panama City Beach in 1936. People thought him a fool, but Thomas countered, "I am not going to grow vegetables, I am going to grow people." He had shells hauled in from Apalachicola to build a road bed to his project.
Rowe counts Thomas and J.E. Churchwell, who established the Petticoat Junction Amusement Park in the 1960s, as "icons" who saw potential in Panama City Beach that others could not see.
Today, Rowe is satisfied that Panama City Beach is, far from resting on its laurels, striving to "stay relevant and cutting edge. We're not staid and stuck with tumbleweeds rolling down the streets."
He is excited that Florida State University-Panama City is adding a four-year hospitality degree in conjunction with the Dedman School of Hospitality on the main campus. He sings the praises of the culinary program at Gulf Coast State College.
"People are coming to recognize that the tourism industry is in fact an industry that does more than provide jobs that many have dismissed as entry-level, throwaway employment," Rowe said. "The tourism industry in Bay County employs professionals who legitimately view tourism as a profession. (GCSC president) John Holdnak and (FSU PC dean) Randy Hanna are looking over the horizon."
So, too, is Rowe when he is not blinded by another brilliant Panama City Beach sunset. And he likes what he sees.
"The best is yet to come."
---
TOURIST DEVELOPMENT TAX COLLECTIONS PANAMA CITY BEACH
Panama City Beach – Calendar Year

TDT Collections

2014

2015

2016

2017

January

$390,029

$446,108

$475,340

$495,113

February

$580,225

$683,922

$662,056

$728,369

March

$1,913,476

$2,012,955

$1,192,962

$1,421,784

April

$1,305,434

$1,532,803

$1,437,883

$1,625,317

May

$1,600,954

$1,842,628

$1,883,810

$2,148,364

June

$3,171,751

$3,379,852

$3,491,951

—-

July

$3,463,580

$3,960,944

$4,362,155

—-

August

$1,871,889

$1,745,766

$1,671,868

—-

September

$1,046,274

$1,323,646

$1,422,161

—-

October

$968,998

$1,043,773

$1,312,781

—-

November

$367,917

$480,391

$523,191

—-

December

$342,313

$354,270

$393,263

—-

TOTAL

$17,022,839

$18,807,058

$18,829,421

$6,418,947