Resolving the Challenge of IT Solutions
Bit-Wizards proved more than just a service provider for Linn's Prestige Kitchens & Baths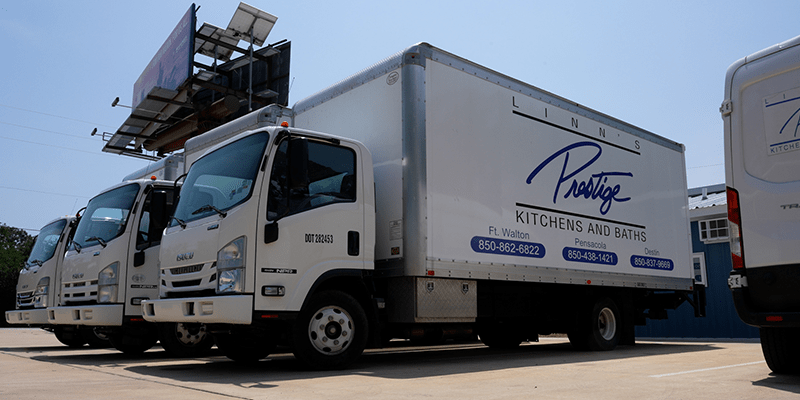 Project Summary and Client Background
---
Founded in 1980, Linn's Prestige Kitchens & Baths has showrooms located in Destin, Pensacola and Fort Walton Beach.
"My husband and I started the company 43 years ago when it was just the two of us," said Sherrie Linn, co-founder of Linn's Prestige Kitchens & Baths. "We were the only employees back then. So, we've grown considerably over the years and now have 40 employees plus subs."
The company works on a variety of new construction and remodeling projects, often providing custom cabinetry and other custom solutions to clients.
"Basically, if there's something wooden you want built for your house, we can do it," said Zack Linn, Sherrie's son and vice president of Linn's.
As the company has grown and evolved, technology has become embedded in Linn's day-to-day operations, from internal communication and collaboration between showrooms to external coordination with suppliers, project managers and others. Linn's brought on the Bit-Wizards Managed IT Services team to handle their everyday technology issues, provide continuous IT support, and serve as a long-term partner to manage their ever-changing needs.
The Challenge
---

Before Bit-Wizards partnered with Linn's, the staff was reliant upon Zack to fix their computer issues.
"Linn's previous managed service provider was only there for break-fix," said Michael Chance, infrastructure engineer at Bit-Wizards. "They were not an active participant in the business of Linn's Kitchens. Zack is a very intelligent person, but he has his own job to do, and his job is not to be IT."
In addition to Zack being inundated with everyday IT tasks, Linn's was facing other technology challenges as an on-premises server at their Fort Walton Beach showroom prevented connection with their other locations.
"Linn's had an on-premises file sharing system, on-premises domain, and on-premises backup system for their files," Chance explained. "They did not have the means to back up their computers, files and folders on their individual workstations."
At that time, Linn's computers were also approaching the end of their lifespan, and they were severely underutilizing their Microsoft Office 365 environment.
"Their computers were becoming slower and slower and more difficult to maintain," Chance said. "Linn's did have Office 365 for their email, but that's all they were using it for."
The Solution
---

After Linn's onboarding, Bit-Wizards fully evaluated their environment and came up with a plan to migrate their existing infrastructure to the cloud.
"One of the first things we did was install remote management tools on all their computers," said Chance. "This provides enterprise-grade antivirus and file and folder backups for all their workstations and gives us the means to quickly access their computers so we can provide any assistance they might need throughout the day."
FortiGate Cisco firewalls were also installed at each of Linn's showrooms.
"These are next generation firewalls that provide enterprise-level security at each location," Chance explained.
From there, Bit-Wizards' engineers designed a SharePoint environment for Linn's, performed the migration and provided on-site training to their employees.
"Bit-Wizards sent out a tech to have a lunch-and-learn with our staff, to walk through using SharePoint," Zack said. "So, our employees were actually taught how to get to files and sync stuff to their desktops. I didn't have to answer all their questions because I could just point them back to Bit-Wizards."
Zack said the move to the cloud has made all the difference for Linn's.
"Now, I have project managers in the field with iPads that can check the measurements of buildings as they're going up, turn that stuff in without leaving the site, and we can order everything much faster and more accurately than we were previously," he explained.
As Linn's continues to scale, Bit-Wizards acts as their trusted technology partner.
"A big part of my role with Linn's is to be an advocate for them," said LXS Fregger, client success administrator at Bit-Wizards. "I reach out to Zack, and I reach out to the team to make sure their needs are being met. We also plan reviews so we can plan for the future. Bit-Wizards wants to make sure Linn's is completely set up for success on a technology avenue, as well as in the business realm."
For example, when Linn's needed to move their main office from one location to another, the Bit-Wizards team was right by their side.
"We are one of the first calls Linn's made," said Chance. "We worked with them to design the network at their new location, and we were able to provide a temporary firewall there to allow for both sites to be online and operating at the same time."
Once Linn's was ready to close out the old location, Bit-Wizards worked with them to move all their network assets from the old site to the new site, ensuring the transition happened quickly and smoothly.
The Result
---
From managing day-to-day situations to assisting with long-term goals, Sherrie and Zack don't hesitate to call Bit-Wizards.
"The human-to-human interaction has really helped me because I'm not very tech-savvy," Sherrie said. "So, I need somebody on the other end of the phone that I can just say, 'Can you get on my screen and let me show you what's going on?'"
"Bit-Wizards is more of a business partner than a service provider because I can bring to the table general ideas on something I want to do versus needing to have a specific plan or knowing how to execute something," says Zack. "It's more just like, 'Hey, I want to figure out how to barcode my warehouse. How do I do that?' And they tell me."
Linn's has been a client of Bit-Wizards since 2019, and the partnership is still going strong.
"The ultimate goal for us is that Linn's is super successful," Fregger said. "If they ever have a need, we're there for them. We can support any problems that they have and get them through. We want to take care of IT so they can get back to business."
Does your business need a Managed IT Services partner? Contact Bit-Wizards.