Advice from the Bit-Wizards Team
Things to consider when purchasing software and hardware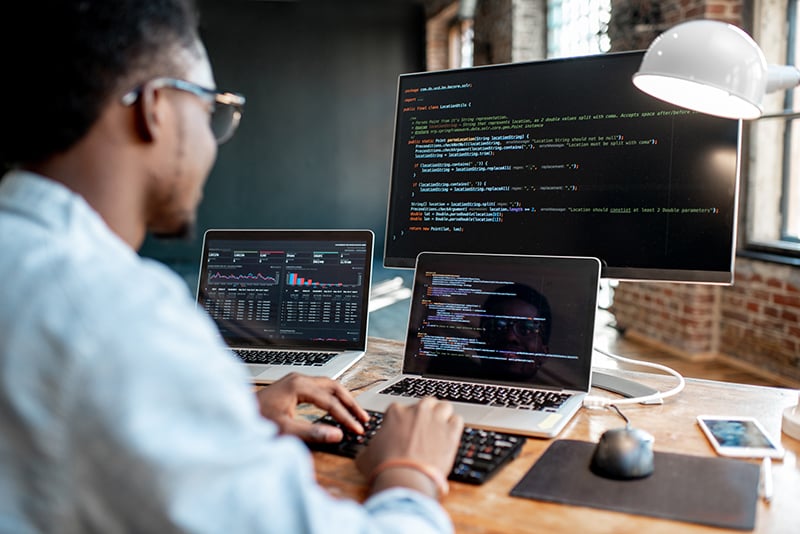 From law firms, lumber distributors and hospitals to your friendly realtor or favorite local restaurant, there isn't a company today that doesn't rely on technology to get the job done. That could be as simple as an iPad and a spreadsheet or as complex as a multi-server setup running custom software. No matter where your company falls on the spectrum, Bit-Wizards can help you identify ideal software and hardware investments.
In many cases, identifying the right software begins with questions like: What does my company need this for, and is it a scalable solution? It's important to establish what you need your software to do for you, in both the short and long term, before you start comparing options and features.
Often, Bit-Wizards sees companies using software that's inappropriate for the business — either far too simplistic for what they need to accomplish, or on the other hand, a less advanced option may be suitable. Samuel Blowes, Bit-Wizards' Director of IT, noted that companies may need to adjust their software as they grow — you may start out tracking expenses in Excel but later move up to QuickBooks. If the organization continues to grow, it may eventually need enterprise resource planning (ERP) software to replace QuickBooks.
Bit-Wizards frequently recommends and helps businesses employ enterprise-grade software because it integrates more easily into a company's existing network while providing elevated security, scalability and cloud options. Enterprise-grade software can help organizations maintain a high level of adaptability and productivity no matter their size or needs.
Of the software options, custom software is the most expensive, as it is a singular design used by a sole company and must be created by a technology company that specializes in software engineering. While Bit-Wizards will guide prospective clients in the direction of off-the-shelf software if it already exists, there are some instances where custom software is the optimal choice.
No matter the software you purchase, you must ensure that it's being regularly backed up, updated, and managed and that it comes from a reputable company that can help you address issues. Relying on outdated, unmanaged software can leave your business susceptible to security vulnerabilities and downtime, amounting to significant costs.

Hardware recommendations become a bit more complex as the technology industry is constantly introducing the latest and greatest of products.
"Where businesses often mess up is assuming that a home computer is the same as a work computer, when they are very much not the same," Blowes said. "There's a very clear distinction between consumer-grade hardware and professional." Blowes pointed out that you wouldn't buy the "doorbuster" Black Friday laptop deals for office use because they don't contain the necessary hardware durability and software security, and they will end up costing you more to keep running.
Conversely, there is some hesitancy to hop on every latest tech trend, as it might not be capable of supporting all the functions needed in your business when it is first released. Blowes points to when iPads were first introduced and how many businesses tried to utilize them without success. Now, 13 years later, iPads have broader capabilities for businesses, yet they still prioritize consumer friendliness over business functionality.
When budgeting for new hardware, Bit-Wizards encourages companies to consider the three- to four-year lifespan typical of most hardware. While your PC doesn't necessarily stop working after three or four years, it will have gradually slowed down to a crawl, causing office productivity to decrease and employee frustrations to grow.
Just like with software, redundancy also needs to be a priority with hardware. Redundancy ensures that there will be a backup in place to resume operations should your hardware or internet provider fail.
Bit-Wizards got its start creating custom software for companies around the world 23 years ago. Since then, the company has expanded to Managed IT, now offering white glove IT support and cloud infrastructure services to businesses of all sizes throughout the Southeastern United States and beyond. Whether you need software or hardware solutions, Bit-Wizards intends to help your business work like magic.
---
Bit-Wizards
70 Ready Ave. NW, Fort Walton Beach
BitWizards.com | ( 850) 226-4200