Bigger, Better, Stronger
Bay Economic Development Alliance has optimistic outlook on year ahead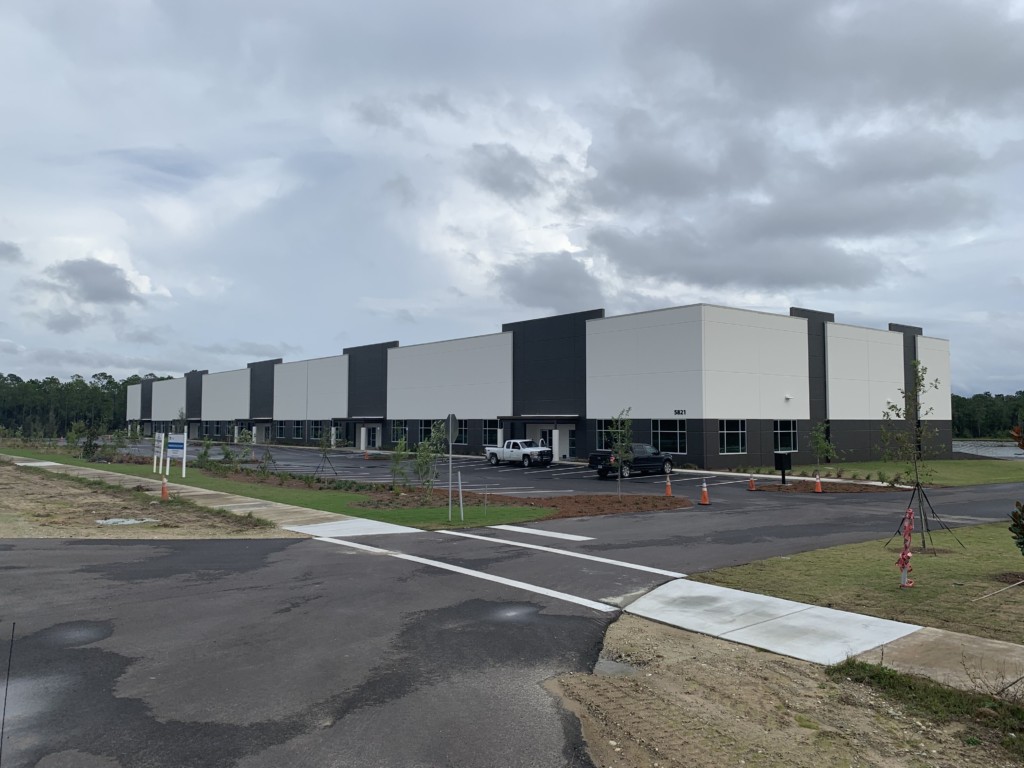 Speakers at the annual luncheon of the Bay EDA, held at the ATC on the campus of Gulf Coast State College, recognized that it will be a while before Bay County gets all the way past ATU, but still they found much to celebrate.
The setting was an appropriate one. Becca Hardin, president of the Economic Development Alliance, makes Gulf Coast's Advanced Technology Center (ATC) a tour stop whenever she has a prospect in town.
There is no disguising the fact that Panama City and environs remain All Tore Up (ATU), but the EDA has nonetheless been busy in the 13 months since Hurricane Michael did its menacing thing.
"We have 18 active recruitment projects," Hardin told the luncheon, including prospects with an interest in a spec building newly developed by the St. Joe Company at its VentureCrossings commerce park nearby the Northwest Florida Beaches International Airport in West Bay.
The prospects include a company in Lithuania that Hardin and airport director Parker McClellan will be visiting in January.
In reviewing events on 2019, Hardin noted that two project announcements were made:
The Casa Laxmi Foundation, based in Toronto, has acquired 260 acres on Fanning Bayou in north Bay County as the site for a K-12 international boarding school. The project, currently in the architectural design phase, represents a capital investment of approximately $110 million and is expected to generate 300 jobs paying an average of $50,000 per year. The Foundation sought a waterfront location for its school because its curriculum will focus on the environment and marine ecosystems.
Clark and Son, Inc., a distributor of custom kitchen cabinets, is locating its distribution and final assembly headquarters operation at the Intermodal Distribution Center owned by Port Panama City. Through a partnership with a cabinet manufacturer, Wood Genix, Clark and Son will import its products from Mexico and distribute them nationwide. As a result, container traffic from Mexico to Port Panama City is expected to increase by as much as 20 percent. Clark and Son is leasing a 100,000-square-foot facility at the Intermodal Distribution Center. The project represents an investment of $5 million and will yield approximately 50 logistics and distribution jobs, paying an average of $45,000.
The EDA's annual report to investors also cited three local expansion projects, 63 proposals sent to prospects and four industry luncheons hosted by the EDA.
Kathleen Ferguson addressed the luncheon as its guest speaker. She is a senior advisor with the Roosevelt Group, a Washington, D.C.-based government affairs, business development and strategic advocacy firm focused on defense and homeland security.
Ferguson worked for the U.S. Air Force for 34 years and was instrumental in influencing the federal government to commit to the reconstruction of Tyndall Air Force Base.
Ferguson offered congratulations to what Hardin said was the largest crowd ever to attend an EDA luncheon.
"Tyndall is going to host the first purpose-based, fifth-generation fighter squadron in the world," Ferguson enthused.
"It is going to be built as the base of the future. The Air Force has not built a new installation since the 1950s. This is a huge opportunity for the Air Force and Tyndall and the community of Bay County and Panama City."
Base reconstruction will involve an estimated $4 billion in construction. Historically, the base has accounted for 30 percent of the local economy.
"The year 2019 has been one of resilience and rebuilding for Bay County," Hardin noted in the investors report.
"Our community has come together and demonstrated the strength of our public and private partners and local workforce. … We are excited about what 2020 holds, knowing that each day Bay County is becoming bigger, better and stronger."