Big Strides
How bigfoot moving services' owner transformed a passion into a business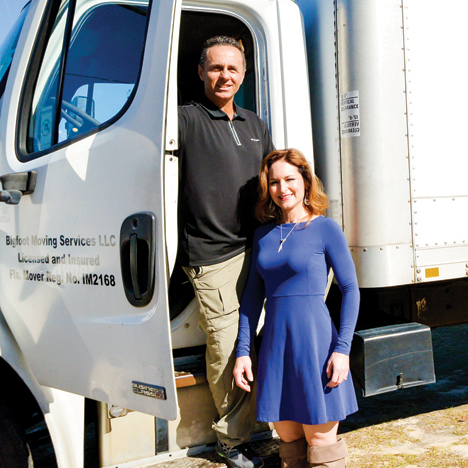 When he was a child, Mickey Minnis became fascinated by the legend of Bigfoot. Movies and shows from the 1970s sparked a curiosity in him, already an outdoorsy youngster, and ever since, Minnis says, "Bigfoot's always been that mystery out there in the woods."
As he grew older, Minnis turned an interest into a hobby, going on expeditions in search of the mysterious beast and joining the Bigfoot Research Organization (BFRO) as an investigator in 2012. But on top of that, Minnis has also managed to transform his passion into a lucrative, if unlikely enterprise — a moving company.
Headquartered in Crestview, Bigfoot Moving Services sprang up from a combination of happy accident and pure inspiration. Minnis first got into the moving business around the year 2000 — in a foray that was meant to be a fill-in job. He'd previously been managing gyms and was simply biding his time until he found another.
"What ended up being a temporary job became a long-term job, and about nine, 10 years later, there I was still working in the moving industry," Minnis said. "And I thought, I can do this myself." He founded Bigfoot Moving Services in February 2013.
Minnis' entry into the moving business might have been largely a divine coincidence, but his branding decisions came intuitively through pure inspiration.
"It was, for me, just something that was in my heart," Minnis said. "Sitting up late nights, and even the start of the business was something for me that was a personal venture. Starting your own business is always a risk, but I wanted to jump in and get my feet wet for a while."
As he brainstormed possible branding and marketing, Bigfoot imagery quickly came to mind "in the wee hours of the morning." As a BFRO investigator, Minnis works within the 850 area, following up on reports and any odd goings-on that could hint that Bigfoot's been by. His first expedition was in 2011 in Liberty County's Torreya State Park, although over the past 12 years he's also gone on personal expeditions in other parts of the country, including California and Oregon. Minnis' first and only encounter so far occurred on that first BFRO expedition:
"It was a cold night. I woke up around 3 a.m., and I was in a solo tent," Minnis recalled. "We were camping there, and I heard what sounded to me almost like ape-like screams that lasted for about 15 minutes. That was a very interesting encounter, to say the least. I kind of sat there and laughed to myself, and said, 'I don't know what this is, and I can't prove it.' But that is something that's stuck with me for a while."
So, as he contemplated possible branding for his new business, Minnis said the inspiration was quick and clear. He drew up the design himself, and sent it to his sign guy to put together. The logo is instantly recognizable — a big, bold Bigfoot taking the classic stride. Minnis said he also comes up with the verbal marketing material himself. For instance, the bumper stickers, which include catchy, wordplay-driven slogans such as "I Believe in Bigfoot (Moving Services)."
Minnis' wife, Tracy, who is also the bookkeeper for Bigfoot Moving, an author, a licensed aesthetician and a personal trainer, supports his interest wholeheartedly. Like Minnis, she loves the outdoors and hiking.
"Believe it or not," Mickey Minnis said, "as much as I pursue this, and hope to have an encounter, she's actually had two encounters and she doesn't even look for them, which is ironic, but that's usually the way it works."
This Bigfoot-driven branding has already paid off big time, Minnis said, as it's both instantly recognizable and a great conversation starter.
"Whether people believe or not is not our issue," he said. "You can't miss a truck or a logo coming down the road with a giant Bigfoot on the side of it." Minnis said he's gotten a ton of business simply from people who saw his truck.
Although Minnis' business is not concerned with converting people into believers, the conversation often comes up when people ask where the name comes from. He said he enjoys sparking curiosity within people, but the biggest triumph is always getting the job done right — and, of course, hearing that the branding is working. Obviously, Minnis has worked with countless people who don't believe in Bigfoot, "but they've told me that the logo and the wording is genius. And I've always appreciated that more than what their belief is about (Bigfoot)."