Bay County EDA's annual report brims with optimism, prospects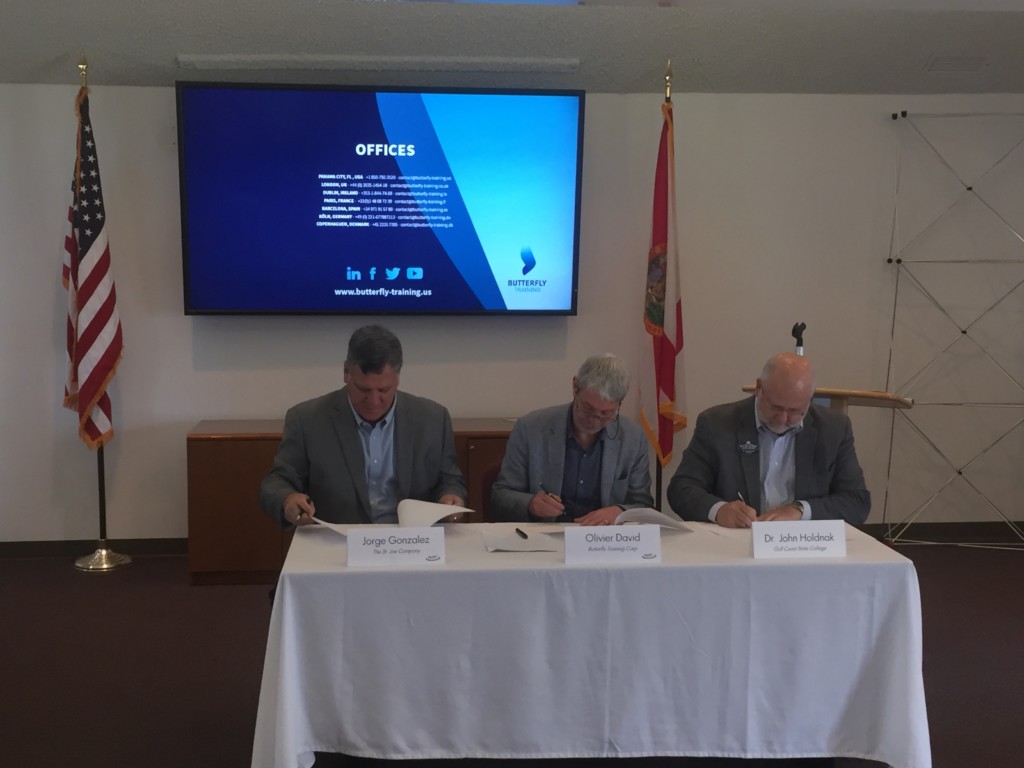 Former Florida House Speaker Allan Bense, addressing the annual meeting of the Bay County Economic Development Alliance on Wednesday, recalled a moment he experienced days after Hurricane Michael's devastating march from the sea.
One morning prior to sunrise, Bense found himself at the intersection of Frankford Avenue and 15th Street in Panama City as an unexpectedly long parade of power utility trucks and then first responders and finally law enforcement vehicles passed by.
"I teared up," Bense said. "These vehicles were from all over. Political differences had no relevance. America was coming together to help Bay County and the surrounding area recover. Don't mess with America. We'll find a way."
It may have been at that moment that Bense became convinced that Bay County would come back bigger, better and stronger. And, the Bay County EDA provides further cause for optimism.
The EDA had had a great 2018 before the storm arrived. And a funny thing happened after the storm passed. The EDA got busier.
"People assume that the storm has made our recruitment efforts more difficult," the EDA's president, Becca Hardin, told the luncheon, held at the Holley Academic Center on the Florida State University Panama City campus. "The truth is that our prospect activity increased. We got kicked in the gut pretty good, but we've got a great story to tell and our workforce component is strong. Without a workforce, you can't get in the game."
Hardin cited efforts by Haney Technical Center, Gulf Coast State College and FSU PC to meet the needs of existing and anticipated employers. The addition of a mechanical engineering degree program at FSU PC, she said, "is a game changer."
Bay County's economy, according to the EDA's 2018 Investor Report, was home to projects that added 315 jobs to the local economy and represented $30 million in new capital investment.
Four new projects were announced in 2018, a year in which companies and consultants made 33 visits to Bay County:
Air Temp de Mexico, an automotive parts supplier, committed to making Panama City its U.S. headquarters. It anticipates creating 50 advanced manufacturing jobs and making a $6 million capital investment.
Butterfly Training, with operations in Europe, announced plans to establish a U.S. presence in Bay County. The company designs and produces e-learning curriculum for airports and airlines. In Bay County, it will be working in close cooperation with Gulf Coast State College.
Revint Solutions, a revenue-capture business serving the healthcare industry, committed to establishing a regional headquarters in Lynn Haven. The project will add 150 jobs, equating to an annual payroll of approximately $6 million.
ACMT Inc., which supplies precision component manufacturing, repair, overhaul and modification services to the aerospace industry, announced plans to open a facility in Lynn Haven in an existing building at the city's industrial park. The project will create 105 jobs and will entail a $20 million capital investment.
The EDA's officers for 2019 were introduced Wednesday. They are:
Chairwoman: Sandy Sims, Gulf Power Co.
Vice Chairman: Ben Lee, Hancock Whitney Bank
Treasurer: Kim Bodine, CareerSource Gulf Coast
Secretary: Ingo Riemer, Berg Pipe
Investor Appointee: Kyle Shoots, System Service and Engineering
Past Chairman: Jorge Gonzalez, St. Joe Company