Back on Track?
Passenger rail service is closer to making a comeback along the Gulf Coast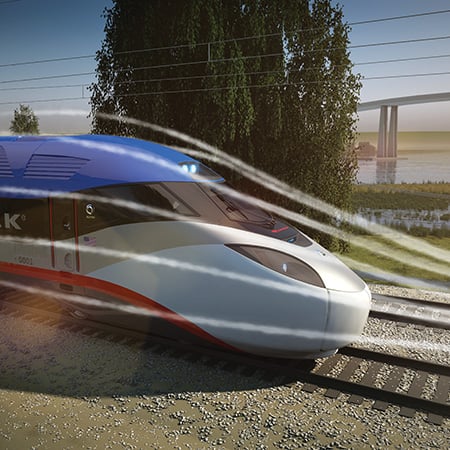 Amtrak fans might have to wait up to two more years before daily, round-trip passenger rail service can be restored between New Orleans and Orlando.
"We believe this service can be reality within 18 to 24 months," said Greg White, chairman of the Southern Rail Commission. "And, on the not-too-distant horizon, I believe we can see passenger service between New Orleans and Baton Rouge, between Mobile and Birmingham, and along the I-20 Corridor between Fort Worth/Dallas and Jackson, Mississippi. All of these services will enhance ridership on the Gulf Coast route, further reducing the supplement required."
By "supplement," White is referring to the money needed to return passenger service to the Gulf Coast. He said that Congress, the freight rail companies, Amtrak and the four affected states — Florida, Alabama, Mississippi and Louisiana — will all be asked to help pay for some of the infrastructure. However, who pays for what and how much has not yet been determined.
"The operating shortfall (for the long-distance and the commuter train) approaches $9.5 million annually," White said. "However, there are a number of possible revenue streams that have not been factored into this number. My hope is that advertising, and packaging of travel opportunities, will cut into this shortfall. And, of course, increased ridership will reduce the deficit. Many recently created routes in the Southeast are self-sustaining, and our hope is that this service will be as successful over time."
The use of taxpayer money to pay for Amtrak passenger service has been a sore spot for fiscal conservatives in the past, but this recent effort in the South seems to have garnered support from both sides of the political spectrum.
"I believe it's got some pretty fair bipartisan support," said Andy Johnson, a state and local legislative affairs liaison in Leon County. "Historically, Leon County has made it a priority on the community level, and we continue to advocate for it. It was a great benefit to the community, and we will support anything in that effort."
White said that the new passenger service ought to fit in well with President Trump's plans to invest in nationwide infrastructure.
"We have taken steps to submit our project to the administration as a 'shovel-ready' project," White said. "There is no doubt that the Gulf Coast project has enjoyed enthusiastic bipartisan support. From GOP Gov. Bryant in Mississippi to Democratic Gov. Edwards in Louisiana, to state and local leadership across the route, folks of every 'denomination' have signed on publicly in support of the project. All of us want to see our region prepared for the surge in population that is predicted, and to see us well positioned for the economic growth potential that we anticipate. Transportation alternatives are vital to being prepared."
According to the Southern Rail Commission — a committee of Gulf states that promotes and supports rail initiatives in the Southeast — Amtrak launched its Gulf Coast service with the Gulf Coast Limited, a train that ran between Mobile and New Orleans during the 1984 World's Fair, and again in 1996-1997. Amtrak operated an extension of the Sunset Limited through the region between 1993 and 2005. This was part of a transcontinental Los Angeles-to-Florida run, but the on-time performance wasn't entirely successful. Ridership suffered, as well as financial performance.
Hurricane Katrina's destruction caused service east of New Orleans to be stopped altogether after 2005, but now it may be resurrected. Officials said there's just too much at stake, economically, to keep it down for much longer. The Gulf Coast is home to many different tourist destinations, convention venues, sports teams, cruise terminals and resorts. And a new passenger rail service would cut through the heart of that region. The new rail service would be an alternate mode of transportation for more than 5 million people who come to southern Alabama each year, with similar numbers visiting the beaches of Northwest Florida and southern Mississippi.
In addition to the New Orleans-to-Orlando route, White said the Southern Rail Commission would like to see a daily round-trip "commuter"-style service between Atmore, Alabama (on the Florida-Alabama line) and New Orleans. It's a distance of about 200 miles.
"The estimated annual ridership — set forth in a December 2015 study performed by Amtrak — is almost 150,000 people," he said. "Amtrak ridership has been steadily increasing in recent years, so I suspect we may experience better ridership than this."
A law passed in late 2015 helped move the process along. The Fixing America's Surface Transportation (FAST) Act became law that December. It authorized $305 billion over five years to the U.S. Department of Transportation's rail, highway, public transportation, safety, research and technology projects and programs. A provision of this law gave the Federal Rail Administration half a million dollars to establish a "working group" to study the possibility of restoring the old New Orleans-Orlando passenger service.
The Gulf Coast Passenger Rail Working Group used an Amtrak feasibility study that found the estimated annual operating assistance for long-distance trains from New Orleans to Orlando to be $5.48 million. Adding a state-supported route from New Orleans to Mobile would cost an additional $4 million per year. White said the infrastructure costs have not yet been delivered to Congress but that the Southern Rail Commission, the Federal Railroad Administration, CSX and Amtrak are all putting their heads together to figure out what those numbers might be. Whatever the cost ultimately is, the restored infrastructure will benefit more than just Amtrak.
"CSX will be the host railroad over most of this route, and they are projecting growth in freight traffic in addition to the passenger train daily," White said.
Johnson said that regional stakeholders have narrowed a list of five route options down to one preferred option, which involves expanding an existing route from Chicago to New Orleans and from there to Orlando. In addition, he said, there would be the daily state-supported train between Atmore and the Big Easy.
"They're just zeroing in based on infrastructure needs, projected ridership and operations and maintenance costs — those sorts of things," Johnson said. "Now, they're finalizing assessments and stations, what needs to be renovated, are there any special requirements, (including) what tracks and signals and crossings need to be repaired and updated, and what it is going to cost to make it safe for a train to do this and pick up passengers."
So what's the next step? Identifying who is going to pay for it. The 2015 federal transportation bill requires an economic study or cost-benefit analysis.
"Once all of that is done, the working group is going to anticipate a final report to Congress this spring, (including) infrastructure needs, expected costs, expected route, etc.," Johnson said.
The final draft of the cost estimate report might reach Congress before the end of April, White said.
Key components of restoring passenger rail service in the Gulf Coast are the necessary infrastructure upgrades in the areas of safety and signalization. White said the Southern Rail Commission supports installing Positive Train Control (PTC) along the Florida Panhandle portion of the route. This is a set of safety technologies designed to automatically stop a train before certain accidents can occur. According to the Association of American Railroads, the federal government in 2008 required privately owned railroads to finance, develop and install PTC along some 60,000 miles of U.S. railroad by 2015. That deadline was extended to 2018 by the Surface Transportation Extension Act of 2015.
"CSX has or is in the process of installing PTC through the Alabama, Mississippi and Louisiana portions of the route," White said. "This safety feature will benefit the freight rail and the traveling public — not just passenger rail. Similarly, grade-crossing signalization will need to be enhanced. Obviously, this will also benefit freight rail and the public. So certain infrastructure investments will be made over time regardless of passenger service. Segregating those needs and allocating them according to project is part of the complication."
In 2016, the Southern Rail Commission ran a special whistle-stop train tour from New Orleans to Jacksonville as part of a plan to stir up some excitement for the new service. State and municipal elected officials, industry representatives, federal stakeholders and community leaders were all involved in the trip, which took a look at existing facilities in each town along the route. Also examined were the economic, cultural and mobility opportunities that such a rail service provides.
To date, the rail commission has collected resolutions of support from cities in the states of Florida, Georgia, Alabama, Mississippi and Louisiana. In Florida, resolutions of support came from the Apalachee Regional Planning Council, Northwest Florida Regional Transportation Planning Organization, Bay County Transportation Planning Organization, West Florida Regional Planning Commission, Okaloosa-Walton Transportation Planning Organization and Suwanee Valley Transit Authority. The cities of Chipley, Crestview, Destin, Fort Walton Beach, Pensacola, Tallahassee, DeFuniak Springs and Panama City have also showed their support.
Meanwhile, C.W. Moorman, Amtrak's president and C.E.O, expressed his strong support for the project in a letter to White and the SRC in early March.
"Amtrak has supported this project throughout, and will continue to do so as we move through the final process to inaugurate the service together," Moorman said.
The project will apparently need every vote it can muster in Congress. The Trump Administration's first budget, released on March 16, "eliminates all federal funding for Amtrak's national network trains, which provide service to 23 states," according to the National Association of Railroad Passengers.
---
Estimated annual operating assistance for
long-distance trains from New Orleans to Orlando:
$5.48 million
+
Adding a state-supported route from New Orleans to Mobile:
$4 million
⬇
So what's the next step?
Identifying who is going to pay for it.
---
Amtrak launched its Gulf Coast service with the Gulf Coast Limited, a train that ran between Mobile and New Orleans during the 1984 World's Fair, and again in 1996-1997. Amtrak operated an extension of the Sunset Limited through the region between 1993 and 2005.