Jaguar and Land Rover Head for Tallahassee
Auto dealer Capital Eurocars breaks ground on new facility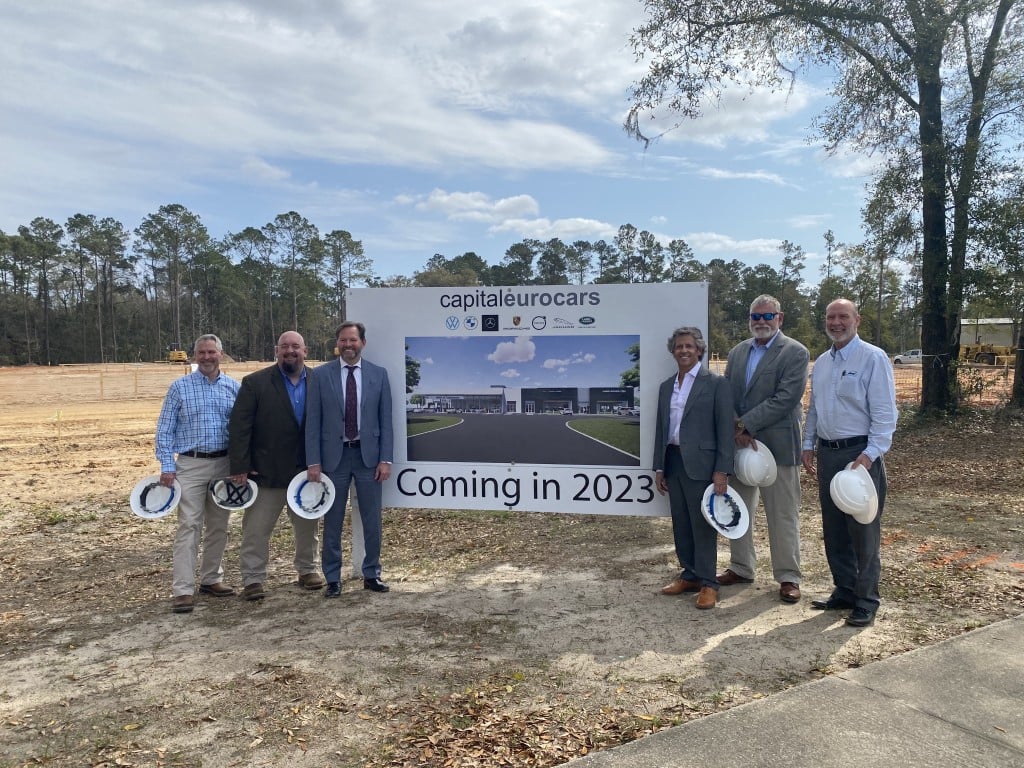 Capital Eurocars is realizing a 15-year-old ambition — to bring Jaguar and Land Rover to Tallahassee.
The business's addition of Jaguar and Land Rover brand vehicles in early 2023 will coincide with the completion of a new facility at 1485 Capital Circle NW. With ready access to Interstate 10 and Tallahassee International Airport, the new dealership can be expected to enjoy plenty of traffic.
"We are out here admiring what's coming up in Tallahassee," said Kevin Hawkins, the CEO of Capital Eurocars' parent company, Crown Automotive. "We're adding Jaguar, Land Rover and bringing BMW over. We are excited to see those brands get new facilities and also to see Jaguar and Land Rover come to Tallahassee for the first time. As Tallahassee grows, we are happy to grow with them."
For Hawkins, this new facility is tangible proof of Tallahassee's steady economic growth over the past several years. For more than a decade, Jaguar and Land Rover had been unwilling to enter the Tallahassee market. They told Hawkins again and again that the demographics just didn't line up. That is, until three years ago.
"We approached them again, and much to our surprise, they said, 'You know what, we think Tallahassee is ready,'" Hawkins said.
Crawford Atkins, the vice president and general manager at Capital Eurocars, moved to Tallahassee nearly 20 years ago. He, too, believes the project reflects growing prosperity in the Capital City.
"Even more than what we're doing, I think that all the retail growth that has happened over the last five to six years from College Town to Midtown to Bannerman Crossing is a testament to what people love about Tallahassee," Atkins said. "The growth hasn't been crazy fast, even though some of us might like it to be a little faster, but it's beautiful, it's well laid out, it's smart and we're expecting it to be the right time for us, as well."
Sperry and Associates are heading up construction of the new $11.5 million, 45,000-square-foot facility. The project, said Sperry senior project manager Matt Edwards, will generate many construction jobs.
"It takes a lot of resources to put together a project of this size," Edwards said. "It is going to involve more than 30 independent contractors. That's 30 different scopes of work involved. Now that we're done leveling the ground, we're ready to start going vertical."
The building has been designed to be a fitting home for fine automobiles.
"The job is very reflective of the brands that are going into the building," Edwards said. "It's all sleek, clean lines with very high-end finishes that are going into the project. I think it's going to be a real showpiece, not just for Crown, but really for Tallahassee in general."