At Oyster City Brewing Company, Business is Flowing Good
The brewery at the helm of Apalachicola's rising craft-beer operations.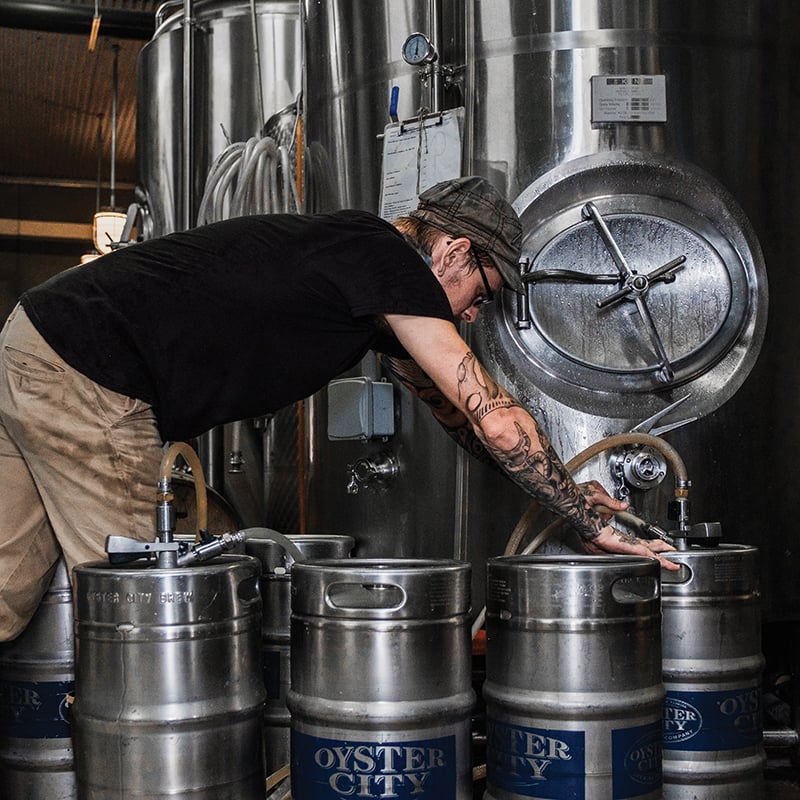 On any given Saturday afternoon, especially amid a sultry Panhandle summer, downtown Apalachicola is abuzz with talkative pockets of lightly garbed friends and strangers working very hard at doing almost nothing.
Clayton Mathis is not one of those people.
He's busy doing his part to make the ever-more-popular Franklin County resort town a prime destination for weekend fun-seekers, while expanding one of the Big Bend's most colorfully local brands.
As the head brewer for Oyster City Brewing Company, he's a driving force behind one of the region's rising craft-beer operations.
The formula is a simple one. "Love, man. It's a lot of love that goes into making this beer," says Mathis, sharing a table outside Oyster City's headquarters, a 2,000-square-foot building at the corner of Avenue D and Commerce Street.
Inside, patrons sip with enthusiasm from pint-sized plastic cups filled with any of the dozen original brews in current rotation. There's not much by way of decor: a small bar and souvenir shop, a few tables and rows of fermentation tanks where the beers are made.
Beer comes no fresher than it does right here.
"We like to drink good beer," continues Mathis, an affable, bearded 33-year-old South Carolinian whom the brewery's Facebook page describes as "hunky." "We make beer that we like to drink, and luckily a lot of people like to drink it, too."
Apalachicola's growth as a tourist town hasn't hurt, either. "We get a lot of people in here drinking."
Although Mathis runs point, the enterprise is a part of a friends-and-family partnership that includes four owners: Cassie Gary, Susan Gary, Rex Humphries and Bo Walker, who launched Oyster City in 2014.
The Garys and Humphries are co-owners of Apalachicola's Owl Cafe, where Cassie Gary's husband Melvin Myers is head chef, and its adjacent bar, The Tap Room.
Humphries' wife Shelley Shepard, Walker's wife Alyssa Walker and Mathis's girlfriend Cassie Jones also play roles in the business.
As Mathis explains, the brewery was inspired one day when a customer came into The Tap Room and wondered why there was no local beer.
The gauntlet was thrown, and the home brewing began. Before long, the group took over the Oasis, a gnarly fisherman's bar across the street from the Owl Cafe. Mathis points out a bullet hole as evidence of the saloon's rough-and-tumble reputation.
"There was smoke so thick you could cut it with a knife," he recalls. Soon enough, it was full of 10- and 20-barrel tanks, and Jamie Ray, a beer consultant from Alabama, was showing everyone how to make a proper brew.
Four years on, Oyster City has begun to hit its stride. Mathis came onboard in May 2015 and has helped to steer its course.
"I probably know less than one percent of what I really should know," he says
"None of us knew much about making beer before we got into this. I've read books, Shelley gave me a stack of books that high and I read them all, and probably a bunch more of them by now, and so there's a lot of studying involved in it and following different formulas."
Brewed "by committee," at least at the start, Oyster City now offers a colorful variety of beers, all flaunting names that burst with coastal flavor.
"Mill Pond Dirty Blonde" and "Tate's Hell Lager" nod to notable geography, while "Aye Aye IPA," "Lemon Shark Wheat" and "Red Snapper IPA" tap into pescatory inspirations.
The most popular beer is "Hooter Brown Ale," an homage to the Owl Cafe.
"The name was going to be 'Cooter Brown,' after a guy in the Civil War who didn't want to fight for the North or the South and just got drunk the whole time," Mathis explains with a laugh. "But the name was already taken."
The ale, with a potent APR of 8.5 percent, makes up 40 percent of Oyster City's sales.
The brewmaster credits Ray's original recipe, which has been doctored a bit, and the use of tupelo honey — sourced from Owl Creek, 38 miles up the Apalachicola River — and wild berry honey, that makes for a smooth, sweet finish. "You just drink it," he says. "It drinks a lot lighter than what it looks like."
Hooter Brown is the Oyster City beer you'll most likely see among the draft taps at Tallahassee bars and restaurants.
Or, if you're lucky, maybe there will be a keg of it at the next neighborhood oyster roast.
Oyster City is sold only by the keg, but those making the trek to Apalachicola can pick up 32 or 64 oz. growlers. (There's also a 32-oz. "Crowler," or canned growler, available).
"It's a great headlining beer for us," Mathis says, proud to discuss the finer merits of the local honey, which doesn't crystallize but delivers a bold flavor.
"It's not anything weird. We don't need to make a weird beer to make it attractive."
The brewery expects to produce more than 3,000 barrels this year. But even North Florida residents who haven't tasted any may know the name.
Oyster City baseball caps are everywhere. Good thing the company's original proposal for a name — Apalachicola Brewing Company — was already taken.
"We sell a lot of hats," Mathis says. "Whenever I go to Tallahassee, or Pensacola, Panama City, I see at least three or four of them every time."
As an afternoon crowd gathers, disperses and gathers again inside the bar, Mathis takes note of the brewery's fortunate timing. "The Forgotten Coast isn't forgotten anymore," he says. Oyster City might have just a little bit to do with that.