As the Economy Bounces Back, Tallahassee's Most Distinct Districts Are Embracing a New Lease on Life
Growing Communities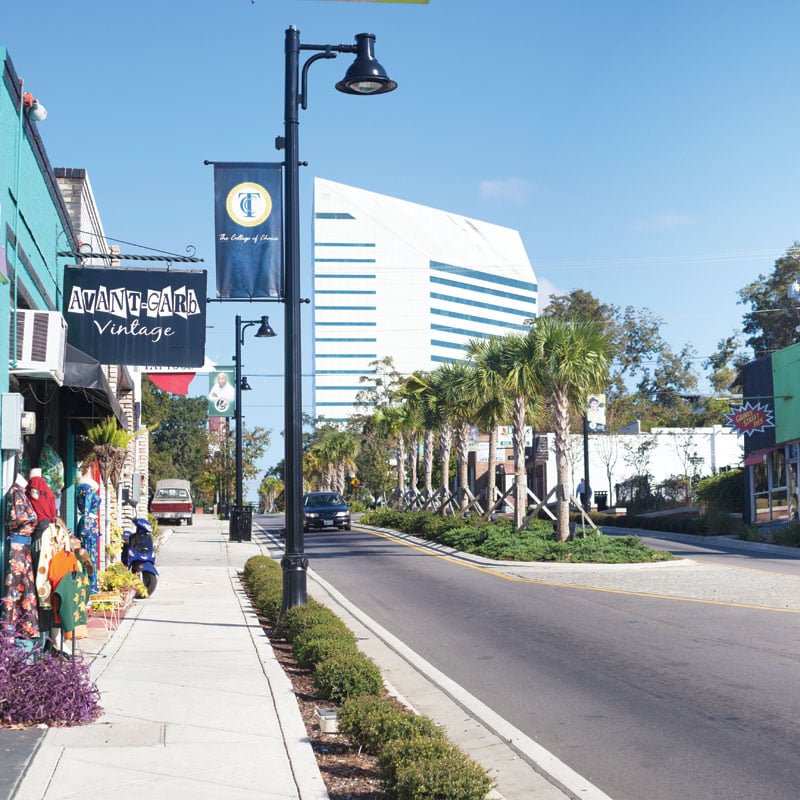 Leon County residents have been whispering lately. There have even been a couple of smirks.
If it's been a while since you've explored Florida's capital city, perhaps you should consider taking a stroll down Gaines Street or a jaunt through the Market District to see what all the chatter's about. After a few steps, you'll start to realize what's been going on … the evidence of expansion is everywhere.
Tallahassee is reaching its potential, and the city is flourishing.
For those who have witnessed Tallahassee's steady metamorphosis from sleepy college town and part-time legislative powerhouse to booming metropolis, the upward progression is irrefutable. And city officials are eagerly encouraging this transformation.
To equip up-and-coming neighborhoods with what they need to succeed, the Tallahassee-Leon County Planning Department established its "Sense of Placement" initiatives in the hopes of enhancing the heart and soul of many of Tallahassee's most diverse districts.
Neighborhoods like Gaines Street, Midtown and the Market District — all of which have developed largely organically over the years — were among the first communities of distinction.
"When you think about a Sense of Place, you think of a Sense of Place as being one that can be considered a destination where people want to be," explained Earnest McDonald, principal planner at Tallahassee-Leon County Planning Department. "It's a unique area that has characteristics that are either physical or somehow unique to that particular area."
Along with their counterparts at the planning department, the City of Tallahassee's Community Redevelopment Agency (CRA) has been instrumental in getting these niche neighborhoods up and running. After formulating and presenting "action plans" to local community leaders, they work hand-in-hand with merchant associations and committed investors to bring to life some of Tallahassee's most charming places.
GAINES STREET: The Project That Started Them All
Just steps away from Railroad Square Art Park, the Gaines Street District was the first initiative of this magnitude. Renowned as an eclectic place for creative endeavors, this stretch of land is located snuggly between Florida State and Florida A&M universities. But for years, it did more to separate the two campuses than it did to unite them.
Luckily, the fate of Gaines Street changed drastically when the city got involved in 2007. According to Roxanne Manning, executive director at Tallahassee Community Redevelopment Agency and one of the visionaries behind Gaines Street's reconstruction, the city capitalized on Gaines' potential for walkability with calculated due diligence.
"One of the things that we really focused on when we were designing the street was making the physical scale of the street friendly to people rather than just automobiles," explained Manning.
"We incorporated elements like, for example, benches that face each other, to create little social spaces. We were very particular about the width of the sidewalk and the height of seating walls that we incorporated all down the street so that it becomes very clear to the pedestrian that we want people to gather here, we want them to be comfortable here."
Now, Gaines Street is a fluid continuation of artistically developed, urban-inspired prime real estate within walking distance of both university campuses as well as many other downtown venues and dwellings.
MIDTOWN: A Delicious Success Story
Encompassing everything from Hotel Duval and Level 8 Lounge at the intersection of Monroe and Tennessee, to the new Miracle Plaza where Whole Foods resides on Thomasville Road, Midtown may indeed be the most geographically extensive district Tallahassee has to offer.
As both a commercial and residential hotspot for Leon County's growing professional population, Midtown has embraced an upscale, yet relaxed persona that is visible throughout at all times of the day and night.
In Midtown, dozens of retail and dining options await, as well as some of the city's most acclaimed salons and spas. From state-of-the-art personal training facilities to gourmet coffee shops, upscale shopping and award-winning restaurants for every budget, this district is always buzzing with excitement.
For Carrie McNeil, owner of Cole Couture, one of Midtown's most iconic boutiques, the achievements of Midtown are due in large part to the tight-knit merchants association the neighborhood has formed.
"I think [visitors] get a feeling of family," McNeil said of the overall vibe of the area. "I think they leave with a sense of community that's been carefully threaded together."
COLLEGETOWN: The Mold Breaker
Unlike its fellow districts of distinction, CollegeTown materialized in less than a decade, entirely through the encouragement of city officials and generous investors.
Driven by Florida State's Seminole Boosters, this largely corporate endeavor, situated just off of Gaines Street and Madison on Florida State's campus, has managed to combine upscale living options for students with Tallahassee's love for FSU football into one supremely located place of interest.
CollegeTown wowed patrons when it officially opened its doors in the fall of 2013 with the debut of Madison Social, a casual American fusion restaurant with a rustic motif.
"It's the up-and-coming area," enthused Jason Walker, general manager at Madison Social and a long-time Tallahassee resident. "It's where everyone is going to want to be."
According to Will Butler, the real estate asset manager for the Seminole Boosters, Walker's assertions are exactly right — and they come as no surprise. Before local, regional and national investors would get involved, ample analysis was conducted to ensure that their investment would be a profitable one.
"We did a tremendous amount of research to establish if the market was ready for CollegeTown," said Butler. "The overwhelming answer was yes."
Now, with more than half a dozen restaurants, eateries and bars under its jurisdiction, College-Town executives are confident that the current infrastructure is only the first phase of what is destined to be a far larger district.
MARKET DISTRICT: The Next Frontier
Officials have recently been paying close attention to Tallahassee's growing Market District, located on the cusp of northeast Capital Circle.
A bustling, family-friendly environment with more than 50 specialty shops, the "Market District" encompasses Market Square, The Verandas, The Gallery at Market Street, The Pavillions, Cornerstone Place and Market Plaza at Timberlane.
With more than enough recreation to warrant a day trip, the Market District is characterized by the beauty of Alfred B. Maclay Gardens as well as by high-end service providers, French bakeries, authentic Mexican cuisine, locally owned clothing boutiques and designer home goods stores. Strictly speaking, the Market District has something for everyone.
And according to Sam Varn, owner of Awards4U and president of the Market District Merchants Association, with such close proximity to Interstate 10, location is on their side, too.
"[The Market District] can become a gateway into Tallahassee for people," explained Varn. "It'll be great exposure for the Tallahassee community. It can give people a little taste of our shopping and dining experiences on our end of town, and maybe even encourage them to think about Tallahassee as a place to move or open a business or just see as a great place to live."