Apple Co-founder Steve Wozniak Speaks at Power Forward Speaker Series in Tallahassee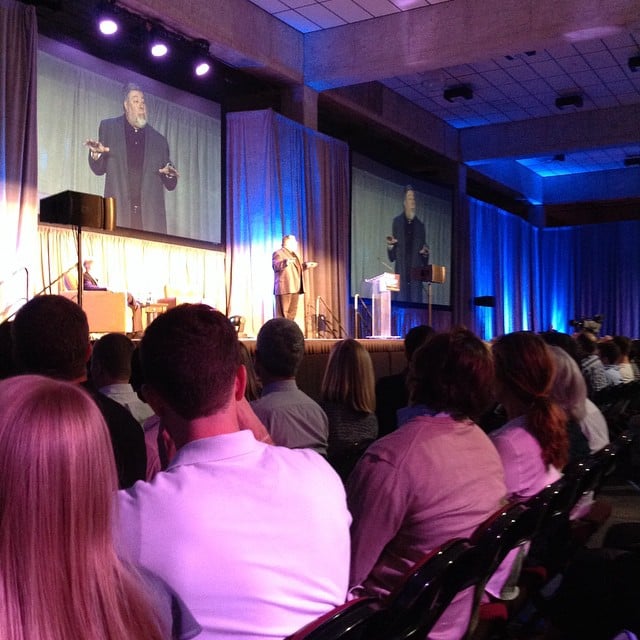 Engineering genius Steve Wozniak this week reminisced about the early days of Apple, the computer giant he co-founded with Steve Jobs, with hundreds who attended First Commerce Credit Union's Power Forward Speaker Series in Tallahassee.
Speaking at the Donald L. Tucker Civic Center, the "Woz" gave entrepreneurial advice, answered audience questions and detailed Apple's beginnings and his sometimes rocky relationship with Jobs, the public face who helped turn Apple into the corporate giant it's become.
He painted a picture of the early days, working with Jobs out of their garage in California, and recounted how he had started by building parts of the computer and then partnered up with Jobs to make it into a business.
In the beginning, Wozniak worked at HP and built up plans for a motherboard. He gave his plans away for free, hoping that someone would find it useful. But then, Jobs came into the picture and suggested that they turn Wozniak's plans into a business. They saved all of their money and sold some of their favorite things in order to make more money. However, it still wasn't enough, as one particular chip for the computer cost thousands of dollars.
That's when they turned to Mike Markkula to invest in their dream.
From the beginning, Jobs and Wozniak wanted to invent a personal computer that would help the everyday person do things that they couldn't do on their own. The Woz became most excited when talking about the Apple II and how it was the most successful product that Apple produced in over 10 years. He also shared how Apple had hired Microsoft to build a program that would allow people to input data in a table and do easy calculations. This program later became known as Microsoft Excel — and helped Apple's computer take off.
When they first began working together, Wozniak said he and Jobs were practical jokers, always having fun. However, Wozniak described how Jobs transformed over the years from being fun and carefree to a more serious and professional person. He even alluded to the reason of MacIntosh's failure coming because those working on the product couldn't work successfully with Jobs being so tough on them.
Wozniak described his love for computers and technology and how the engineers behind such inventions should be given just as much credit as those out front selling the products. His advice to entrepreneurs was to find someone who can build things, like an engineer, and have them be an equal part of the venture. He also talked about happiness and that when he would code for Apple, he made the equation "Happiness = smiles – frowns."
Gracious and personable, Wozniak answered a host of questions put forth by moderator Andy Serwer, longtime managing editor of Fortune magazine and then the audience.
One Twitter user was curious as to what kind of watch the Woz was wearing and he became very excited to talk about his NIXIE Tube watch, displaying his oversized watch's face, which was clear with tiny vacuum tubes inside. Then, when he turned his wrist toward him, the time displayed digitally. While at first he didn't like the watch, now it is one of his favorite toys.
Another audience member asked what his favorite app is, and the Woz answered: Siri. He recounted a story where he sat by Lake Tahoe with his wife and playfully asked Siri if it was the biggest lake in California. Surprisingly, Siri answered with a list of California's five biggest lakes.
The evening left audience members more knowledgeable of Wozniak and his steps to success. One fact that not everyone knew was that Wozniak had taught school.
Held on Nov. 5, the event marked the second year of the Power Forward Speaker Series that is sponsored by First Commerce Credit Union and the FSU College of Business. Power Forward was designed to kick off entrepreneur month in November and to give students and local entrepreneurs a way to network and learn more about becoming the world's next innovators. The event has spurred follow-up workshops across Tallahassee, including one planned at Domi Ventures on Wednesday, Nov. 12, and other E-month events at Florida State University.