Ahead of the Storm
Seafood restaurant made plans to move before it lost its roof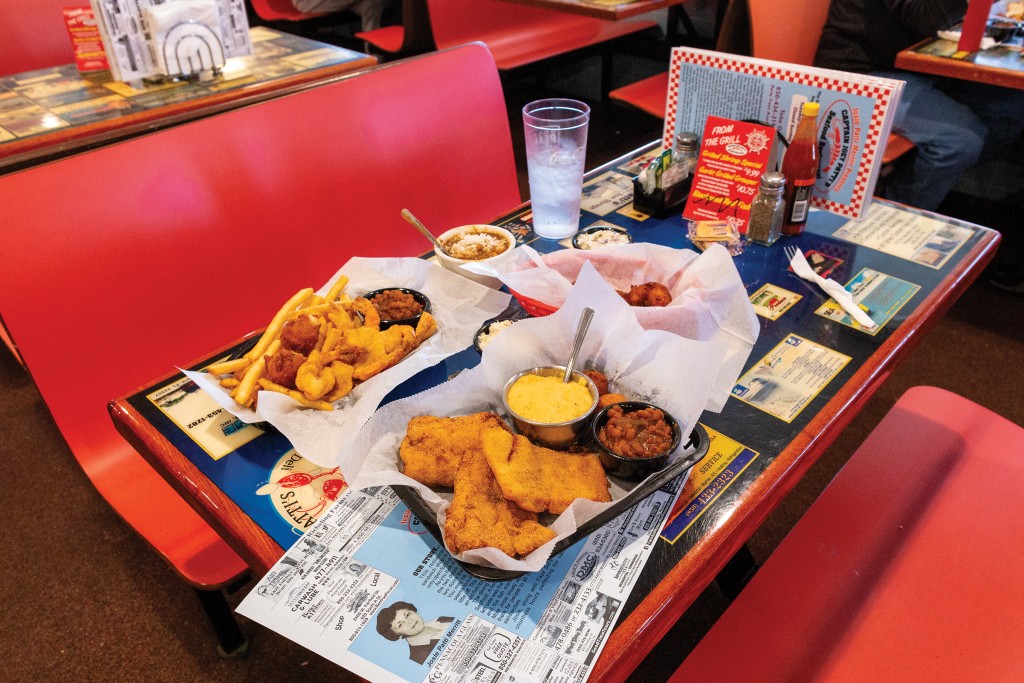 After spending 33 years in its original home, Captain Joey Patti's Seafood Restaurant is thriving in a new location.
"Inside, I think the restaurant has a much nicer feel — the old location was a converted fish market," said owner Charlie Merritt, who is the son of the restaurant's founder, the late Josephine Patti Merritt.
According to its website, the restaurant was "basically a sandwich shop built on to the side of West Florida Seafood, which was run by Joey Patti. Joey, one of four sons of Joe Patti, talked his sister Josie into investing in the restaurant. Within their first year, Joey decided the restaurant business was not for him and left it to Josie to try to figure out."
At the helm, one of the first things she did was to take over the West Florida Seafood Market space, which she turned into a seating area for restaurant patrons.
"We started this company with my mom back in 1988 was when I was about 12 years old," Merritt said. "I worked every day after school, and I did that until I was 20 when I moved out of the area.
Merritt returned to the business in 2013 when his mother's health started to fail. Jo Patti died in 2019, and the branding image of the restaurant was modified to honor her shortly after her passing.
"All that we do inside the restaurant is our tribute to her," Merritt said.
There is no job at the business that Merritt cannot or will not do.
"My title is general manager/owner, but today, for example, I was frying food," he said. "I washed dishes yesterday, so I do everything." He works about 52 hours a week.
Merritt moved the restaurant 12 blocks to 1124 W. Market St. shortly after Hurricane Sally destroyed the roof at the original location. Fortunately, plans to move already were in place.
"We spent years in that other location, and people would walk in and say they had lived in Pensacola all their lives and had never been to the restaurant," Merritt said. "So we wanted to move to a location with more visibility where we could do alcohol sales and stay open for dinner. We just have more options over here."
The current location formerly was at various times occupied by Cypress Restaurant, George's Artesian Bakery and Premier Bakery.
"A lot of Pensacolans know that as children they got doughnuts from there," Merritt said of Premier.
Getting the new location ready was something Merritt handled personally.
"I worked around the clock, and I had it done in two weeks," Merritt said. "There wasn't too much to do. The location was ready to go. We had to rebuild the food window (for to-go orders) to make it larger. The main thing was running the cabling for the point-of-sale system and the camera system. I did that work myself."
Captain Joey Patti's Seafood Restaurant has 78 seats inside and 38 more outside. The hours are 11 a.m. to 5 p.m., Tuesday through Saturday. There is a full bar offering daily drink specials such as jalapeno margaritas.
"We have more parking than we had at the old location," Merritt said, "and we've been adding new items to the menu. Grilled grouper over rice with a spring mix topping is one of our biggest sellers, and we just added blackened shrimp and grits.
"Moving to grilled items has just increased our audience. It's more healthy. We're trying to offer something for everyone, but our bread and butter is still fried seafood because that's what we're famous for."
One of Merritt's key employees is Robyn Robertson.
"I've been here a couple of years, and I serve, bartend and help supervise," Robertson said. "The food is what makes us special. The recipes they used years ago they're still using today."
Robertson added, "I like it here because Charlie is really easy to work with. We have a lot of repeat customers who have been coming in here for years and years. People who came here with their parents as kids, well they're coming here now with their kids."
"I'm very thankful for each of the small businesses that choose to call the City of Pensacola home," Pensacola Mayor Grover Robinson said. "The Patti family has been an integral part of our community for decades, and we appreciate their continued commitment to supporting our local economy with their family businesses." ▪