Administrators in a Car Getting Coffee
Rick Fernandez and Vince Long tool around town talking about infrastructure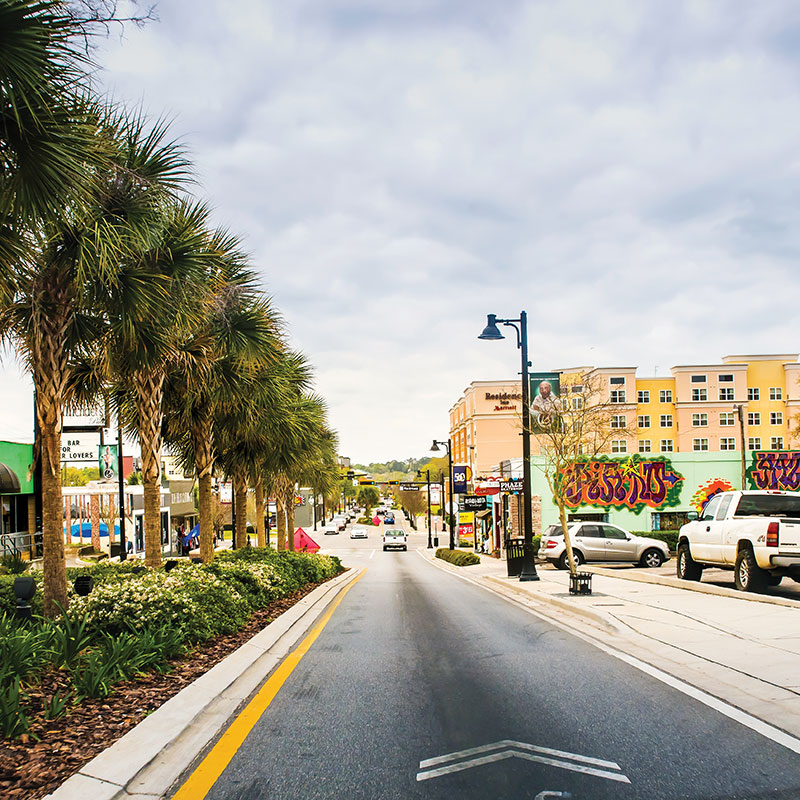 Flick on a light switch. Take a shower. Drop the kids off at school. Drive to the grocery store. Stroll around Lake Ella. Flush the toilet. Catch a plane.
While the word "infrastructure" isn't on the tip of most people's tongues, these fundamental facilities and systems are the underpinnings of modern society. Roads, sewers, water pipes, schools, government buildings, parks, sidewalks, electric lines … and the list goes on. Many are unseen, literally underground, while others are so ubiquitous we don't even give them a second thought — until the lights go out, the toilet backs up, a school is too overcrowded for your child to get in or a favorite road is closed for reconstruction.
Two of the people paid to think about such things — so you don't have to — are County Administrator Vince Long and City Manager Rick Fernandez. Both were born in New York City and each has been working in local government for more than 20 years. They spent a rainy morning in Fernandez's SUV driving a reporter around, pointing out projects of interest while keeping up a running commentary about the inner workings of infrastructure.
By way of background, much of the money to fund infrastructure is included in the annual Leon County and City of Tallahassee budgets — the city's power plants, wastewater treatment facilities, road repairs and such.
In 1989, voters approved an additional one-cent sales tax (on top of the 6 percent assessed by the state and a half percent for schools) in supplemental money for transportation projects — most notably the expansion of Capital Circle Northeast — and law enforcement facility improvements.
Ten years later, voters approved an extension of the penny sales tax through 2019 for infrastructure relating to transportation, storm water and flood control, and greenspace acquisition and parks. And in 2014, voters extended the penny tax for another 20 years, through 2039. It's often called "Blueprint" money, named for the city/county organization that oversees its distribution.
Most other Florida counties assess this penny tax, but how the millions in Blueprint money generated over the years are parceled out is unique to our hometown and a point of pride for the area's top administrators.
Long explained:
"Most cities and counties, once that penny is authorized, they'll come up with a list of city projects and a list of county projects — roads and parks, jails and libraries — all your typical county and municipal type uses," he said. "One of the things we did as a community here that was so different (is) … the business community and the environmental community … got together and they started thinking: 'What would be possible if we didn't just come up with those lists of projects — if we planned holistically and integrated parks and roads, and we found a way where roads could operate as … economic corridors that connected people with commercial activities and we could create parks that were linear and a storm water facility could become a world-class park.' It was sort of conceptual at that time."
The city and county commissions at the time caught the vision and assigned staffers to join together with this group, known as the Economic and Environmental Consensus Committee, to start planning.
"No exaggeration, it was a complete game changer," Long said. "It's just a department of the city and county governments, but people statewide know the Blueprint philosophy. You can build and design where you get multiple benefits from a single project that (is) planned holistically and without regard to city and county jurisdictions."
The Gaines Street Effect
First stop on the Magical Infrastructure Tour was Gaines Street. Plans had been in the works to upgrade and improve the stretch of road lined with mostly old, industrial buildings and vacant lots, but the timeline was accelerated during the economic downturn.
"We did it at time when the costs were the least expensive to the taxpayer and the jobs were needed the most," Long said.
Of course, there was also the little matter of envisioning how a busy, four-lane thoroughfare could be downsized to two lanes. "People went absolutely crazy, particularly our public works staff," Fernandez recalled. But $28 million worth of construction that included upgraded underground water and sewer utilities and relocated utility lines carried on. The result today is a collection of wide, stroll-able sidewalks, on-street parking, gas lamps, a roundabout and other amenities that attracted about $250 million in private investment in shopping, restaurants and residences.
Parallel to Gaines is the ongoing upgrade of FAMU Way, a city road that runs along a portion of the Capital Cascades trail as well as a small park. "This is an example of what we want (Tallahassee) to look like," said Fernandez, pointing out a pair of roundabouts — including one providing a second entrance to Railroad Square — gently curving lanes including bike lanes, medians and lots of landscaping. "You could have done two lanes and made it work, but we wanted it to look special."
courtesy City of Tallahassee
Rick Fernandez
Instead of a grassy ditch surrounded by a chain-link fence, an adjacent storm water pond is terraced with seating that's "more like a little park," said Fernandez. "The idea was if you have little gatherings, a little music or whatever people want to have, they could hang here." Even the overpass above it was designed to be used as a mini-bandshell.
The area is within eyeshot of the Capital Cascades Connector, a pedestrian bridge over South Monroe Street, scheduled to be completed early this summer. It has taken its knocks for its $5 to $6 million price tag, but its supporters think its modern style evoking a tree canopy will make it a perfect entranceway to what the administrators consider the area's most recent infrastructure triumph — Cascades Park.
The Cascades Park Triumph
Parked on a hill overlooking the park, the pair took a mental victory lap at what was once a toxic superfund site, transformed into a massive storm water system with recreational features that help it do double duty as a world-class park. In the past, said Long, the so-called highest and best use surrounding the property was parking garages. "Without this park it would just be nasty buildings, warehouse, those kinds of things," said Fernandez.
"You can just imagine how the land use is going to change around this park," Long chimed in, as he looked at metal buildings and old state office buildings abutting the park. Local arts groups and developers are currently being asked what they envision in their place. "I wouldn't be at all surprised to see very high quality high-rise residential and mixed use."
courtesy City of Tallahassee
As a sidelight, Long pointed out a new, circular sidewalk tunnel under the railroad trestle that runs over Lafayette Street. "The (Cascades Park) project it took us to the bridge … which was one of those artificial barriers. You had to walk out in the street to take your life into your hands," he said. With improvements made along Lafayette Street, including the tunnel, people from the Myers Park neighborhood can now easily walk to the park.
The Long View
Just up the street, construction of the Magnolia Multi-Use Trail is in its early stages. Plans had been discussed "oh my god, forever," according to Fernandez, to improve the stretch of Magnolia Drive between South Monroe Street and Apalachee Parkway. When completed in 2019, the $7.9 million worth of improvements will include covering the drainage ditches on either side of the road with a 10-foot-wide multiuse trail, a traffic signal at Jim Lee Road, sidewalks, and upgraded benches and landscaping.
Driving along the section of Orange Avenue between Blair Stone Road and Southeast Capital Circle, the administrators praised it as an example of forward thinking. While it looks like a 230-foot-wide road to nowhere, they envision it lined with easily accessible businesses, similar to what's popping up along a similarly large Southeast Capital Circle. By contrast, Capital Circle Northeast is about 130 feet wide. Any major widening projects there would entail condemning property and relocating businesses along the roadway.
North Monroe Street is even more "constrained." With businesses built close to the curb, "it's not like you can go in there and expand sidewalks or medians," said Long. "You'll see improvements there. It's an important gateway and it's going to continue to get a lot of attention, it's just you have a lot fewer options."
Surveying Orange Avenue, Long said, "This is how you build a road for the next 50, 60, 100 years. As far out as it sounds, we've accommodated what future transportation modes might be. If you're you're talking about rail or other things, the right of way is big enough to accommodate it."
Mahan Drive Lands A Big Fish
Scott Holstein
Vince Long
It's a fact: City and county administrators get together and compare notes and share intel. In their world, Bass Pro Shops is a huge get, bringing jobs, money, visitors and a certain cachet to a community. Its customers travel an average of 50 miles and two and a half hours to shop there. So Long knew if and when the regional outdoors mega-retailer came knocking, it was going to be with a list of demands for infrastructure, fast-track permitting and a request for $6 million in economic incentives.
One day, a representative of Bass Pro did appear, but the company was in a hurry to plant their flag in the area before their competitor did. So, said Long, no incentive was required and the newly widened and improved Mahan Drive — a straight shot from Interstate 10 — made it easy to fast-track the retailer into an existing building in Fallschase, formerly occupied by Sportsman's Warehouse. When it opened in 2013, the 70,000-square-foot store brought 200 jobs to the area.
"The reason that store is there is this road," Long said. "You've got to ask yourself: 'Without that road built to that standard, would Bass Pro have come in that close to town or would they do their usual model, which is to be right there on the interstate?'"
Along the Interstate
On a quick jaunt up Interstate 10 to the Market Street area, Fernandez pointed out what he called the county's "hidden gem," the Miccosukee Canopy Road Greenway, a linear park that meanders from Fleischman Road six miles to the interstate. "I'm there all the time," he said. He also drew attention to the woodsy area that is slated to become the massive Welaunee community, as well as a spot that could become the newest interchange on Interstate 10.
Getting off at the Thomasville Road interchange, both commented on the infrastructure triumph that is the Capital Circle flyover. "It's pretty awesome, isn't it? They said nobody would use it," said Fernandez. However, one shouldn't expect a quick and easy solution to the hot gridlocked traffic mess below it where Killearn Center Boulevard, Capital Circle and Thomasville Road converge. "Having the interchange to the east could take a load off this interchange," he said. "To fix the problem here is like a billion-dollar solution."
Reimagining Market Square
The area today known as Market Square started with a shopping center near I-10 — soon to undergo a major re-do. Other strips of shops and restaurants popped up independently, growing along with the residential areas in Tallahassee's Northeast. But there wasn't coordination in their construction so, even though convenient to each other, they weren't easily walkable. "You can sort of see the opportunity for pedestrian movement, but it's not accommodated very well so it creates those artificial barriers," said Long. Efforts are underway to create a "sense of place" in the area, including a traffic circle at the corner of Market Street and Maclay Boulevard South.
But the piece de resistance of the plan is a new rectangular-shaped park that will incorporate the two large holding ponds just south of Premier Health and Fitness Center.
People walked under a nearby electric transmission line, creating a trail. "We said OK, everybody's using it as a walkway, let's create a walkway," explained the city manager. The city is currently acquiring property, some of it donated. Where there is now an electric substation and wires overhead, a collection of power poles on the ground and a view of the backs of buildings, Fernandez envisions in five years a chain of three ponds and an attractive park. "It's going to be super gorgeous."
Economic Development and Infrastructure
At the end of the tour, Fernandez and Long did stop for coffee at the Lucky Goat on Capital Circle and discussed a new facet of the latest penny approved for Blueprint. For the first time, funds from the tax will be set aside for economic development — a total of
$90 million over 20 years.
The pair are suggesting that Blueprint set aside $20 million of that economic development money to piggyback on the $400 million investment FSU will be making to build a new hotel, parking garage and business school near the Donald L. Tucker Civic Center. The money, they said, would be used to build 50,000 to 80,000 square feet of meeting space, which would put Tallahassee in the running to host larger gatherings. "We've got over 200 state associations (in Tallahassee) and nobody has their annual conference here because we can't accommodate their floor space."
Rather than trying to grow the economy here by offering incentives to existing out-of-state businesses, the two suggest infrastructure is where money is better spent.
"The biggest thing we can do for economic development is exactly what you saw today," said Long. "(Businesses) come for what we do well — parks, schools; they come for something like the amphitheater."