A Vision Coming to Fruition
City of Panama City works to maximize its assets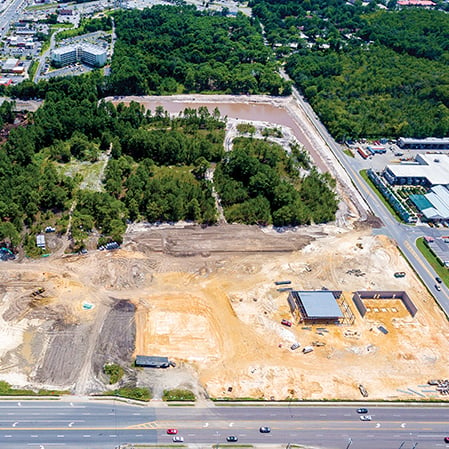 When Greg Brudnicki, now in his third term as mayor of Panama City, first sought the office, he pledged to bring about climate change.
Supporters believed that Brudnicki, a successful accountant and businessman himself, could create an environment so conducive to commerce that the city's many empty storefronts would be reoccupied, new enterprises would come calling, downtown would live again and vagrancy would give way to vibrancy.
There are signs that he may be succeeding at all of that.
"We certainly have more businesses that are coming to town than are closing or leaving town," Brudnicki said.
R.H. Ledbetter Properties, LLC, a developer out of Rome, Georgia, is creating restaurant and retail space on a parcel across State Road 77 from the geriatric Panama City Mall. Cracker Barrel, whose eateries are usually located at interstate highway exits, is departing from form and will be one of the tenants.
The developer, in working with prospects, has landed some and inadvertently led others to move to town — but in other Panama City locations. Lucky's Market is moving into an old Albertson's grocery store location that is virtually across 23rd Street from the Ledbetter project. HomeGoods also has plans to move into the neighborhood.
The arrival of such new businesses will benefit the city in the form of increased revenue from the city's one-percent merchant fee, a consumption tax that helps the city keep property tax millage rates low.
The historic St. Andrews neighborhood is no longer just Hunt's Oyster Bar and a collection of kitschy shops. A hotelier has purchased the Shrimp Boat restaurant, located at the Smith Yacht Basin, and Brudnicki is optimistic that the new owner will add new places to stay to the St. Andrews mix. The Los Antojitos restaurant, whose previous location was razed to make way for a U.S. 98 flyover, is "blowing and going," the mayor said. Neighborhood activity had the effect of increasing property values to the point where the Tan Fannies topless club finally overcame its inhibitions about selling; the new owner of the property is exploring options.
Central to the mayor's efforts to reinvent Panama City are plans to redevelop the Downtown Marina and the Marina Civic Center and surrounding parcels.
In May, the city entered into an agreement with Sonnenblick Development, a Los Angeles firm whose previous work has included the Boca Raton Resort. Per the agreement, the developer will determine what improvements, falling within public-interest parameters dictated by the city, it would be willing to build at the marina. A mixed-use approach is being contemplated.
The agreement, in fact, waxes almost philosophical in the midst of its "Whereas" paragraphs: "The time is now to build a consensus that downtown Panama City can become a vibrant mixture of office, commercial, governmental, cultural and tourism-related activities, a place where people can come together, meet and exchange ideas in the professions, in commerce, in government, in the arts, in recreation. In so doing, they will form a tapestry of human interaction. Variety and richness of activity is essential to a vision of downtown. Anything less misses the potential of downtown entirely."
"We want to be able to attract a variety of people for a variety of reasons," Brudnicki said. "The developer is at a point where he has been meeting with representatives of the hotel, restaurant and retail sectors. They've also met with people who specialize in movie theaters and civic centers."
Brudnicki hopes that a feasibility analysis will support expanding the Civic Center so that it can serve as a convention center. The retail component likely will comprise "upscale outlet stores," a model that Brudnicki says is continuing to succeed despite the impact of e-commerce on brick-and-mortar operations. He cited the continuing success of the Silver Sands outlet mall in south Walton County.
Constituent reaction to the proposed marina development has been almost universally positive, the mayor said.
"We do have a few people who are dead set against us doing anything with the marina," Brudnicki acknowledged. "They are convinced that we are going to destroy the marina, and they have the attitude that they don't want anything to change.
"Others seem to think that the city should do the work itself and not rely on a developer. But if that were possible, why didn't somebody get off his butt in the last 40 years and do something?"
(From the developer agreement: "Do too little and nothing happens. But do enough to pass the critical mass threshold and downtown seems to take off.")
"In the marina, we have a $30 million non-performing, non-revenue-producing asset," Brudnicki said. "It hasn't evolved into anything because we haven't taken steps to make that happen."
The city purchased the former Trustmark bank building on Harrison Avenue in the heart of downtown as the future home for City Hall; it will replace today's waterfront municipal offices at the marina. The vacated City Hall building may become a juvenile justice center for a time, because the federal courthouse located near City Hall will be moving to the juvenile center's current location, 11 blocks inland.
Central to Mayor Greg Brudnicki's efforts to reinvent
Panama City are plans to redevelop the Downtown Marina, the Marina Civic Center and surrounding parcels.
Brudnicki credited U.S. senators Marco Rubio and Bill Nelson and U.S. Rep. Neal Dunn with helping to ensure that Panama City did not lose the federal courthouse to Marianna, as was proposed.
The mayor anticipates that new residential development will be part of the overall marina district re-do.
"We know we need to have people living downtown," Brudnicki said. "We will have a residential component that will be home to people who can bicycle, walk or canoe to work if they want to, and be part of what's here."
People have long hoped that a full-fledged grocery store would locate downtown, and an increased resident population may make that possible. Visitation, meanwhile, will be critical to the success of the overall marina project.
"Without visitors, we don't have enough people here to support the kind of development that Sonnenblick has in mind," the mayor said. "We live in a county where 60 percent of public school students qualify for free or reduced lunch. Those families cannot afford to spend at the level of the average ticket that restaurants need to succeed."
Even today, businesses in St. Andrews, for example, rely heavily on tourist traffic. Brudnicki said that businesses there report that 70 percent of their revenue comes from visitors.
Already, the city has taken steps to let the region — and beyond — know what Panama City has to offer. A five-percent bed tax, passed by 24 percentage points in September 2014 and applicable to the city's approximately 2,400 motel/hotel rooms, has been generating about $1.5 million in revenue a year.
The levy was endorsed by the Bay County Chamber of Commerce and supported by hoteliers throughout town, Brudnicki said.
"Nobody wants to spend general tax dollars on marketing," the mayor recognized. "You have to have it, but you can't put a hand on it and it's difficult to measure. But now we have an alternative, dedicated source of dollars for that purpose."
The developer's financial analysis of its proposed project will be subjected to public hearings, and the agreement anticipates that it will be finalized and approved by the City Commission as of Feb. 1, 2018. A month later, the city expects to receive all lease proposals and related agreements authorizing private uses of the marina.
"We know that visitors to the area will have an interest in both Panama City and Panama City Beach," Brudnicki said.
"We have no problem with people making side trips to the beach. We just intend that they stay here, in Panama City."