A Supporting Role
Employers honored for backing workers who serve in the military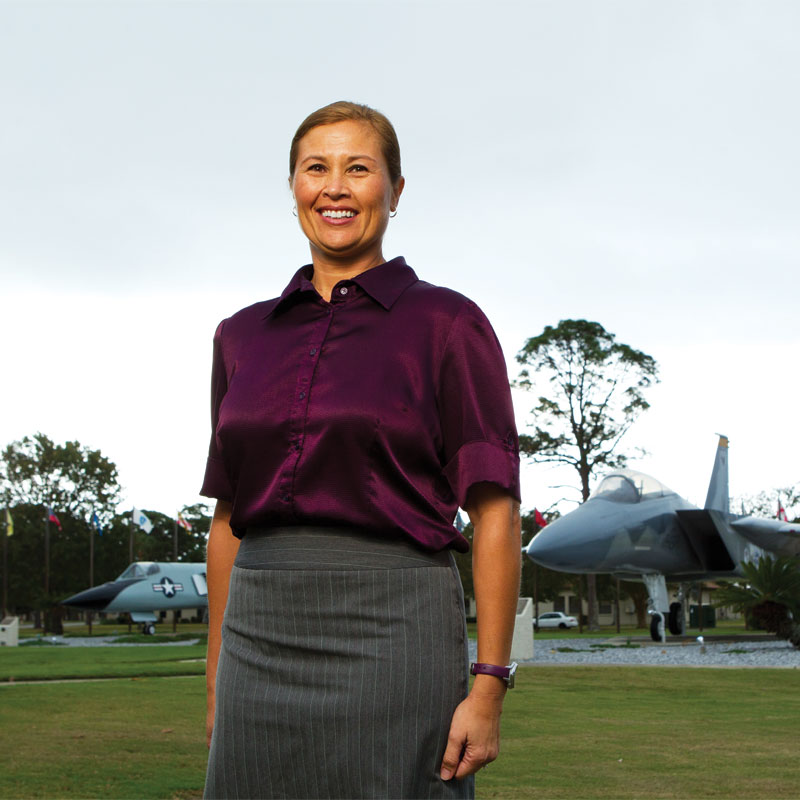 Major Joyce Gill wanted to show her appreciation for her boss, who always backs her when her military reserve duties take her to the Pentagon. So she nominated James B. Garred, who oversees contracting at Tyndall Air Force Base — Gill's "day job" — for a Patriot Award from the Florida Committee for the Employer Support of the Guard and Reserve (ESGR).
Joyce Gill, a major in the Air Force Reserve
"He was really surprised," said Gill. "We didn't tell him what was coming. He was doing a training class."
The Patriot Award is given to employers of military reservists to honor their patriotism for hiring military employees — and then working around those workers' commitments to their country. Gill, for instance, is a contracting officer whose reserve duties frequently take her to Washington. She said her absences could — under different circumstances — be a problem for colleagues and her boss.
" 'You got reserve duty? How long are you going to be out now?' " she imagines them saying.
But not colleagues led by Garred. "He completely supports me — what I'm doing and why I'm doing it," Gill said. Besides, she notes, even when pulling her reserve duty, she goes back to her hotel room afterward and works on her Tyndall tasks.
That scenario is playing out again and again as the state's employers, especially in military-friendly Northwest Florida, step up their support for the National Guard and Reserve.
And the Award Goes to …
"I have my dream job," said ESGR Area Coordinator Penny Justice, who conducts award ceremonies like Garred's in workplaces and at banquets. "I get to reward employers for their support of military employees. You can just see the love and admiration between the employers and employees."
Part of the U.S. Department of Defense, ESGR was created in 1972 to promote cooperation between reservists and their civilian employers. Richard Nixon was the first president to sign an ESGR Statement of Support, pledging his backing for Guard and Reserve employees. Nationally, hundreds of thousands of employers have signed them since.
But ESGR faces enormous challenges that members of the Guard and Reserve rarely faced in 1972, when the Vietnam War was on and the draft was still in effect. With 1.3 million members of the Guard and Reserve today serving longer and longer tours of duty on the most dangerous battlefields worldwide and in an increasing number of missions within the U.S., those workers need more employer understanding and support to survive financially.
"We are no longer weekend warriors," said Judge Gregory P. Holder, Florida's ESGR chairman. "We are no longer the men and women called up just for Hurricane Katrina, for Hurricane Andrew, for the fires in Colorado." As an example, he points to the 841st Combat Engineer Battalion, deployed for a year to Afghanistan's deadly Korengal Valley.
That's where ESGR comes in. In Florida, there are approximately 38,000 Guard and Reserve personnel, 11,000 employers who hire them and more than 100 ESGR volunteers. The volunteers recruit new employers, help resolve conflicts arising from an employee's military commitment and support the families.
"For Guard and Reserve members and their families, the greatest enablers are our employers and agencies like ESGR that help pull our efforts together and strengthen alliances," Maj. Gen. Emmett R. Titshaw, the Adjutant General of Florida, told ESGR's annual meeting last June.
According to Titshaw, employers today recognize the challenges faced by reservists, appreciate their sacrifice and are willing to go the extra mile to ensure that service members have "good jobs in a supportive environment."
Besides, virtually everyone who comes in contact with ESGR agrees that military veterans usually make stellar employees.
"These returning warriors have the education, the experience, the training and the discipline to be among the most qualified and the most loyal employees in any organization,"
Holder said, adding that military skills can immediately be translated to any industry or service.
"Employers are going to find the leadership skills, the qualities that are ingrained in military people," agreed Col. Tim Lambert, the Northwest Florida ESGR chair. "I think it's an incentive for employers."
And ESGR volunteers find most employers are receptive to hiring veterans and retaining those who serve in the Guard and Reserve.
"In Florida, I would describe that support as exceptional," Holder said, "so I'm generally preaching to the choir."
40th Anniversary Year
Under Holder, who is serving a three-year term as volunteer chair, state leaders are supporting ESGR's efforts more than ever. When the 841st Combat Engineer Battalion left Miami for Afghanistan, Gov. Rick Scott and other elected officials were there.
In May, when Chief Financial Officer Jeff Atwater's Cabinet resolution recognized May 17th as Florida Employer Support of the Guard and Reserve Day, hundreds gathered at seven events statewide to show their support and applaud the effort to ensure that a job is waiting for Floridians when they return from combat.
To that end, Florida law enforcement agencies signed more than 500 Statements of Support to demonstrate their commitment at seven "super site" locations, including Pensacola and Tallahassee. The Florida Department of Law Enforcement hosted the events, with Commissioner Gerald Bailey facilitating cooperation among the agencies in pledging their support.
In Northwest Florida, Lambert chairs the area from Pensacola to the Apalachicola River, just west of Marianna. He coordinates volunteers in Pensacola, Panama City, DeFuniak Springs and the Eglin Air Force Base-Crestview-Fort Walton Beach region.
An employee of Gulf Power, which is recognized as a military-friendly workplace, Lambert often participates in the awards ceremonies, which are generally a surprise to the honorees.
"I have seen supervisors and managers almost to the point of tears when the award is presented," he added.
Penny Justice said ESGR workers also function as "diplomats and ambassadors" to smooth over any difficulties between a reservist and his or her employer. "Usually if there's a misunderstanding, they didn't understand the law," she said. ESGR has 30 certified ombudsmen for the purpose.
ESGR also works with organizations serving wounded veterans, such as Wounded Warriors, and helps all veterans sort out the resources at their disposal.
"I lived through the Vietnam era," Justice said. "There are so many programs now, it's confusing to the service member … I think we're the best secret around."
How ESGR Can Help
ESGR understands the unique talents and skill set Guard and Reserve Service members can bring to the civilian workforce. To make this arrangement work, both parties must be aware of their rights and responsibilities under the Uniformed Services Employment and Reemployment Rights Act (USERRA). ESGR representatives work to help reservists forge a stronger bond with their supervisors through a greater understanding of their military service.
Outreach efforts include employer programs such as Bosslifts, employer briefings and local job fairs. Awards such as the Patriot Award to exemplary employers foster the goodwill, as do the statements of support.
When issues do arise, ESGR offers free, neutral mediation and information on what the law requires. More information about ESGR Employer Outreach and volunteer programs is available at www.ESGR.mil or by calling (800) 336-4590.