A Spirit of Collaboration
Partnerships with local stakeholders attract GKN Aerospace to Bay County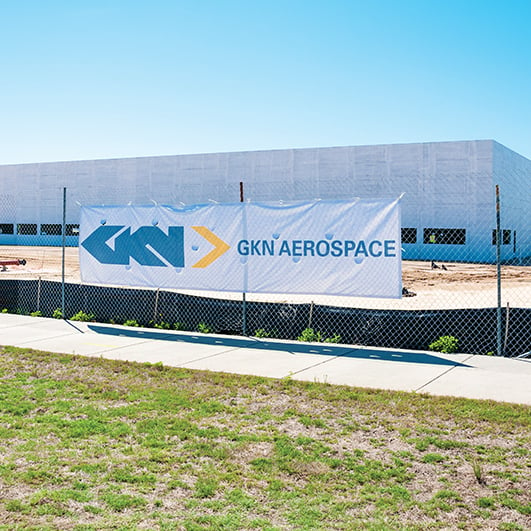 In 2016, GKN Aerospace was seeking a new site to build its products.
"We're always considering the right future locations," said Sue Barnes, GKN Aerospace vice president and general manager of strategic projects. She visited Bay County at the invitation of Becca Hardin, the president of Bay County Economic Development Alliance.
The company had a specific project in mind, and Barnes and a group of senior GKN employees traveled to Bay County in April 2016 to assess potential sites. She remembered that they met with representatives from Gulf Coast State College, FSU Panama City, Gulf Power, the local school district and other stakeholders. "Many different groups were open to explaining the area to us."
A global company serving the world's leading aircraft manufacturers, GKN Aerospace operates in 15 countries and employs more than 17,000 highly skilled workers. The company works closely with universities, knowledge institutes, suppliers and customers and leads the industry in developing new technology.
Less than a year later, in February 2017, Bay EDA announced that GKN planned to make a capital investment of approximately $50 million and to create 170 highly skilled jobs in Bay County.
According to Barnes, Northwest Florida's educational resources factored into the decision to locate in Bay County. Several workforce development programs are now in the planning stages. "GKN plans to partner with CareerSource Florida and GCSC on focused training programs, and we're talking to FSU about the degree programs that will supply workers in the long term," Barnes said, adding that CareerSource Florida is working to promote GKN in the area. Partnerships to increase the talent pipeline in Bay County are also underway. "We're working with the school district on STEM subjects," Barnes continued, referring to the academic disciplines of science, technology, engineering, and mathematics. "GKN wants to engage and support activities to make sure people consider us for their career 15 years from now."
Land and air transportation assets also drew GKN to Bay County, Barnes said, referring to Northwest Florida Beaches International Airport (ECP) and I-10, as well as the opportunity to build the new facility according to the company's specifications.
The building site at VentureCrossings Enterprise Centre, owned and managed by St. Joe, is a project-ready Florida First Site. "We're working with St. Joe to build the building according to our requirements," Barnes continued. "It was important to us to have the right building." Construction has involved close coordination with local authorities around permit requirements, in a process Barnes called "very efficient."
GKN Aerospace, one of three divisions of the larger global engineering group GKN, operates 55 manufacturing locations across North America, South America, Europe, and Asia. Asked how operations in Bay County will differ from those already established in Missouri, for instance, or in Nagoya, Japan, Barnes responded, "GKN has a branding, a culture—the GKN way. There are certain things that we want to make sure are in the DNA of our sites." At the same time, the company recognizes that every area has different talents and skills, she continued.
In fact, GKN Aerospace will make a long-term investment in Bay County. The training programs now under development will improve the skills of the local workforce in general, as will GKN's efforts to promote STEM subjects in the school system. Barnes also looks forward to the impact the company's corporate citizenship program, Hearts of Gold, will have in the community. Over the years, GKN employees have supported their communities, donated time to good causes, and raised millions of dollars for various charitable projects around the world.
Meanwhile, there are immediate benefits of GKN's presence in Bay County — jobs. "GKN Aerospace will need the direct support of people who would like to join the workforce," Barnes said. "We've had phenomenal support from FSU and GCSC, and we continue to work to define the training programs. The recruitment that CareerSource Florida is doing is key for us." The new facility will also turn to the Bay County community for supplies and services on an ongoing basis.
Barnes continued, "We're really looking forward to day one of operations." GKN Aerospace anticipates that the new facility will be up and running by the end of the year.
Ultimately, the potential for collaboration is what lured GKN to Bay County. With recruitment and construction underway, the results of the collaboration Barnes and her colleagues imagined at the new site are beginning to materialize. "I'd say that spirit of collaboration has come across from the first meeting when we went to look at the area. It's continued all the way through our decision making process and through the start of construction," Barnes said.