A New General Manager Readies GKN Aerospace for Early Production Phases
After the opening of GKN's first facility in Florida, GKN has been hiring and bringing in new employees.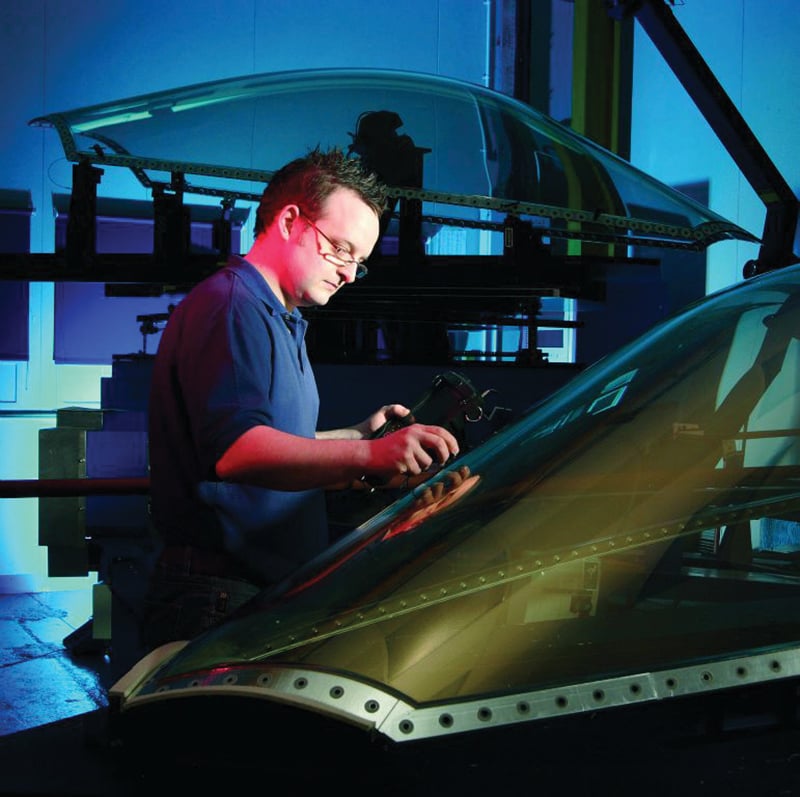 It's a big job to bring a large manufacturing facility up to production readiness.
Nobody knows that better than Preston Mathis, new general manager at GKN Aerospace's Bay County facility.
Bay EDA announced in February 2017 that GKN planned to make a capital investment of approximately $50 million and to create 170 highly skilled jobs in Bay County.
Locally, the arrival of GKN Aerospace was and is considered a sign of more business to come.
GKN and its partners have certainly wasted no time bringing the site up to production.
Last November, GKN Aerospace took possession of the building site at VentureCrossings Enterprise Centre, owned and managed by St. Joe, and in December, Mathis began working as general manager of the new operation — GKN's first facility in Florida. According to Mathis, GKN has been hiring and bringing in new employees since then.
Mathis brings more than 25 years in aerospace manufacturing experience to his work at GKN, with previous roles at Fairchild Republic, Communications and Space Corporation; at Eaton Aerospace; and at Honeywell Aerospace.
He relocated with his family from Bradenton, Florida, to Panama City Beach for this position.
Since his arrival, Mathis's priority has been to "support not only the facility coming up, and the team wrapped around that, but the hiring process — making sure we get the right talent, and once it comes in, working to develop our culture and our general operating procedures."
Mathis said that St. Joe worked closely with local contractors to obtain the necessary permitting, "anything from standing the building up to getting the proper electrical in place."
He also credited strong collaboration with Bay County EDA and with Gulf Power.
The VentureCrossings Enterprise Centre is a Florida First Site, an initiative launched by Gulf Power to create certified, project-ready industrial sites.
"St. Joe has done not just a superb job but outstanding," Mathis said. "I really can't say enough good things about Jorge Gonzalez and his team."
He added that Bay County EDA and its president, Becca Hardin, have been helpful when GKN has run into challenges.
"They tell us who to go see, who to talk to, they make introductions. … When setting up a large facility, with the amount of money it takes, time is critical."
With a staff of about 50, the GKN Aerospace Bay County facility is now in early production phases and doing qualification testing — building parts to test new equipment and validate the site's manufacturing processes and procedures with its operators.
Mathis said that he expects that GKN Aerospace will employ 85 people in Bay County by the close of 2018, and that they will reach the target 170 employees total by the time the site is at full-scale production in 2020.
CareerSource Florida has been recruiting for GKN "24/7" to bring in qualified candidates, Mathis said.
"People can apply nationally, but the majority of our successes have been from local applications who have gone through our training program."
Gulf Coast State College has worked with GKN on its training curriculum and provided training facilities.
Additionally, in January of this year, the Florida State Board of Trustees announced two new engineering programs at FSU Panama City: a bachelor's program in mechanical engineering and a master's program in systems engineering to begin this fall.
These partnerships in higher education have been critical for GKN in pipelining talent, Mathis said.
Mathis plans to work with multiple Bay County schools, elementary through high school, to establish a relationship between GKN Aerospace and schools' STEM programs.
"When you go to college, you might think about becoming an engineer. We want to be able to have those conversations and maybe offer encouragement," he said.
In March, British-based company Melrose Industries purchased GKN, which employs 58,000 staff worldwide, but according to a spokesperson for GKN, the change in ownership will not impact GKN Aerospace operations in Bay County.
"Melrose has indicated that it has ambitious plans for GKN Aerospace.
It has said it operates and invests in its companies for the long-term and this means a heavy focus on R&D, new product development, skills, training and customer relationships.
GKN Aerospace has a great future ahead," said Wesley Bates, media and communications manager for GKN Aerospace.
They will certainly continue to have willing partners in Bay County.
According to Mathis, the collaboration that brought GKN to Northwest Florida has only grown since the company's arrival: "Bay County has totally embraced us."